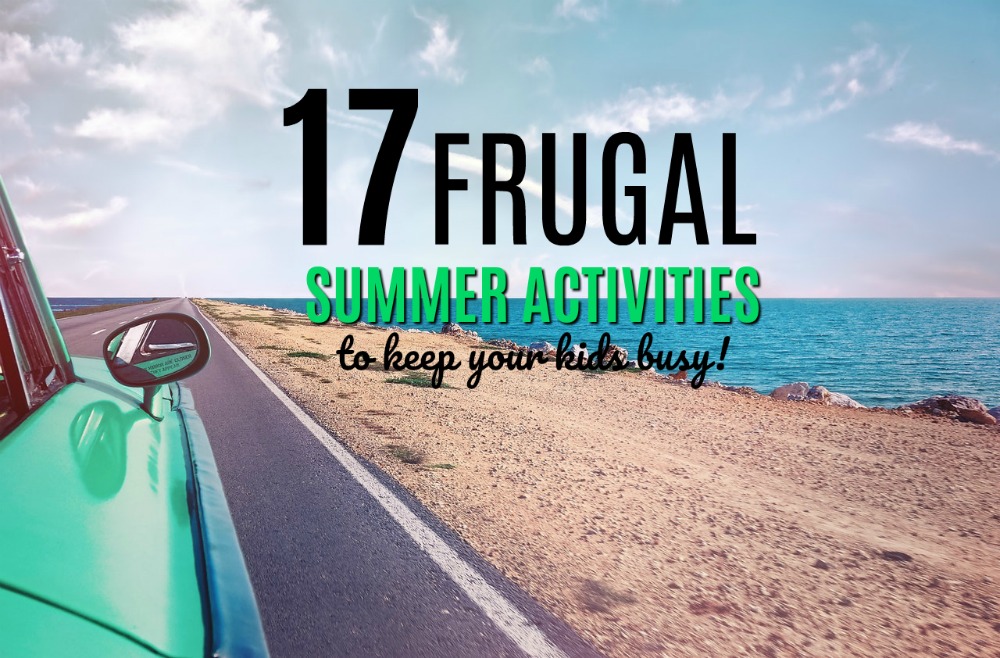 Summer is just around the corner and I'm not mad about it!
I look forward to my kids' summer break from school every year but inevitably after about a week I start hearing the dreaded phrase "I'm bored."
Maybe you can relate?
If so, you can keep your kids entertained with these 17 frugal summer activities.
Frugal and Fun Summer Activities for Kids
Here are some frugal and fun summer activities for kids no matter their age.
1.) Grow a Garden
We grow a garden every year and my middle daughter absolutely LOVES planting and then later collecting all the vegetables.
If you've never gardened, you can start small and just grab a few plants to put on your patio. Encourage your kids to care for the new plants.
2.) Volunteer at an Animal Shelter
Animal shelters are often needing volunteers. For the right child this would be a great opportunity to stay busy and give back.
3.) Make Homemade Ice-cream
Making homemade ice cream is fun no matter the age. Here is a great recipe for homemade ice cream.
4.) Have a Water Balloon Fight
Super-hot day? Fill up some water balloons and let your kids have a water balloon war.
5.) Host a Fancy Dinner Party
Pull out some sparkling grape juice (get it at the Dollar Tree for $1), put on some fancy clothes, and set the table for a fancy dinner party.
6.) Go Backyard Camping
Going camping doesn't mean you have to go far. Pop a tent in the backyard and go camping as a family. (Or, if your kids are old enough let them sleep in the tent themselves.)
7.) Have a Living Room Sleepover
It's crazy how excited kids can get over something as little as sleeping in a different room! This would be a great activity for the family to do on a weekend.
8.) Go to the Beach
Does any kid NOT like going to the beach? Certainly none I've ever met.
This is a free and fun activity to do on a lazy day.
9.) Practice a New Skill
One of my daughters loves to do gymnastics while the other is playing softball for the first time. Both are competitive and want to get better at their chosen sport.
If there's an activity your kids are interested in, encourage them to practice the skills they need to improve.
10.) Go to the Park
You can never go wrong with the park. Plus, if your kids are old enough you can let them play while you catch up on emails or read a book.
11.) Go for a Hike
Need a change of scenery? Go to the nearest state-owned forest and take a hike.
12.) Visit the Library
The library is not only great for getting books, but they also host many different activities. Check with your local library to see if they have any upcoming events your kids would like to attend.
13.) Organize Bedrooms
Ok – I know, some kids think this is fun and some don't. I have one of each in my house!
If your kids do like organizing, give them a hand and help organize their room.
14.) Have a Game Night
Game nights as a family are so fun! Pull out a few of your favorite games and some snacks.
Our favorite games are Rummy, Yahtzee, Clue and Pay Day.
15.) Teach Your Kids How to Cook
This is something I did last summer and my girls loved it! We started small and within a couple weeks both older girls were making their own eggs for breakfast.
16.) Go Bowling
Most bowling alleys have "kids bowl free" for the summer. This year our local bowling alley is providing two hours of free bowling per day for everyone in the household – also includes free shoe rental!
Check out Kids Bowl Free for info in your area.
17.) Do Crafts
I'm willing to bet you have plenty of art supplies at home. Set up a craft table and let your kids create.
Make a "Before Electronics" List
One of the most important things you can for your kids this summer is set a limit on electronics.
My oldest would spend all day and night on her iPad if I'd let it her. It's not healthy and I notice that when she spends too much time on electronics her attitude takes a turn for the worst.
I encourage you to make a list of items your kids must do before they are allowed online. Take into consideration chores AND any goals your kids may be working toward.
Here's an example list:
Make Bed
Unload Dishwasher
Practice Gymnastics 30 minutes
Shower
Get Dressed
If you don't want to make a "before electronics" list, you could also set a specific time of day when electronics are allowed.
Getting Kids Out of the House Everyday
Another of my goals to keep the summer fun and prevent cabin fever is to go somewhere for just a little bit every day.
These are just simple outings – nothing fancy. Here's a look at what we would do:
Go to park
Go swimming at YMCA
Visit the library
Go to park
Go swimming at YMCA
Simple. And cheap. The park and library are free, and we have a membership to the Y so these activities don't take any money out of my pocket but help everyone feel like they aren't stuck at home 24/7.
Summer Fun Does NOT Have to Be Expensive
You and your kids can have a fantastically fun summer without spending hardly anything!
Decide which activities would be best for you and your family and then rotate through them as you see fit.
What's your favorite frugal summer activity?