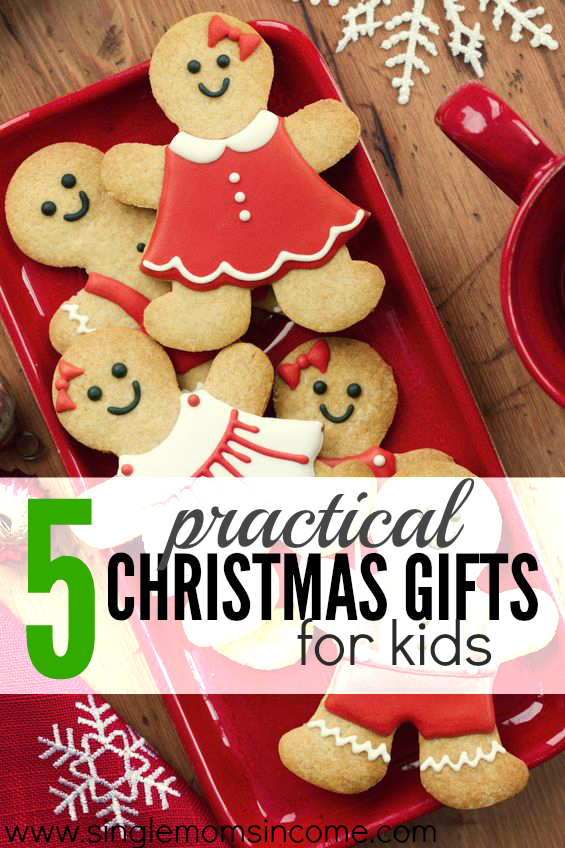 Christmas is inching closer and closer with just a little over a month to go. If you haven't started shopping by now you probably should. Wondering what to get your kids? How about some practical Christmas gifts they can use over and over this year.
Over the past few weeks I've spent too much money. This is a bad thing because I've got my eyes on a new financial goal and I need to be pinching pennies and earning more money.
I feel like I've got my impulse spending out of the way and I'm now ready to get down to business and start saving some serious money.
I've already began shopping for my kids Christmas gifts and my oldest daughter's birthday, which is in December also, but I've still got a long way to go.
My kids are still pretty young and are easy to please. That's why I want to concentrate on buying them practical gifts. After all, they get more enjoyment out of opening presents than they do actually using or playing with the presents.
Here are 5 practical Christmas gifts for kids.
Winter Gear
It's starting to get pretty cold out here. We had our first snow a couple weeks ago which was then followed by a horrible thunderstorm and an accompanying tornado. Weird.
Since the snow will be moving in soon I need to get my girls some toddler snow boots and winter bibs. I've already picked them up new coats from a sale K-Mart had going on a couple weeks ago. I'll keep looking for good deals on snow boots for toddlers.
The girls will love opening up winter boots, scarves, hats, and mittens on Christmas morning.
Educational Toys
When I shop for toys I shop for educational toys. Every now and again a Barbie or Disney Princess makes its way into the shopping cart but that's rare. At three and almost five my kids are huge into learning and I like to encourage that as much as possible.
I've been considering getting each of them a V-Tech Innotab as their "big" present. I've seen these one sale all over the place at around $70 so this is a gift they would highly enjoy that wouldn't bankrupt mom.
Books
We are a reading family. My girls see me read all time and they want to imitate mommy at just about everything I do. We've gotten some great deals on books at thrift stores and Facebook Yard Sales.
I'd like to expand their book collection and add some bigger books with a better story line. I am hoping that sometime within the next few months I can get my oldest daughter interested in read aloud chapter books. We'll see………..
Clothes
My oldest daughter is growing out of her pants like crazy. She's very thin so it's hard to find pants that fit her right. I am lucky in the sense that my girls wear the same size shirts and the same size shoes. But pants? That's a different story.
The youngest has plenty of pants. She could seriously wear a different outfit every day of the month. My oldest daughter's pants now look like highwaters. I figure if I start looking now I can find some pants to fit her at a good price. I have no problem buying used either. As long as I can find something nice we'll both be satisfied.
Art Supplies
I have two budding artists on my hands. My girls won't play with a toy for more than five minutes yet they'll color and draw for hours.
Needless to say keeping them entertained is high up on my priority lists. I've been thinking of purchasing them each a backpack. (There are tons of them on clearance for under $5 at K-Mart and I saw some great deals at TJ Max) Then I would fill the backpack with markers, stickers, crayons, coloring books, and dare I say – paint. They'll feel totally cool having backpacks like all the big kids do.
My Not So Practical Gift
I am going to get them one really fun, not-so-practical gift.
They both love dressing up like princesses so I bought them each a cardboard trunk for like $10 at TJ Max and I've been picking up the clearance princess Halloween costumes to fill them up. I also picked up a train set like this one. They'll absolutely love this gift. 
What are your ideas for practical Christmas gifts for kids?