Affiliate links are used on this page.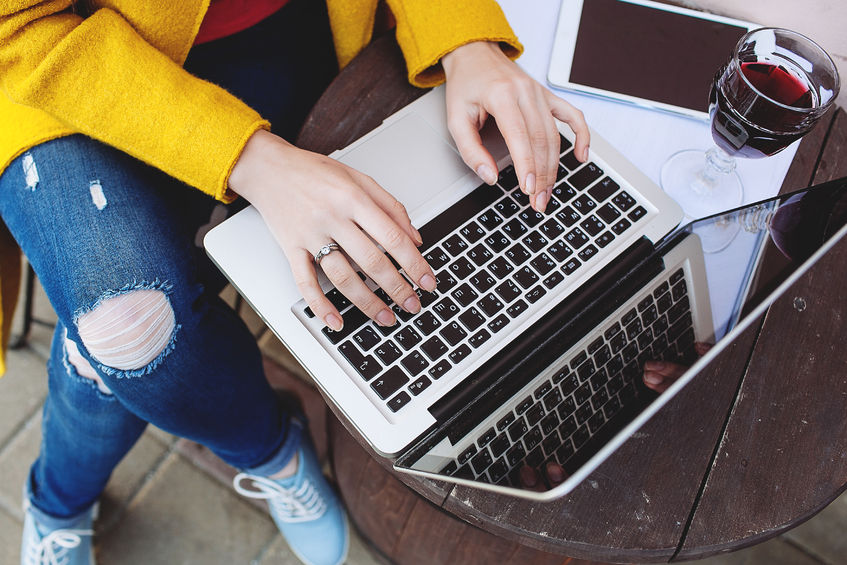 This blog came from humble beginnings.
I first started this blog in October 2012 to document my journey in trying to replace my day jobs with freelance work. I had just got divorced, was living in a spare bedroom at my Dad's house, and was working two day jobs to get by. It sucked. I knew my best shot at creating more income was going to come from the internet and not my small town. So, I started this blog and began testing out ideas.
I failed at a number of things and then eventually stumbled onto this thing called freelance writing. I figured out that I could actually get paid to write for other blogs. I went full force. I built mu freelance income large enough to quit my job (which was only around $1,800 per month at the time.)
A little after that I started to get burnt out writing so many articles each week. I needed to diversify. To do this I began taking on virtual assistant work and started trying to monetize this blog. Monetizing my blog proved to be my favorite way to make money but also the hardest. A couple years ago, however, I had a major breakthrough and have since five X'd the income brought in through Single Moms Income.
First the Before and Afters……
Before I get to the details let's take a stroll down memory lane…… In August  of 2014 my blogging income was $705.32. In August of 2015 my blogging income was $3,754.08.  In May of 2016 I surpassed $10,000 in one month! In April of 2017 I earned over $13,000. Still. in. shock!
I calculated that figure just for this post and am pretty darn shocked that the income I produced from this blog has increased more than five times. My traffic went from 32,000 pageviews in August 2014…… (Not a bad number.)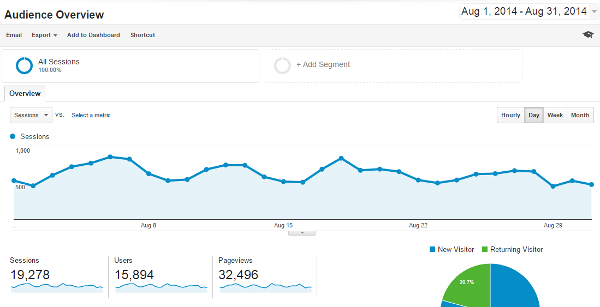 To 200,000+ pageviews in August 2015.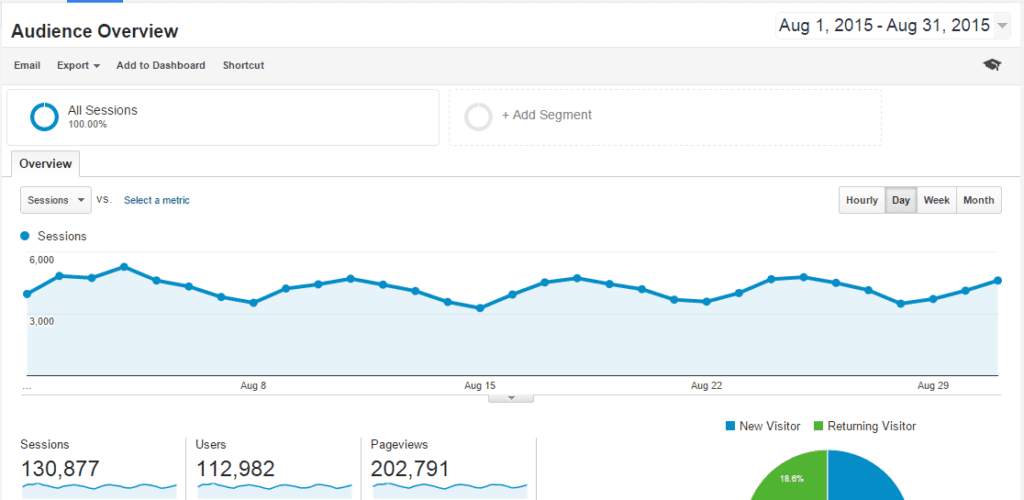 To 275,000+ pageviews in 2017: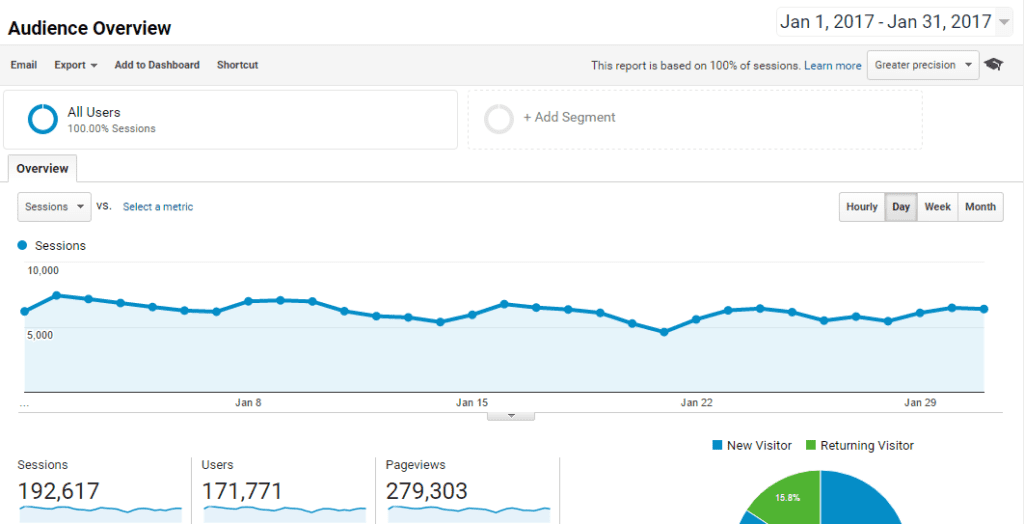 So, how'd I do it?
I Learned How to Work Social Media
Social media has been huge for me. That's not because most of my pageviews come from social media – they don't. It's because I learned that if I get at least a couple hundred social media shares on long, super useful posts (like this one or this one) that my search engine rankings would skyrocket.
In other words, the more my posts got shared on Pinterest or Facebook the more people were finding me through Google search. That's pretty cool.
While my number one source of traffic has been Google (always has), my number two source of traffic is Pinterest, my third source is direct (thank you so much from the bottom of my heart for keeping on checking back here – it's appreciated more than you know!) and my fourth top source of traffic is Facebook. This looks way different than it did a couple years ago when Facebook and Pinterest weren't even on my radar.
To be perfectly honest, before I took this course I absolutely sucked at social media and couldn't make a Pinterest image to save my life.
I Learned Different Monetization Strategies
Next, I learned different monetization strategies.
Instead of focusing on just one strategy I learned to seamlesly work several of them.
I experimented with ad networks and found that if I stuck an ad in a post after it became popular, rather than when it was first published and my regular friends (you) were reading it, that it was less annoying and more profitable.
I learned best strategies for affiliate marketing which now makes up a significant portion of my income.
Now I constantly go back through and see what my top twenty posts are and I monetize them. I do this by sticking in an affiliate link if applicable. If not, I stick in a Google AdSense ad right smack dab in the middle of the blog post.
But most importantly, I learned the power of an email list. I learned how to build my email list and the steps I needed to take to make sure it was both helpful and profitable.
I Worked Smarter
Next, I started working smarter. You see, I'm a pretty introverted person. I prefer writing, emailing, and responding to comments over being on social media. The problem for a long while was that social media was kind of ruling me. I felt chained to Pinterest and even though I wanted to work on Facebook, I couldn't keep up.
After spending several months on Pinterest and learning first-hand how to really make it work I felt comfortable using software and now used Tailwind to automate my pinning. I also learned to schedule out Facebook so that I wasn't spending massive amounts of time on there. I now complete ALL of my social media work in 2-4 hours per week.
It Began with a Course
I believe that if you want to grow you should continually make investments in your business. Because of this I've taken several courses over the past three years. (I even took a $600 course when I was making much, much less and that course completely sucked.) Most of the courses I've taken were writing related.
Elite Blog Academy was the first course that I've ever taken that was purely about blogging. It was a game changer for me.
Once I took the course I felt committed and worked incredibly hard to implement all the things Ruth Soukup (the course creator) taught. And because of this work my income has exceeded my wildest expectations. Seriously, I can't believe that this whole blogging thing is what I get to do for a living.
(Unfortunately EBA only opens up once per year but there's still some very helpful free stuff you can snag.)
Freebies You Can Download from Elite Blog Academy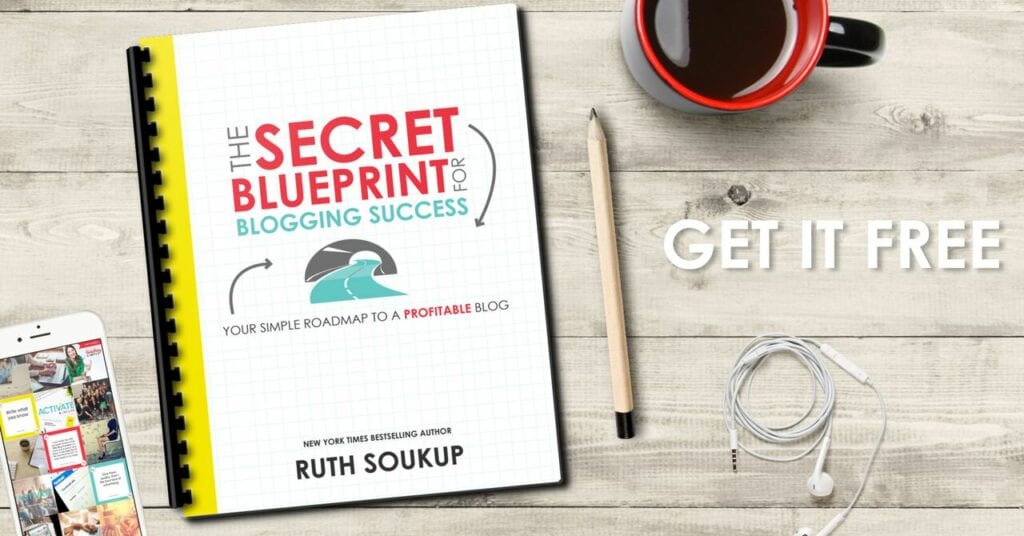 Every year in preparation for the opening of Elite Blog Academy they release several awesome freebies 🙂 Here are my favorites that I think are super helpful.
(If you download these you'll be put on the EBA waiting list and will have a chance to buy the course when in it reopens if you're interested in that. Not interested in the course? You can still take advantage of the freebies!)
Freebie # 1 – The Secret Blueprint for Blogging Success
Freebie # 2 – 10 Steps to Take When Your Blog Post Goes Viral
Freebie # 3 – 120 Awesome Blog Post Ideas
Freebie # 4 – 7 Surefire Ways to Boost Your Blog Income Overnight
Should You Take the EBA Course?
I'm gonna be straight with you here. The course will open again in the near future but I don't know the exact date yet. You can download one of the freebies above to join the waiting list for future openings. (I recommend The Blueprint for Blogging Success)  If you are interested in joining the course when it reopens here's everything I feel you should know. With EBA you will learn things like:
How to Create Good Content
How to Create Good Images
How to Create a Facebook Marketing Plan
Monetization Strategies
Marketing and Sales
And more…
Each unit has videos + handouts. Now that all of that is said here's a disclaimer: EBA is not for everyone. I would only recommend EBA if you meet the following criteria:
Have general blogging knowledge (Know how to work WordPress, etc.)
Are willing to work really hard (This isn't a magic course, it's a blueprint. You're responsible for doing the work.)
I can't stress enough – the only way you'll get benefit from this course is if you actually do the work. There's a whole lot of info in EBA and it's going to take you awhile to get through it. It's perfectly fine to take your time. The biggest thing is that you build off of each lesson and layer them on top of each other.
If you're ready to take your blog to the next level I can't recommend Elite Blog Academy highly enough.