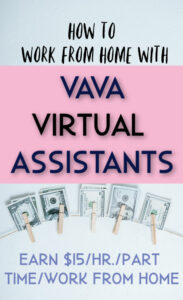 The shift from in-house administrative assistants to virtual assistants has been growing the past several years. Being a virtual assistant has went from a little-known career to one you can now find openings for all over.
If you like the idea of doing office work, but wish you could work in your favorite yoga pants, VaVa Virtual Assistants might be the right fit for you.
As a virtual assistant, you'll provide valuable support to a variety of clients throughout numerous industries, all while never having to leave your house. You won't need much to get started. This is especially true if you already have the skills and know-how to manage a variety of office-related tasks.
Working with VaVa Virtual Assistant – Job Duties
Virtual assistants can be responsible for many administrative duties. This makes it extremely important to have good organization and communication skills. (For this position you're also going to need excellent grammar and spelling.)
Your job responsibilities may include, but are not limited to:
Administrative tasks like email management and creating documents and spreadsheets
Scheduling appointments and managing calendars
Writing blog posts
Online marketing skills including social media management and scheduling and email list management
As part of the virtual team you also need to participate in weekly or biweekly training calls. And, you must be able to work well with other team members.
Requirements for Working with VaVa Virtual Assistants
You'll need to meet some qualifications in order to apply. Those are:
Must live in the US
1+ years' experience working remotely/virtual related experience
Experience communicating in online communities
Experience with technology such as; Google Suite, Basecamp, Slack, Microsoft Suite
Beyond that you'll also need basic equipment such as a computer, reliable high-speed internet, and a distraction free work zone.
How Much Does VaVa Virtual Assistants Pay?
Pay is $15 an hour and your monthly income will range between $200 and $1500, depending on how much work you're assigned and accept.
This is a part-time contract position. Hours vary based on the number of clients needing work and a match to your skill set.
You will be hired as an independent contractor so you will be responsible for your own taxes.
How to Apply
If you're interested in learning more, visit VaVa Virtual Assistants job page.
And if you'd like to apply for a position, you can email your cover letter and resume in the body of your email (no attachments) to [email protected] using the subject line "Virtual Assistant Position." Please keep in mind that if you attach your documents, your application will not be accepted.
Once submitted, applications will be reviewed and those that qualify will be contacted for interviews.
Other Virtual Assistant Jobs to Check Out
Looking for more virtual assistant positions to apply to? Be sure to check out these: