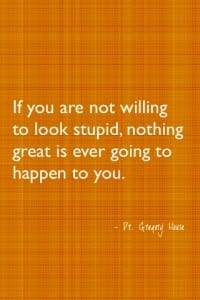 By now I have been rejected a ton of times while pursuing freelance writing. I've gotten used to it. That's because most of the "no's" I get come in the form of not hearing back from a prospect or a polite "no, I don't think you're a good fit."
Well, that was until yesterday.
My First Rude Email
My oldest daughter had woke up with a mild fever accompanied by a hacking cough and a sore throat. So, not wanting her to have to sit at the babysitters with a house full of kids all day I kept both of the girls home.
Needless to say my day was busier than usual. I tried to work on some basic blog duties and respond to emails in between entertaining the girls.
The day before I had sent about five emails out to potential writing clients. To my surprise two of them quickly emailed back. (It usually takes a bit longer before I hear back from prospects – if at all.) Since they had responded to me so quickly I wanted to get back to them quickly as well.
I replied to the first email. I got a response within a few minutes requesting a phone interview for next week. SCORE!
As I replied to the second email I was interrupted by the usual "mom, mom, mommy, mom, MOMMY" so I quickly finished up the email without proofreading it and hit send.
And (gasp) I made a  grammar mistake in the email.
I got a quick response from this email as well, only this woman wasn't so impressed. She began her email by pointing out my grammar mistake and ended it with a comment insulting and belittling me as a blogger and writer. 
I get it. It's not too smart to make a grammar mistake when applying for a writing job, that's a given. But to be so rude about it just amazes me.
I was shook at first. I sat and thought about the email for a good hour. I wanted to respond with a few choice words of my own. Luckily I maintained self-control.
It's emails like these that hold most people back from putting themselves out there. Nobody wants to volunteer to be criticized. But I can honestly attest to the fact that these emails are rare.
This is my first rude email, although probably not my last, out of the hundreds of emails I have sent out.
If you do end up getting a rude email, blog comment, or any other type of correspondence there are a few things you should do.
# 1 – Immediately Get It Out of Your Head
It is so easy to dwell on the one negative comment and let all of the positive comments fly out the window.
Look at me, I had just gotten an email from another potential client telling me that he was impressed with what I've done so far. Minutes after I got a rude email basically telling me that I suck and it was all I could think of.
Get the thought out of your head. Delete the blog comment or email and don't look back. If twenty other people think you're good enough don't let one person tell you that you aren't.
# 2 – Ignore It
When I read that email all I could think of was replying with some explicit words. I refrained.
A lot of people look to get a rise out of others. Belittling others makes them feel good about themselves. You don't need to give them that satisfaction.
Just ignore it. No need to defend yourself. You know you're more than capable so why try to convince someone who isn't worth your time.
# 3 – Do Something Positive
After receiving this email I was pretty pumped. Instead of letting my energy take a negative direction I decided to do something productive.
I sat down and started writing blog posts. I completely took my mind off of the email.
It's funny now that I have wrote this, the email isn't bothering me at all. I'm actually pretty glad that she told me no, even if it was rude. Because in the end I wouldn't want to work for someone like that anyways.
If you have received a rude email, blog comment, or anything else, just keep pushing on. There's no reason to let one negative piece of feedback stop you in your tracks.
What do you do when you receive negative feedback? How often has it happened?