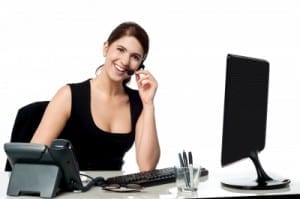 If you are interested in starting a side business or working from home becoming a virtual assistant could be a viable option for you.
A virtual assistant is an online personal assistant. As a virtual assistant there is a wide array of duties that your client may ask you to complete, depending on what business your client is in.
Being a virtual assistant does not mean that you have to work for someone who has a website. You can work for anyone who is busy and needs help. There are a lot of busy professionals and they may be in need of your services more than a blogger would be. Think big.
Here are a few common duties of a virtual assistant:
Commenting on Blogs

Responding to Comments

Social Media

Responding to Emails

Scheduling Blog Posts

Updating Old Blog Posts

Scheduling Meetings

Scheduling flights

Booking Hotels
These are just a few of the tasks that a virtual assistant might have. The tasks will be different depending on which client you want to work for. For example, if you are proficient in WordPress then you might be interested in assisting a blogger.
If you feel more comfortable scheduling meetings, flights, and appointments then you may want to work for a business owner or busy professional. Narrow down which tasks you enjoy doing and go on a client hunt from there.
Here are some ways you can become a virtual assistant.
How to Find Virtual Assistant Work
The first step you have to take is figuring out what type of work you want to do and what client will give you that work. Think about your experience and expertise and narrow your client list down. Once you have your ideal client in mind you can begin to job hunt.
The most important aspect of any freelance business is the ability to network. Find other virtual assistants in the field you wish to work in and network with them. Send them emails, leave comments on their blog if they have one, and be genuinely helpful. It's great to have a mentor when you are starting a new business endeavor.
Here are specific actions you can take to find virtual assistant work:
Utilize Social Media – Set up a social media account where you think you can find your client. For example, if you are targeting professionals your best bet is creating an account on LinkedIn. Make your profile keyword heavy and list any relevant experience you have in your desired field. Pick one social media site and spend a little time networking on it each day. Engage other users' and start interesting conversations. Make people notice you.
Letters of Introduction – If you have narrowed down the specific type of client you want to work with then you should have no problem performing a Google search and finding email addresses. Send emails to your prospects introducing yourself and the services you have to offer. You will have to email several prospects before getting a client so make sure you're ready to put in the work.
Cold Calling – Cold calling is not usually a task high on people's priority list, but it can really work. Make a list of all the potential people who may need your services in the area. Next, turn to the phone book or the internet and hunt down phone numbers. When you make the call give your prospect a brief introduction of what you do. Keep it short, sweet, and polite. You may get shot down several times but eventually somebody will say yes.
Spread the Word – Make a website (a free one will do) so that you can point people to one place that lists all of your services. Once you have your website up tell all of your friends and family and have them spread the word. You could even get business cards with your web address on them to pass out to prospects. (You can get free ones at Vistaprint)
Don't Give Up
The first client is always the hardest. If becoming a virtual assistant is something that you really want to do, don't give up. Get used to rejection. You will be rejected many, many times, but eventually somebody will say yes. Once you get that first yes you'll find that the second and third client becomes much easier to find.
You'll be on your way to having your own virtual assistant business in no time.
What's your best networking tip?