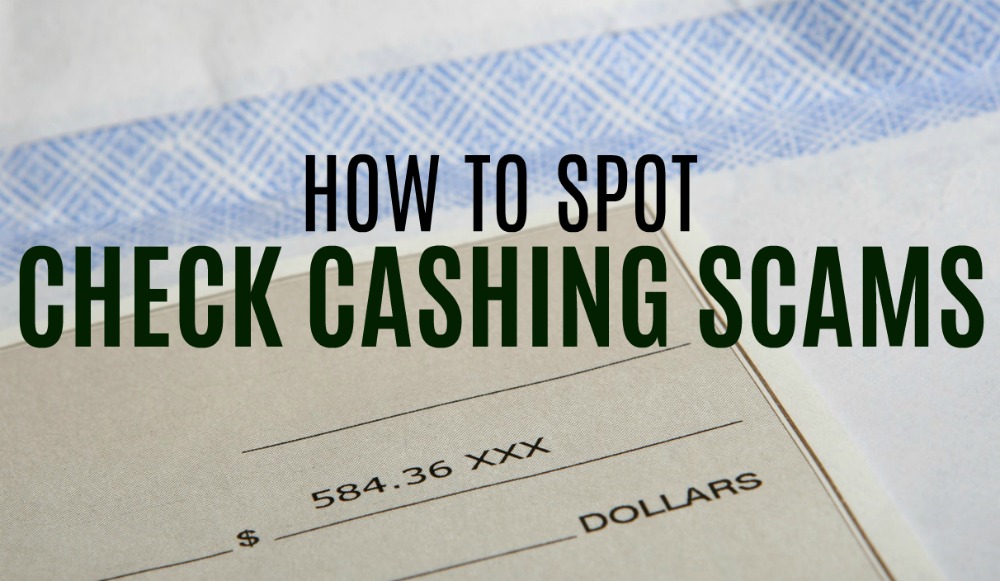 The internet can be a great place to connect with others, take advantage of convenient services, and even find meaningful work.
The internet also has a dark side when you think about scammers and all the hackings that take place. When it comes to finding flexible online work, there are plenty of legitimate opportunities.
That said, there are plenty of scams to watch out for as well. Years ago when I was in college, I almost fell victim to a check cashing scam. Unfortunately, some people are still running this common scam so I wanted to let you know how it works and what to look out for you so can avoid it.
It Can Start With a Remote Job Search
When you search for remote jobs, it's important to make sure you're using credible sources and websites. If the work from home job is so great, it should have reviews and all the information should be clear.
There is one exception and that's if you're looking for one-on-one contract work. In my case, I was looking for virtual assistant jobs on Craigslist.
VA clients can range from large companies to small entrepreneurs or bloggers. All of them can offer a legitimate opportunity, but it can also be really difficult to weed out the real from the fake.
How the Check Cashing Scam Works
Generally, the person running the scam convinces the victim to cash a check that they send them via wire transfer, then send the check to someone else.
The victim or 'worker' keeps a portion of the money for compensation for completing the task.
While this probably sounds pretty odd already, the big surprise is that the person's check is fake. Sometimes banks catch it right away and other times they don't.
If and when they do catch on the scam however, you'll be an accessory to the crime. This can put someone in a very dangerous situation which is why it's important to approach certain 'work form home' opportunities with a skeptical eye.
What a Fake Check Cashing Job Can Look Like
There are several ways that criminals try to market their fake check scam to hopeful people like you and I who are just looking for a flexible way to make money.
In my case, the "job" was introduced to me as a virtual assistant position. The ad stated that I would be running errands, handling payments, and doing other administrative work.
My first assignment was to accept a few money orders from the client and send them to other people while cashing one to pay myself.
Other check cashing scams involve:
Mystery Shopping: This is not a scam in itself as there are plenty of legit mystery shopping sites. However, scammers may claim to be a mystery shopping company and send you a check to cover purchases you need to make and request you send them back the difference.
Payment Processing: All payment processing jobs may not be scams, but they are if you're processing payments for people overseas.

Overpayment Scam: If you sell something but receive a check for more than the agreed upon price, this could be a major red flag if the sender asked you to send back some of the money for "taxes" or "fees".C
How to Spot a Check Cashing Scam
By now, you've probably noticed some common factors of this scam. Hint – it's the checks. If people are overpaying for products or services or sending you checks for tasks you haven't even completed yet, consider is a huge red flag.
During my experience, I found it odd that the person who hired me didn't even need me to complete an application or sign a contract for the work.
They also sent me money orders and trusted me to resend them out when they didn't know me from Adam.
Luckily, when I received my assignment, something didn't sit right. I started researching and putting two and two together. Mind you, this was years ago because warnings about this particular scam were wildly publicized.
I still had a feeling that something could have been off so when I got to the currency exchange, I actually asked the clerk if my money order looked fake. She took it to the back then returned and told me that they were indeed fake.
Whew. I was shocked but relieved that I found this out before doing any further work for the scam artist who hired me. Had I tried to use the money orders, I could have been in big trouble so I'm glad I listened to my gut.

Important Tips
Ultimately, you don't want to accept checks from people you don't know. If you're selling something and someone tries to pay you with a check, see if you can get it verified with your bank first or ask for a PayPal payment instead.
When it comes to finding work from home job, make sure your client doesn't agree to hire you when you didn't even submit an application or resume. Don't accept payment upfront unless you have a contract and a legitimate service to provide.
Alternative Legitimate Work From Home Opportunities
Try to avoid check cashing scams at all costs. If you're looking to work from home with a legit opportunity, check out these posts to help you get started.
7 Companies That Hire Virtual Assistants
5 Places to Find Freelance Writing Clients
How to Become a Search Engine Evaluator
Entry-Level Online Jobs For Transcriptionists
11 High-Paying Work From Home Jobs That Don't Require a Degree
Have you ever heard of this check cashing job scam?