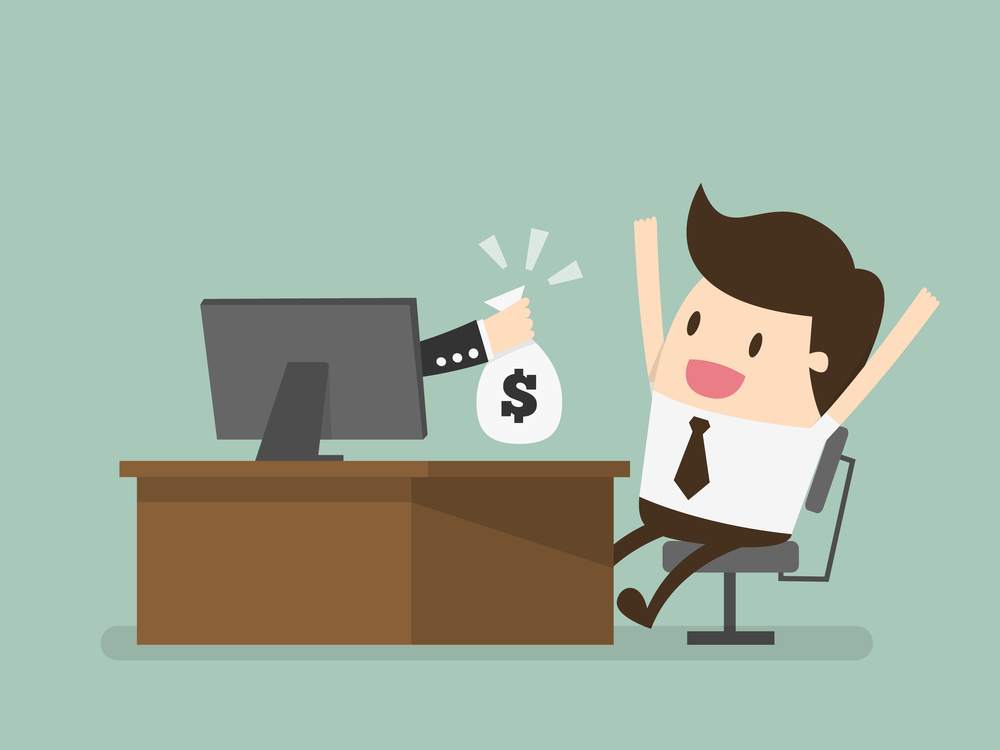 Let's face it, not all work from home jobs are legit. Craigslist in particular, has not always gotten the best reputation for offering legitimate opportunities.
While I've actually found quite a few traditional jobs and home-based flexible gigs from Craigslist, there's still the possibility of running across a scam.
One extra income opportunity that is often in question is whether you can make money posting ads on Craigslist. If so, is this even something that would be worth your time and effort? Let's explore this.
What Are Craigslist Ad Posting Jobs?
You may be browsing on Craigslist or the internet and see an ad that looks similar to this one below.
It will basically say that you can make X number of dollars per day or per hour posting ads on Craigslist, job boards, or other sites.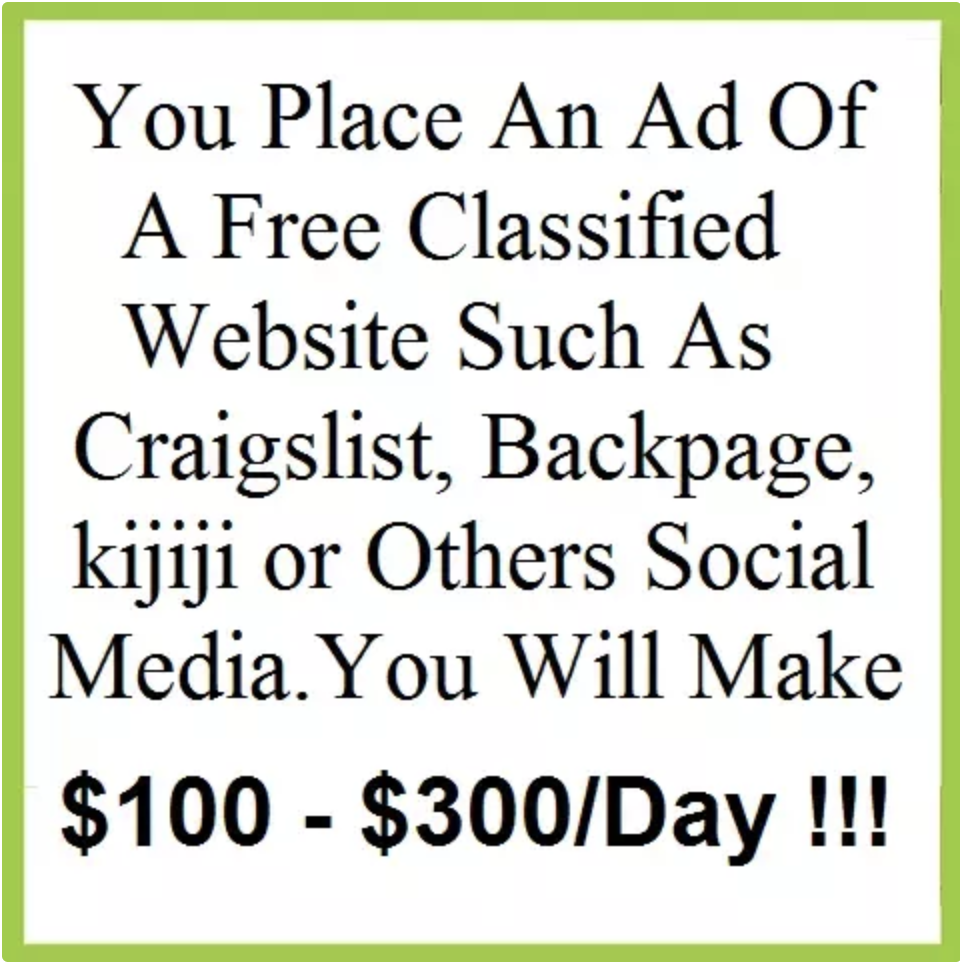 If you click on the ad, it will take you to a landing page where you'll be told that you can type your own ads, choose your own hours, and work whenever you want. Sounds like a dream job right?
Only it isn't. In the past, people have been asked to pay for 'starter kits' that will help explain the job further and provide them with everything they need.
In some cases, the companies that mail these 'starter kits' will vanish and go out of business. Or, you'll be asked to post the same ad that reeled you in and you won't get paid unless someone clicks on it and buys a starter kit or membership.
When you think about it, it doesn't really make much sense to make $100 – $300 per day by posting a few ads – a job that anyone can do without any skills.
The fact that you don't need any experience, credentials or even an application sounds fishy and it is. The thing is, these scams are not just for posting ads on Craigslist. They may be for other sites too.
Other Similar Craigslist Offers
All ad-posting scams may not look the same upfront. I ran across this other posting on Reddit. It's a few years old but definitely doesn't sound like a worthwhile opportunity.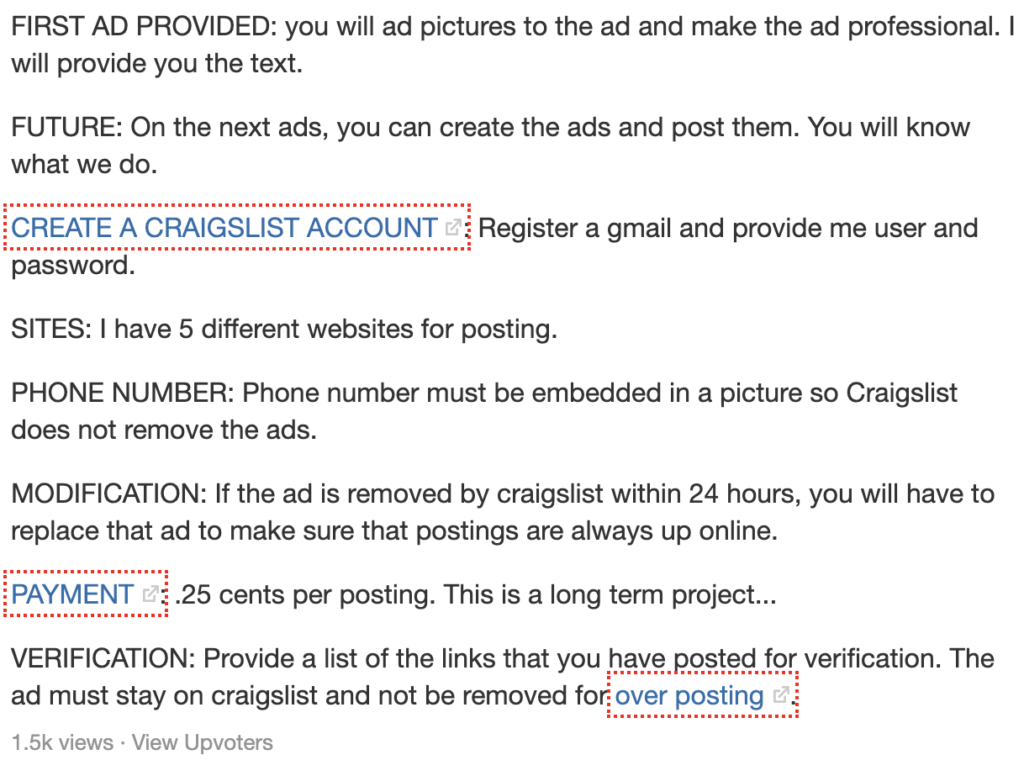 After reading this, my first response is…. what types of ads is this person trying to post that they keep getting removed from Craigslist?
If you're the one posting them, you may have to take the heat if the content is banned or inappropriate.
Next, $0.25 per ad is not anything to call home about. Plus, this person is asking that you monitor the ads constantly to ensure they're up. It sounds like a lot of work for very little pay. That is if this is even a legitimate online job.
I'd have to know a little more to determine that, but some common red flags include:
Being asked to pay money for a membership or starter kit
Being asked to refer your friends or other people in order to get paid
Getting sent a check or having to send money via Western Union
Job description that claims you can make hundreds per day
Ultimately, most jobs that claim they'll pay you to post ads on Craigslist are scams and just don't add up all the way.
However, there are other legitimate ways to make money posting ads online. Here are some alternative options.
Posting Ads on Your Blog
If you have a blog, one of the easiest ways you can make money is by posting ads to your site. You can start with Google Adsense which is free to use and you'll get paid either whenever someone clicks on your ad or when they view it.
What I love about Google Adsense is that you can put ads anywhere on your site and they can be relevant to what the person is interested in or has recently searched on Google. Google Adsense requires a $100 balance before you can redeem the money.
You can also join other ad networks and earn money that way. Keep in mind, the more monthly pageviews you have, the more you can earn from ads.
Some ad networks will require a minimum number of pageviews but Google Adsense is a great place to start.
Affiliate Marketing
Another way to make money by posting ads is through affiliate marketing. This can also help you monetize your blog or niche site.
With affiliate marketing, you receive your own unique link to promote a product or service you believe would help others. If someone makes a purchase or signs up using your link, you can get paid.
Some companies have different rules for how you can promote your affiliate link. Most times, you can write a blog post, add the link to your site, post it on social media, or include it in your newsletter so long as you give a disclaimer that you're an affiliate.
Advertise on Social Media
Post your own ads to social media to increase your cash flow. You can share your affiliate or referral links on your social platforms.
Or, you can invest a little money into Facebook and Instagram ads to promote your products or services. For example, if you have an e-book or sell t-shirts, designing a Facebook ad to put in front of your target audience may turn out to be pretty profitable.
If you have a lot of Instagram followers, you may be able to make money by partnering with other companies to do sponsored posts. You don't have to be a celebrity or have tens of thousands of followers either. I was able to get paid Instagram post opportunities with less than 5,000 followers.
Become a Virtual Assistant
Say you don't have a blog or social media presence but still want to make money online – ideally by posting ads or doing something similar.
The best legitimate alternative option to consider is working as a virtual assistant. Virtual assistants can perform so many different roles and they get to do it all remotely.
Entrepreneurs, small business, and bloggers all hire VAs to help perform tasks like managing social media, editing, scheduling content, setting up meetings, data entry, transcription, and even posting ads online.
If your client has a product or service that they want to promote, you can get paid to post ads online for them to help with sales and marketing. Working as a VA is a flexible job and tends to pay pretty well. As your experience increases, you can increase your hourly rate and be more selective in terms of who you work with.
For more information on becoming a VA, check out these posts to guide you.
While posting ads on Craigslist may not be the best option, there are plenty of other ways to make money online.
Have you ever fallen for a work from home scam? What's your favorite legitimate way to make money from home?