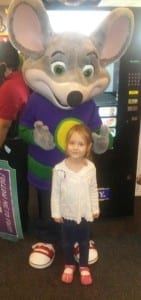 My oldest baby turns five today!
Five. Years. Old.
I feel like she's eighteen and getting ready to move out or something. And I'm pretty sure she feels like she's sixteen and thinks she's getting ready to drive. As a matter of fact she's been asking me quite a bit lately when she'll be old enough to drive a car……..
So, big day for us around here! We're in the midst of a snow storm with an expected 6-7 inches of snow today and then get hit with an ice storm Sunday. Fun, fun.
I had planned a little party for Kailyn for tomorrow but I don't know that the weather is going to let that happen. Either way today will be spent making her feel special!
Goals for the Month & Parkinson's Law
I am not going to post a recap of last month's goals because quite frankly I didn't pay much attention to them. For the month of November I kind of lost focus and I think I've figured out why: I'm not busy enough!
When I was working a day job full time and blogging and writing on the side I was extremely productive. Now I have more free time and I need to fill it up. Robert at Beat the 9 to 5 has been talking about Parkinson's Law lately which states "work expands to fill the time available for completion."
This means if you only have two hours to get something done you'll get it done in two hours. However, if you have eight hours to get something done you'll make the project fit the whole eight hours.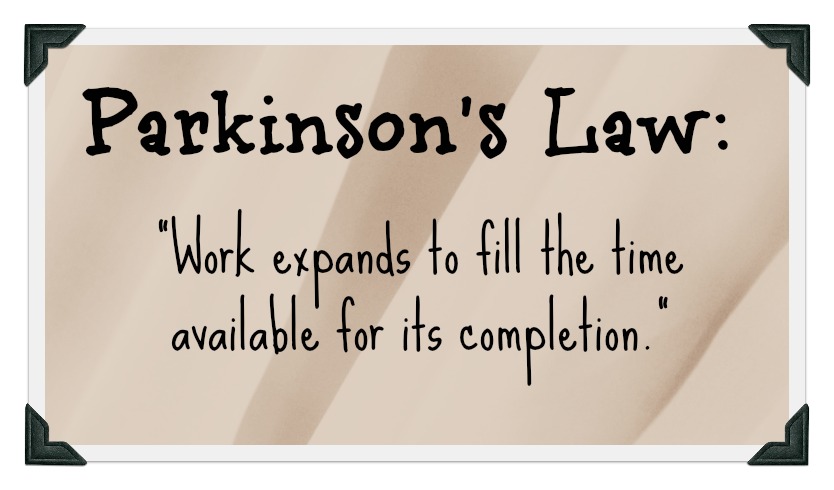 This is a problem for me because when I have too much time I tend to over think things and therefore not come up with my best work.
So the goals this month will be all about filling my time with all of the right projects.
I am only going to post my business/income goals this month so I can create a stronger focus. So, here it goes.
Find 4 More Weekly Blogging Gigs
I need four weekly blogging jobs (well, just four posts) to meet my blog writing income goals.
I did just land a new gig that requires more weekly posts than I normally get for one blog. I'm pretty happy about that 🙂 So, if you want to check me out some more you'll now be able to catch me on Monday, Wednesday, and Friday at Everybody Loves Your Money. (Starting next week.)
So just four more per week and I'm at the income level for freelance blogging that I want to be at. (Actually I'll be slightly above it because I got a couple irregular blogging jobs last month.)
Then I'll move on to my next writing goal.
Break Into Magazine Writing
I ordered the 2014 Writer's Market
 from Amazon which should arrive today. This book has thousands of print writing markets and includes contact names and pay rates.
I want to start submitting queries to small publications. I am thinking about trying some small parenting or regional magazines.
From what I read print publications pay much more than online writing does. I am hoping to eventually make magazine writing a decent percentage of my income.
Continue with SMI Blogging Goals
I have still been seeing my traffic on this blog grow despite not having a guest post published yet. I am amazed what simple SEO did for my traffic and how it's continuing to increase. I also implemented everyone's suggestions from Monday's post and will continue to do so.
I do have 4 guest posts coming out this month. I am predicting that my traffic will increase 3-4 times of what I originally posted. I'll give you an update at the end of the month.
Post Weekly on Defeat Our Debt
Defeat our Debt is doing good! And, I'm happy about that. The stats have continued to grow and I actually might make my first few bucks off of it next week.  I have something in the works just waiting for it to come through.
I also wrote a short eBook for D.O.D. in November to offer to email subscribers and people are already subscribing. I want to post at least once a week to keep the blog in good standings.
I am thinking that within the next two months DOD will become profitable!
Earn $2,500
November was one of the lowest income months I've had in a while and that was due to my slacking. But I'm back and am going to work harder than ever!
I have been limiting myself by keeping my income goal at $2,000 knowing that I don't have to work very hard to receive that $2,000. I need to inch up the income goals or else I'm not going anywhere.
Whether I hit the $2,500 mark or not….only time will tell. Either way I'm gonna give it my best shot.
What I Earned in November
So you're probably wondering what I earned in November……it wasn't anything great, actually it was kind of lackluster but I wanna keep it real so I'm going to tell you anyway.
$1,719.25
Nothing special but still more than enough to cover all my expenses.
So, that's that. What's going on with you?
Thanks to the following carnivals for including my submissions: Carnival of Money hosted by Carnival of Money, Carnival of MoneyPros hosted by Money Pros, Carnival of Personal Finance hosted by Barbara Friedberg Personal Finance, Finance Carnival For Young Adults hosted by Bryan Maltier, Lifestyle Carnival hosted by Hurricanes, Panties & Dollars, Carnival of Financial Independence hosted by Budget And The Beach, Carnival of Financial Camaraderie hosted by Micro Missions, Carnival of Retirement hosted by Investing Five Daily