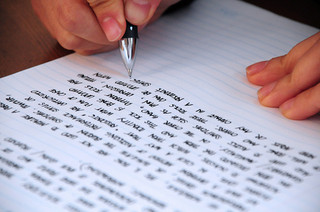 In lieu of quitting one of my jobs I have been hustling trying to find different sources to replace the income. In the past week I have emailed nearly 20 websites asking if they need staff writers. My recent efforts have brought to light some of the things that these websites look for in their writers.
Here are some qualifications you will need to have to become a freelance writer:
Previous Writing Experience
Everyone has to start out somewhere right? So if you are like me and you don't have any previous staff writing positions, you will want to either start a blog, write a few articles and publish them on sites such as hub pages or Ezine Articles, or simply save a few in word documents. The first thing you will be asked for are two – three writing samples.
A Blog
Having a blog is a good way to showcase your writing and marketing skills. The big website and blog owners not only want a good writer, but a good writer with a strong following. Having a blog shows that you are able to consistently write and is a tell-tale of how well you can market your writing.
Good stats also help out. These stats can include comments on your blog, Alexa ranking, and Google Page Rank. My blog is still a baby. Even though I am pleased with the progress I have made, I have a lot of work to do before it becomes impressive to potential writing clients.
A Strong Social Media Following
A couple of the writing applications I filled out wanted to know the amount of Twitter and Facebook followers that I had. Social Media is an area that I drastically need to improve on. Potential writing clients want to know that you will be able to share your articles/posts via Social Media and draw in visitors.
If you haven't already, Follow me on Twitter. (Much appreciated!)
A Resume
I had one really good lead on my staff writing efforts. A popular blog emailed me back after I inquired about possible writer openings. They asked me for writing samples, after I supplied those they then asked me for a resume.
I didn't have any writing experience other than what is on this blog and my guest posts around the web. I listed my objective, blog, and three more writing samples. Since this resume was for a personal finance website I also listed my relevant non writing experience to show that I did have hands on knowledge in the personal finance industry.
My resume has tons of room for improvement. If you are thinking of applying for writing positions it's a good idea to put some thought into make a professional, stand out resume.
Conclusion
You may not be asked for all of these things when applying for writing positions, but in my experience so far you will be asked more often than not. I am hopeful that I can lock down at least two staff writing positions in the next month but to do this I will probably have to email at least 50 different sites.
Different potential clients are looking for different criteria in their writers. Don't let rejection get you down, instead learn from it. It's apparent that starting out is a little tough, but sooner or later I will get my break and so can you!
Other Helpful Posts:
So You Want to be a Freelance Writer? @ Making Sense of Cents
The New Freelance Writer's Guide to Getting Started @ Make a Living Writing