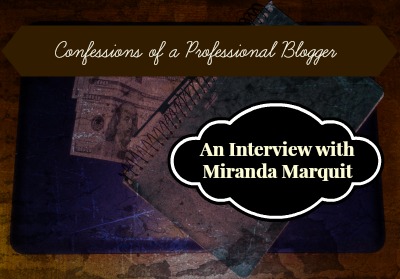 Have you ever wondered how some writers just seem to be everywhere? Ever wondered how a professional freelance blogger views her career? I am excited today to have a few of those answers for you!
If you're an avid reader of the personal finance niche chances are you've seen the name Miranda Marquit just about everywhere. In fact, seeing her name across such a wide variety of personal finance blogs helped inspire me to give freelance writing a shot.
I was always curious as to how Miranda was able to pull off quite so much and was ecstatic to hear about the release of her new eBook: Confessions of a Professional Blogger: How I Make Money as an Online Writer
. If you want to get into the mind of a seasoned pro, who makes her living by writing online, I definitely suggest that you check it out.
I was lucky enough to be able to ask Miranda a few questions in regards to her career in freelance writing. Here's what she had to say.
What was the biggest obstacle you had to overcome when first starting out as a freelance writer?
Finding the time to write was a bit challenging. I had a young son to take care of, and my husband was going to school. I had to do what I could to carve out time each day to write, making it a priority when I could command an hour or so.
As a freelance writer I think negative criticism is inevitable. How do you deal with it?
Mostly, I just remember that it's not personal. I've had people say rude things about something I've written, and there are a few people who aren't very complimentary about my writing style — or the fact that I write so much. Even when they get personal, I try to remember not to. Instead, I focus on my satisfied clients, and I think about my family and others who love me. If things get really bad, though, sometimes you have to stop reading comments and move on. Once you get out there, and you publish, every troll with too much time on their hands, or even regular folks who just don't agree with you, might express an opinion. You can't focus on pleasing everyone, or on the negativity.
I see your name all over the personal finance blogosphere. How do you find time to get so much writing done? Do you ever face burnout?
My writing is basically my "job." It's what I do. I don't have another job. My son is old enough that he's in school. That makes it a little easier. When he was younger, I paid for daycare twice a week for three hours (six hours total each week) so that I had chunks of time to write. Another part of it is my training. I went to journalism school and learned how to write quickly. Also, the fact that I have so much practice writing, and have been doing this for so long, helps me fit in quite a lot in a day.
I do feel burnout sometimes, though. It's hard to keep up the frenetic pace from day-to-day. To battle that, I occasionally go through and drop clients. Sometimes I add in a different writing gig, such as ghostwriting a book, for a change of pace. And there are times when I just shut down for a couple of days and refuse to work on anything so that I can re-charge.
What's the most rewarding thing about being a freelance writer?
I like the freedom that comes with it. For the most part, I set my own hours. I choose my own income. If I want some extra money for something, I just need to do a couple extra jobs. I've been doing this long enough that I have a reputation, so I can pick and choose between clients. Over time, once you build up your portfolio, you get to the point where you don't have to work with people you don't want to work with. I like that freedom.
I want to thank Miranda for doing the interview! If you want to learn more about her you can check out her blog, Planting Money Seeds, or pick up a copy of her new book Confessions of a Professional Blogger: How I Make Money as an Online Writer
.