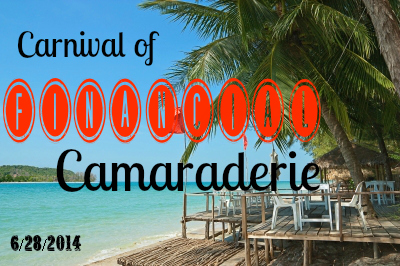 Today I'm happy to be hosting the Carnival of Financial Camaraderie. (Boy, that's a hard word to spell 😉 )
For those of you who don't know a blog carnival is a list of posts from a certain blog niche, in this case personal finance. The purpose of a blog carnival is to expose new blogs to others.
I realize that this is a super long list so I went ahead and highlighted some of my favorite articles in case you wanted to check them out.
And if you want to host a blog carnival in the future you can do so by applying here.
Featured posts (my favorites 😉 )
Kyle @ The Penny Hoarder writes Want to Flip a House? Here's How to Actually Make a Profit – Thinking about buying a fixer-upper, putting in some work and reselling it? Follow this advice to flip your house and make the most of your investment.
Cat @ Budget Blonde writes My $139 Tube of Toothpaste – Gremlins are all those little unexpected expenses that pop up, like speeding tickets or a broken retainer or a flat tire.
Thomas @ i need money ASAP! writes Organizations That Help With Rent – So you need money asap because you're behind on rent. Well the good news is that there are organizations that can help with rent in these situations. These organizations are either not-for-profits, religious groups, or local/federal government agencies. Make sure to try them all since each one has its own criteria for granting assistance.
Monica @ Monica On Money writes What To Do If You Totally Failed Your Budget – For the past few years, I have been a die-hard budgeting addict. I live for my budget and look forward to the end of each month.
Hayley @ Disease Called Debt writes How Being Humble Helps Us to Live a Happier Life – This post is about the importance of being humble. When things aren't going our way, looking at our lives through a lens might help to put things into perspective. Everyone goes through difficult times in their lives whether it's to do with finances, relationships, jobs or even losing a loved one. Yet it's possible to find something positive in almost every situation if we look hard enough.
BUDGETING
Emily @ Evolving Personal Finance writes May 2014 Month in Review: Money – We had a very high-spending month that would have overdrawn us if we were still using our old money management system.
Hadley @ Epic Finances writes 4 Investing Tips for Beginners – If you're new to investing there are a lot of things that you need to learn in order to safely start investing your hard-earned money and using it to make more.
Lenny @ Best Money Saving Blog writes Do What You Love, Love What You Do – Do you have a favorite hobby or pastime? If not then you need to find one quick!
Daniel @ Make Money Make Cents writes 4 Tips to Sell Your Home Fast – With the housing market looking troublesome and many people still tightening their budgets in the economic recession, finding the best buyers for your house can be tricky.
Mario @ Debt BLAG writes How renters can avoid losing your security deposit — to me (a landlord's perspective) – Getting back your security deposit when moving out can be a big source of anxiety; here are some tips to improve your chances
BUSINESS
Alexa @ Single Moms Income writes The Best Online Business Blogs to Learn From – It seems like here lately I've had quite a few people email me and ask me about things that are online-business related.
Harry @ The Rideshare Guy writes My First Weekend Driving for Lyft and Uber – As most of you know I recently signed up for Uber in order to take advantage of their '$500 Steal A Lyft Driver' promotion (Ok I made up that name). Even though I started out with Lyft and I'm a bigger fan of their service in general it makes a lot of financial and business sense to drive for more than one TNC. We don't know what's in store for one company over another so it's essential that you diversify your streams of income as a small business owner (remember we are all busines
CAREER & EDUCATION
SBB @ Simple Budget Blog writes Your Spending Philosophy – Are you a spender or saver? Planner or pantser? Your spending philosophy may determine how well you budget.
Wayne @ Young Family Finance writes Your Financial Perseverance: How Bad Do You Want It? – How bad do you want to be out of debt? Or free of the creditors? Or financial stable? How hard are you willing to fight to reach these financial goals?
Jay @ Daily Fuel Economy Tip writes Braking Properly Can Save on Gas! – Most drivers realize that an automobile uses the most gas when it accelerates.
Harry Campbell @ Your PF Pro writes How to Fly on American Airlines for Free (or Close to it) – I've worked in the aerospace industry for almost 5 years now since I graduated college. And whenever I tell people what line of work I'm in, they undoubtedly ask if I ever get to fly in the planes I work on for free. Sadly the answer is always no, actually there aren't a whole lot of flight related benefits that being an engineer will get you. Generally, it's only the flight attendants and pilots who get to fly for free.
Paul @ Frugal Toad @ The Frugal Toad writes How to Lower Debt With Student Loan Forgiveness Programs – The student debt crisis in the United States is at an all time high. With over $1 trillion in outstanding debt, most students can be certain they will have some sort of debt when they graduate. While financing an education is still seen as good debt, any debt can be scary for new graduates. Luckily for many, there are some student loan forgiveness programs that can help them reduce debt. Not everyone will qualify for such programs, but here are more details on how they work.
Michelle @ MakingSenseofCents writes I'm A Stella & Dot Independent Stylist – As an independent Stylist with Stella & Dot I share and sell irresistible jewelry and accessories online and at in home trunk shows or pop up shops. Currently there are 12,000 active stylists for this Inc. 500 fastest growing company with a $25 billion global market opportunity.
JL @ JL Online writes Online Entrepreneurship – You can work online and make money anywhere in the world.
FINANCIAL ADVICE
Mr. 4HWD @ The Four Hour Work Day writes When Wanting More Money Doesn't Mean You're Greedy – There's been a lot of media write-up over studies that show Millennials would rather have fulfilling jobs with low salaries than jobs they didn't enjoy but came with high salaries. Gen Y doesn't seem to be as driven by money and success as they are by wanting to make a difference.
Maria @ The Money Principle writes Five things to look for when choosing credit cards – When we first got in financial trouble – remember the obscene amount of debt we had and paid off – I did what many people who had to change their habits rapidly do: I went anti!
Alexa @ Defeat Our Debt writes Should You Take a Vacation if You're in Debt? – Your debt is stressing you out. Work is stressing you out. And you just need a little break from the normal day to day grind.
Amy @ Money Mishaps writes How to pay for car repairs with no money – If you're one of the lucky ones that has already spent thousands of pounds on a new car, it is a little disheartening when the mechanic tells you that you need to pay for some serious emergency repairs before it's safe to get on the road again.
Jerry @ Cornhusker Finance writes How to Train the Brain for Financial Success – We explore how to leverage your brain and its various neurotransmitters for your own benefit financially.
Erastus @ Wise Dollar writes What is the Difference Between Term Life and Whole Life Insurance? – The difference between term life and whole life insurance really comes down to the value you're receiving. I cover the debate to see what's best for you.
FRUGALITY
Marissa @ Finance Triggers writes 3 Ways to Ensure You Have Money Left in the Last Week of the Month – We all know that when we look in our bank accounts during the week approaching pay day, it is more than likely that a few moths will fly out.
Sam @ The New Business Blog writes 10 Tips for Hiring Excellent People – As an entrepreneur it's definitely okay for you to obsess over hiring employees because, for small businesses especially, one bad hire can squash an entire team's productivity quite quickly.
Lily @ Paying Debt Down writes What to do if you run out of cash before payday – Many people are finding it difficult to make their money last until they next get paid.
Bob @ Dwindling Debt writes Building Wealth on a Small Salary – Part Three – If you're ready to get some more excellent advice on how to build wealth, even if you're not making a huge amount of income, get comfortable and let's get going!
Danielle @ Saving Without a Budget writes A Guide to Avios – Airmiles were once a popular way in which people could fly to faraway places without having to dig deep into their pockets.
Brock Kernin @ CleverDude writes The Self Checkout Lane Tried To Steal $85 From Me! – The self checkout lane and I used to be friends, until this happened!
Brad @ How to Save Money writes Create a Grocery List to Save Money – How to stop wasting hundreds on unnecessary food items
TW @ Tightwad Travelers writes American Express Serve – Serve is a free tool that allows you to earn travel rewards through Manufactured Spending
INVESTING
Dominique Brown @ YourFinancesSimplified writes What is an Appraisal? – When it comes to buying a house, there is so much to do even after you've made an agreement and created a purchase contract with the seller. One of the things you may have to do includes having the home appraised. In some cases you won't, and it will depend on your circumstances.
Ted Jenkin @ Your Smart Money Moves writes Was Your Mutual Fund A One Hit Wonder? – We love lists. In fact, we have become addicted to them.
Brad @ Enemy of Debt writes Optimise your spending: eliminate waste in your life and budget – Here is the ERR budgeting strategy I came up with to optimise our spending and make out money go further.
Natalie @ Debt and The Girl writes (Natural) Beauty Tips on the Cheap – I have really been ignoring my beauty routine lately and my skin has been making me pay for it.
Danielle @ TeacHer Finance writes Can't Afford These Luxury Items? Don't Buy Them! – While borrowing money to purchase a home, get an education or buy a new automobile are (relatively) smart financial decisions, there are a number of items that a person should never borrow money in order to purchase.
Aaron @ Aaron Hung writes What days of the week are the best to save money? – If you're like most typical Americans you do most of your shopping during one or two days of the week and, if you're looking to save money, that's a habit you need to change.
Marissa @ Thirty Six Months writes 5 Tools That Every Blogger Should Use – I have a thing about pimping out products that I love. I think it's fair to help people find things that make sense, and make their life easier.
Katie @ IRA Basics writes The Secret of Saving for Your First Deposit – Are you ready to become a homeowner and do not fancy a no-deposit home loan? Then the biggest obstacle standing in your way is the first deposit or down payment.
Oscar @ Money is the Root writes How to get around the Roth IRA Income Limits – Most financial experts will tell you that a Roth IRA is one of the best retirement vehicles you can use.
Andrew @ Finance with Reason writes How NOT to Value a Stock: 4 stock valuation mistakes to avoid – If you value stocks based on historical prices, observations, ratios, or advice from the media, you may be trusting your trading to luck instead of skill.
Jeremy @ Modest Money writes Understanding Binary Options – Binary options are a way to make money fast without having to constantly buy or sell your stocks and they work by considering stock trends and making your bets accordingly, so if you have knowledge of the market, it is easy to make money fast.
Erastus @ Sprout Wealth writes Why Slow and Steady Wins Out When it Comes to Investing – Slow and steady is the best approach when it comes to investing. While it may not be exciting, lack of excitement is good when you're in the stock market.
SAVING
Larry @ KrantCents writes Why is there income inequality? – The top 1% increased income and the middle class income has been declining at a much faster rate.
Jack @ Money Saving Ethics writes Choosing the best bank account – Searching for a bank account can seem like a daunting task. There's so much to consider before you open up an account and so much jargon to understand.
Matt @ Budget Snob writes Five Negotiation Mistakes to Avoid when Buying a Used Car – Purchasing a used car is a great way to avoid the hit of depreciation and drive away on a steep discount in comparison to new models.
Mr.CBB @ Canadian Budget Binder writes Will signing a room rental feel like I'm moving home? – Signing a room rental agreement could feel like you are moving in with your parents but it could be worse, you could be moving in with Sheldon Cooper.
OTHER
SavingMentor @ How To Save Money writes Get Loads Of Free Movies With Scene Rewards – I've been collecting Scene rewards since late last year because that is when Cineplex FINALLY came to my area after buying out Empire Theatres who had a monopoly around here.
Mike @ Personal Finance Journey writes My 7 easy ways you can clinch that sale – My 7 easy tips to follow to clinch your next sale and keep those sales rolling in.
Don @ Money Reasons writes Extra Side Income Is More Than You Think! – Do you realized that extra side income is more than you think! If you participate in such a practice, it can really make a difference to your bottom line!
Debt Guru @ Debt Free Blog writes Financing Family: How to Prepare for a Newborn – So you're expecting! The miracle of life is precious and adding to the family is amazing. However, you've gotta be sure to include a baby into your budget.
Don @ MoneySmartGuides writes Selling Your Old Cell Phone For Cash – Odds are you have an old cell phone lying around your house.
CAPI @ Creating a Passive Income writes Identity Stolen? Steps for Recovering from Identity Theft – You see a lot of information on how to prevent identity theft. But what you do when your identity is already stolen? Read here for some great tips.
IMB @ Investing Money writes Where is the Price of Gold Headed? – The US stock market made a new high in the Dow and S & P. Gold, on the other hand, fell to its lowest level in the past 15 weeks. Read to find out why.
Hank @ Money Q&A writes 5 Wealth Concepts You Need to Teach Your Children – It's important to teach your children financial lessons early. There are many money lessons that you can teach your children the values of money and handling it.
Harry Campbell @ Your PF Pro writes Get the 2014 US Airways Mastercard Before It Goes Away – Even though the merger between US Airways and American Airlines has been going pretty smoothly, I've actually been more concerned about how the merger between the two frequent flyer programs will work. Working in the aerospace industry, I think less competition is a bad thing for consumers but at this point, there's not a whole lot we can do about it. Instead, I decided to take advantage of the merger by applying for the US Airways Mastercard one more time before it goes away.
Happy Saturday!!