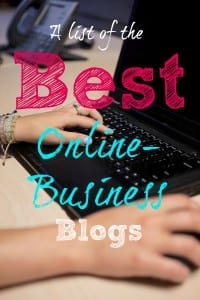 It seems like here lately I've had quite a few people email me and ask me about things that are online-business related. (Which is awesome, I love you guys!)
Because I realize that so many of you are looking for resources to start your own business – whatever that may be – I wanted to share with you the list of my absolute favorite online business/money making websites.
Seriously, I stalk some of these blogs, just waiting for the next post to be up.
Shhh. Don't tell….
Entrepreneur Boost
Entrepreneur Boost is written by Chris Guthrie who is best know for buying and fixing up websites for profit.
This is definitely one of my favorite websites because Chris tells it like it is. He doesn't sugar coat things which makes me trust him a lot more. If he thinks something is stupid, he says it's stupid.
Plus you can find a wide range of posts on making money online.
Here are a couple of my favorites:
Smart Passive Income
If you've poked around the world of online business I'm willing to bet you've come across Pat Flynn at least a few times.
Pat created Smart Passive Income as a way to chronicle the methods he was using to make money online. The site exploded and is now packed full of awesome info for entrepreneurs.
The Smart Passive Income Podcasts are hands down, my absolute favorite podcasts. I listen to them while I clean my house and when I'm in the car.
Try them out. But beware – you might get addicted.
My favorite posts:
Niche Pursuits
I was first introduced to Niche Pursuits by MMD and have been hooked ever since.
Much like the title sounds Niche Pursuits is about creating niche websites. I really don't think you can find more explanatory posts on the topic than what Spencer Haws provides.
Here are a few of my favorite posts:
Make a Living Writing
When I was first interested in pursuing a freelance writing career I was hooked on Make a Living Writing.
In my opinion this is by far the best resource available for freelance writers. Anytime someone asks me how to get started freelancing I refer them to this blog.
Yep, it's that awesome 😉
Here are a couple of my favorite posts:
You can also gain access to a 20 week marketing e-course for freelance writers by signing up for Carol's email updates.
Start Up Bros.
I honestly have no idea how I found Start Up Bros. but I'm glad I did.
Will and Kyle don't post much on this blog but when they do it's definitely worth a read. Their posts are almost the size of mini e-books and are jam packed with info.
Here are a couple of my favorite posts:
Honorable Mentions
I also wanted to mention a couple more sites that I check in with from time to time. I don't read these ones as much as the above but I still think they're pretty great.
How They Blog – How They Blog is written by Kat Lee and showcases different female bloggers as well as blogging strategies and success stories. My favorite part of this blog is the podcast.
I've been supplementing my SPI podcasts with a few of these!
Be a Freelance Blogger – When I was first getting started with freelance blogging I would read this blog a lot. Since I'm now confident with my abilities to find jobs I don't read BAFB quite as much anymore.
My favorite part of this blog is actually Sophie Lizard's Client Hunting Masterclass. I took this when I was just starting out and it was an immense help.
That's a wrap!
Those are my absolute favorite online business blogs. Now I wanna know yours!
What's your favorite business/money making website?