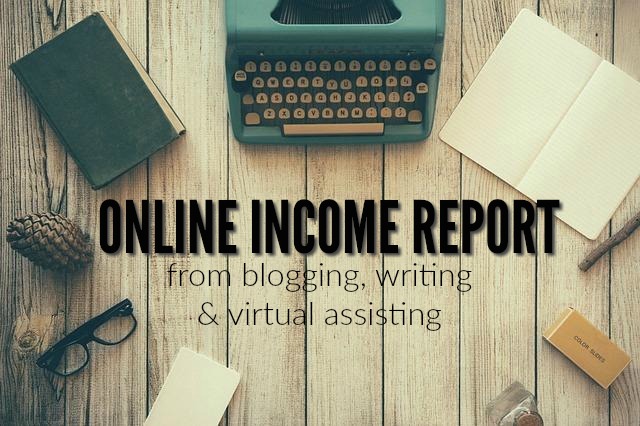 If you're new here I've posted income reports ever since I started this blog, almost four years ago. I initially had goals of making a few hundred dollars per month and then slowly growing that amount. Luckily, that's what I've been able to do.
In 2012 I decided that earning money online was going to be the only way I could create the life I wanted living in a small town with no good job options. I dove in head first and started trying things out. I've failed at sooo many different things and have had great successes with others.
As of now I earn an income through being a freelance writer, virtual assistant, and blogger. (And yes, I know how crazy that sounds to most people!)
August 2016 Income Report
I feel like my income reports get a little boring for a few months every year. When I look back it seems that once per year my income plateaus for several months and then something happens that causes an uptick and then, it plateaus again.
I'm currently at a bit of a plateau but I consider it to be a pretty good place to be stuck at. So no complaints here!
My August income was $7,976.23

It broke down like this:
Freelance Work – $1,200
Ad Networks – $3,462.87
Affiliate Sales – $2,695.36
Sponsored Posts – $600
eGuide – $18
My expenses for the month were a bit high. I got charged for a service that I cancelled so hopefully I'll get that money refunded this month. I also paid for a full year of another email subscription tool bringing my expenses up.
Expenses came to $1,106.61 which is significantly above average. Taxes were approximately $1,880. This makes my take-home pay around $5,079.62.
As an aside about half of this "take-home income" goes to savings while the other half goes toward bills and life expenses.
Most Commonly Asked Blogging Questions
I'm going to switch things up a little bit this month and answer some of the most frequent questions I get about blogging.
Is blogging too saturated?
No.
Sure, there are a lot of blogs out there but there's only one you. If you share your own ideas and stories your blog will be different than everyone else's.
And furthermore, how many people read just one blog? I read several blogs on whatever topic I'm interested in at the moment.
When I was trying to earn money I discovered a handful of helpful blogs and checked in with all of them. When I was super interested in personal finance I loved reading different viewpoints from many people. And currently I've been interested in DIY, organizing blogs and homesteading blogs. I have several of those type of blogs I like and that I check in with regularly.
Just because there are already a lot of blogs in a particular niche doesn't mean your voice won't have a chance of standing out. If you give it hard work and time you can do well.
Plus having a blog can be a great way to meet new friends, share ideas and can land you freelance work if that's something you're interested in.
How long does it take to earn money blogging?
That depends. It took me two years to earn $2,000/month on a consistent basis. I have seen some people earn more money WAY faster. I've seen others never earn anything.
I personally didn't start earning much until after investing in my blog and taking Elite Blog Academy. (That course is currently closed but you can grab Ruth's free eBook 7 Surefire Ways to Boost Your Blog Income Overnight and join the waiting list for the next course opening.)
How do you earn money blogging?
You can read about all of the ways I've earned money through my blog here.
What should I focus on first?
Writing content! If you're starting a blog with the hopes of earning money from it you first need to get some posts up so that people can find you.
Focus on writing content and then work on establishing one social media network for your blog. You don't have to do everything all at once. Get really good at one thing before moving on to the next!
Blogging is definitely not a make-money-fast type of thing. But if you've always been interested in blogging I do think it's worth exploring. Especially since you can get started so inexpensively.
Recommended Blogging Tools
If you're wondering what tools I recommend for blogging, here's a list:
Domains and Web Hosting –Bluehost. If you're interested in blogging but haven't yet started you can get hosting from Bluehost for as little as $2.95 per month PLUS a free domain name when you go through this link which is just for my readers. If you need help getting set up you can find a step by step tutorial here.
Social Media Scheduling – For Pinterest I use Tailwind. I started using this about a year ago with great results. Tailwind is affordable and super easy to use.  You can get a free month of Tailwind with this link.
I'm also subscribed to Hootsuite as I used to use this for scheduling my virtual assistant clients Twitter accounts. I still use it for mine. Although, truth be told I don't really love it and could probably do without.
For Facebook I just use the built in Facebook scheduler.
Bookkeeping – GoDaddy Bookkeeping. I absolutely love this bookkeeping software. You can read my full review here.
Photos – I find a good majority of my photos on Pexels. This site is free with copyright free images. If I can't find one there I'll buy an image off of 123rf.com or look for one on Haute Chocolate which I also have a subscription to.
I use PicMonkey to edit all of my photos.
Best Blogging Course – Elite Blog Academy. If you're looking for the best blogging course I highly recommend Elite Blog Academy. It is expensive but it was what helped me go from a couple thousand dollars per month to at least $5k per month. (Join the waiting list or read my review here.)
How was your August?