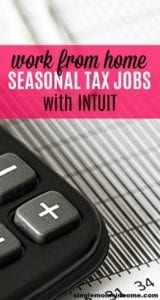 Tax season is here, which means Intuit is hiring Seasonal Tax Support and Tax Experts for TurboTax users. This job is remote, so you can help people file their taxes, answer questions about deductions, and sell new tax products right from home by online chat, phone, or video.
Working with Intuit
Intuit is offers two seasonal options. The first is Seasonal Tax Support and the second is Seasonal Tax Expert (including CPA, Enrolled Agent, or Practicing Attorney).
(You'll have to check their job openings page to check for current openings.)
Seasonal Tax Support Position with Intuit
Let's take a look at the Seasonal Tax Support option first. This job assists Turbo Tax customers with necessary tax support. You'll be required to answer both tax questions and technical support questions, as well as troubleshoot any issues.
For this job a college degree is a plus and you'll also need a background in business, finance, accounting or taxes. Basic knowledge of tax laws and familiarity with a 1040 and tax schedules is all needed.
Here are some more prerequisites for the position:
Strong customer service skills, you must instill trust and confidence
Previous experience preparing federal and state returns for individuals
Tax preparation experience in a retail setting is a plus
Previous experience providing service through a call center
Strong research skills – the ability to use online resources to quickly find answers
Critical thinking and problem-solving skills
Ability to use audio and visual tools to communicate with customers
Ability to interact with customers through video in a professional manner
Bilingual (English/Spanish) written and spoken skills a plus
Seasonal Tax Expert Position with Intuit
The second position is a Seasonal Tax Expert which includes Enrolled Agents, CPA's and Practicing Attorneys. Most of your client interaction will be by video and you'll be responsible for providing tax advice, tax calculations, and product and software inquiries. For this job you'll need:
Active credentials as a CPA, Enrolled Agent, or Practicing Attorney with strong tax preparation experience and extensive knowledge of tax laws
Active Preparer Tax Identification Number
3 or more recent years of experience preparing federal and state individual 1040 returns using commercial tax preparation software
Professional Circular 360 judgement
Audit experience with IRS or state tax authority a plus
Solid knowledge of computer operations and software
Dedicated internet connection and landline phone
Strong customer service skills
Audio and visual tools to communicate with customers via video
Excellent verbal and written skills. Bilingual skills (English/Spanish) a plus.
Ability to work in a fast-paced environment while problem-solving
Getting Paid
Seasonal Tax Support positions pay between $9 and $12 per hour depending on the position and your experience. Seasonal Tax Experts can earn about $18 per hour, more for audit and analytical work.
Payment is through direct deposit and made on a bi-weekly basis. Your hours are dependent on your availability and the shifts available. You will need to commit to working a set amount of shifts per week, but you can request shifts that work with your schedule.
How to Apply
To see what positions are available and begin the application process, visit Intuit's Career page. Each job listing has its own qualifications and application process. You can learn more by clicking on the available jobs.