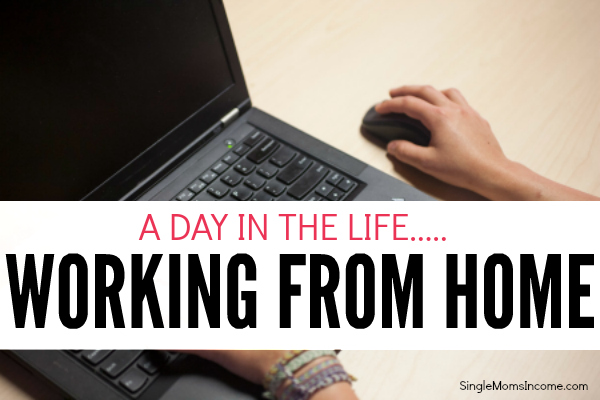 Around this time last year I did a post on what it's like working from home with kids. During this time of year, when the weather starts to get bad, I do keep my kids home a lot. That's because I'm petrified of driving in the snow! Always have been.
So far this year we've been pretty lucky. The roads have only been bad about three days so the girls are still going to school (Kailyn) and the babysitter (Ava) during the day.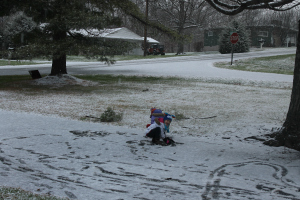 We had the biggest snow I've ever seen last week. The snow flakes were literally the size of baseballs. By the time I grabbed my camera the snow had stopped!
I thought I'd give you a look into how my day goes now. Here's a complete play by play of my work from home day.
7:30 – Out of Bed, Get Girls Ready
The girls get up at around 6-6:30 in the morning. Ava perks right up and can't wait to get dressed. Kailyn usually grabs the Kindle, sits in the big chair, and plays a game for a little while. They're super loud and I wake up at this time t0o but can't seem to drag my butt out of bed until 7:00-7:30
When I get up I check my email and quickly delete all junk/spam so that I'm not feeling too overwhelmed when it comes to time to reply to all the email.
At 7:30 I help Kailyn get ready, brush teeth, pack her lunch, and at 8:10 the bus comes.
8:10 – Shower, Get Ready for the Day
After Kailyn gets on the bus I go back in the house, shower and get ready. Ava has been insisting on picking my outfit out every day so sometimes I look a little crazy.
However, I let her pick because nobody sees me anyway and it seems to be one of the highlights of her day.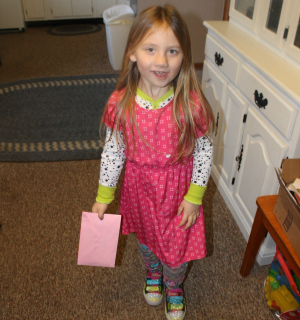 This is a typical Ava outfit. Always bright colors and ALWAYS a dress over top of her outfit. She bought me a dress for my birthday which I now wear once a month so I don't hurt her feelings…….
I take Ava to the babysitter and come back home to work.
9:30 – Home to Work!
This is where the fun begins.
As soon as I get back home I do my writing first. I like to get this crossed off of my list before I do anything else.
I make a list of all the posts that I need to write or work on for that day and then get right to it. I try to eliminate all distractions so sometimes I'll have to completely log out of my email!
Depending on the amount of writing I have to do this will usually be done by 10:30-11:00.
At 11:00 I go make me a Lean Cuisine French Bread Pizza (the best pizza in the world, I'm addicted!) and start working on email.
With the new job I have I spend anywhere from 2-3 hours a day on email alone! Once I have every email responded to, filed, or deleted I move on to another task.
This could be something completely different every day. It usually consists of scheduling posts, editing, creating graphics, and other ins and outs.
2:30 – 3:30 Pick Up Ava
When I pick up Ava I normally do it at 2:30. However, if I'm super busy (which has been a lot lately!) I have Jamie pick up Ava when he gets off work at 3:30. (He only works about a half a mile from the babysitter so it's easy for him to do.)
3:50- Kailyn Gets Off the Bus
Kailyn gets off the bus at around 3:50 every day. On Friday's I take her to school and pick her up at 3:30.
As soon as she gets home we do her homework and her reading assignments. Then I find something to throw together for supper, if I haven't already put something in the crockpot.
I take a little time and clean up the messes around the house and I help the girls straighten up their room.
Then we just do whatever. This isn't a super structured time anymore. Kailyn is usually extremely tired when she gets home from school and plays the Kindle or watches a movie and Ava follows me around everywhere I go. (And I do mean EVERYWHERE.)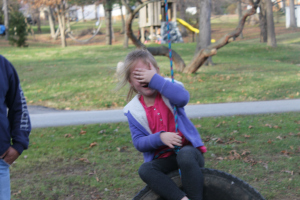 Kailyn too grumpy afterschool to even enjoy the tire swing. 
My mom comes over and visits us once or twice a week during this time, too.
7:00 Girls Bath and Bed
At 7:00 the girls take a bath. (If they're really tired and cranky I give them a bath at 6:30) After the bath they pick out a movie and lay in bed and watch it, usually falling asleep before eight.
7:30 – Back to Work
I've had a lot of phone and/or Skype calls over the past month so these normally happen during this time. If I don't have any of those planned I hop back on the computer and finish up any client work that I need to get completed for the day.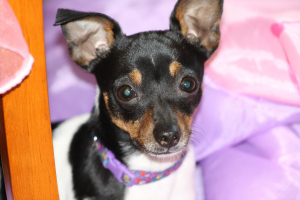 My ferocious attack dog and I cuddle up in the recliner and get back to business!
After everyone else is done I take some time to work on this blog. I answer any comments, jump on Pinterest and start pinning, finish writing or scheduling any posts, and depending on what kind of mood I'm in, go through and deal with all the email once again.
10:30 – Bed Time
Around 10:30 I'll normally take a Midnite sleeping pill (Melatonin, I have a really hard time falling asleep) and go to bed.
And that is a normal work from home day for me!