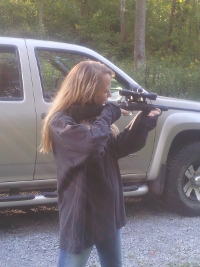 Last week I got to unleash some stress at the shooting range. My family has always been big into shooting and hunting. While I am not big on hunting, shooting guns is definitely one of my favorite hobbies ever. Plus I'm getting pretty good! Can't wait to go again in a couple of weeks.
This weekend I've got the girlies and we'll be hitting up the corn mazes and Amish markets for some fall fun. We have already been raking up gigantic piles of leafs. Leaf piles keep the girls entertained for hours!
Good Articles From the Week
I've gotten more into the groove of things this week. I am back on a good schedule plus this week has been pretty slow in the writing sense so I've had plenty of time to read. Which is kind of nice.
Carrie recently posted 5 Things I've Learned About 3 Year Olds. I really like this post because in my opinion the "terrible twos" is wrong. It's really the "terrible threes." In my experience a two year old doesn't have anything on the attitude, stubbornness, and independence that a three year old develops. This has been the same for the both of my girls. And, since my youngest is three I get to enjoy regular power struggles and temper tantrums. Fun!
Other Places You Can Find Me:
Freelance Jobs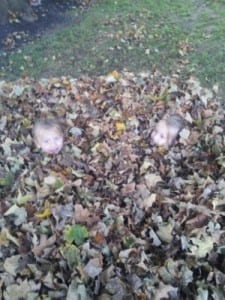 I have surpassed my extra income goal for the month, but unless I get some extra work in the next 3-4 days I won't have beat last month! Darn it!
I am already feeling the ups and downs of freelancing. There are some weeks when I am crazy busy and then there are weeks like this one, where nothing is going on. I am glad I've had such a slow week because it has given me a lot to think about and what I need to do to make myself more secure.
Lots of planning this week. Plans for the new blog. Plans for making sure I have enough work. Plans on preparing to quit my job. Sheww, I have a lot to do!
I am back at applying for jobs. Although it was a pretty crappy week job board wise. Here is the best I could find!
Freelance Writing Jobs
Real Estate Writers

@Craigslist

Real Estate Blogger

@ProBlogger Pay: $10-$20 per post

Social Media Writers

@Craigslist

US Senate Campaign Blogger

@ProBlogger

MotorSports Journalist

@Craigslist

Event Blogger

@ProBlogger Pay: $25/post

Writer for Investor Presentation

@Craigslist

Demand Studios Writer

@Media Bistro Pay: $20-$50 per article

Business Blogger

@Craigslist

Psychology Writer

@Craigslist

IPad Blogger

@ProBlogger
Freelance Editing Jobs
Book Manuscript Editor

@Craigslist
*Have an Awesome Weekend*