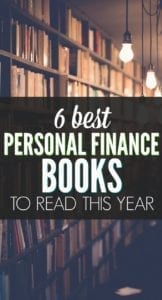 When I first got interested in personal finance I'd hit up the library a couple times per week checking out all the money related books I could. (After a couple of months I read everything my small library had!)
Naturally, some of the books had a much larger influence on me than the others.
Today I've rounded up the six personal finance books that most helped me change the way I look and think about money. These are all great books to add to your reading list this year.
Rich Dad Poor Dad

Rich Dad Poor Dad is my favorite, favorite. I've read it many times and I have yet to get sick of it.
Rather than a book filled with boring financial advice Rich Dad Poor Dad is a tale of Robert Kiyosaki's two fathers. The first is his real father "Poor Dad" who followed a more traditional path but still managed to never build real wealth or stability, despite being highly educated and employed.
The second Dad is the father of one of Kiyosaki's friends. This "Rich Dad" was a business owner and managed money very differently than Kiyosaki's real father.
This book will keep you hooked the whole time and will challenge conventional financial wisdom and the way you think about money. This is a must read.
The Millionaire Next Door

The Millionaire Next Door is another highly fascinating book that challenges conventional wisdom.
In this book the authors study hundreds of millionaires to find out what qualities the rich have. If you haven't read this book the answers will surprise you.
The habits that have created the millionaires are not flashy or glamorous. In fact, most of the millionaires have quite frugal habits and you'd never know that they had a million or more dollars in the bank.
The Total Money Makeover

Longtime readers know that I'm not necessarily a huge Dave Ramsey fan. HOWEVER, The Total Money Makeover was one of the first books that got me interested in personal finance.
I think Dave's baby steps – while not exactly what I would do- can be a great starting points for anyone who is completely new to personal finance and needs a step-by-step plan to follow.
I do disagree about the importance of a credit score (among other things.) But overall the book is decent as a starting off point for cleaning up finances, and especially debt.
Your Money or Your Life

If you have a spending problem or just want to spend less, this book can provide the perspective shift that you need!
Your Money or Your Life is based on the premise that you're constantly trading your time for money. The authors suggest that when you go to make a purchase you think about the amount of money you're spending in the hours it took you to earn it.
For example, if you earn $10 per hour and are wanting to purchase a $20 shirt you're trading two hours of your life to get that shirt! #Ouch
The books also goes over how to get out of debt, create good habits, and more. (You can read a little more of my insights on the book here.)
CashFlow Quadrant
Can you tell that I'm a fan of Robert Kiyosaki?
I love books that help me think outside of the box and this is definitely one. While Rich Dad Poor Dad had more of a story element this book is a great follow up.
CashFlow Quadrant covers the four ways to earn with a lot more practical information.  If you're a fan of Rich Dad Poor Dad you're going to love this book as well.
The Four Hour Work Week

Is The Four Hour Work Week really a personal finance book? I'm not sure. But it is another one of those books that are huge for changing the way you think about earning money and enjoying life, and to me that qualifies it!
The Four Hour Work week is a book about how the author, Tim Ferriss, streamlined his work life through outsourcing. He went from working 80 hours per week and earning $40k per year to working four hours per week and earning $40k per month.
This isn't really a step-by-step guide on earning massive amounts of money in a short amount of time but more of a paradigm shifter.
What are  your favorite personal finance books?