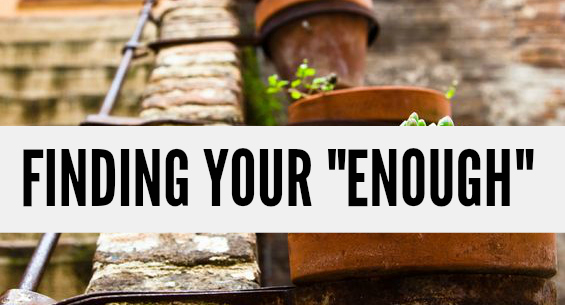 I don't know how this happened but I have never read Your Money or Your Life until now. This is pretty strange considering I've read every single personal finance book my library has. (Seriously!) But apparently they never had this one.
While I don't particularly love everything about this book (I do believe it's great for anyone just starting to work on their finances though) there's one point made that I absolutely, positively agree with.
That point is finding YOUR enough.
I had originally planned to write a post about cutting variable expenses today. But after reading about finding your "enough" I soon realized that I'm in no position to offer anyone advice on cutting variable expenses. After all, what one person finds value in someone else might hate.
I might think you're traveling is a waste of money and you might think my monthly trip to Chuck E. Cheese is a waste of money. But really, who are we to judge each other? We all find value in different things.
This is why you should know your own level of "enough."
What is Your Enough?
It's so easy to get wrapped up into what is enough for other people. While I seriously love reading the extreme frugality blogs, eating oatmeal for breakfast everyday just to save money isn't for me. And that's okay.
The point of finding your enough is to find fulfillment. For instance one person may be able to spend $400 in groceries and be completely happy with their diet. Another person (living in the same area) might need to spend $1,000 a month to buy top of the line products to feel satisfied that they're eating the right way.
There's nothing at all wrong with these big differences. We all have different levels of enough.
But the thing is, once you go past your "enough" you don't draw anymore happiness from your purchases, they just become a waste of money!
Can We Talk About the Cost of Living?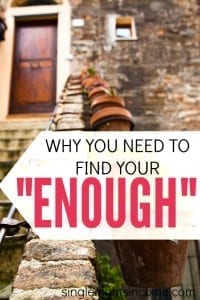 At one point or another we're all guilty of comparing our finances to someone else. So, I wanted to bring up the cost of living.
In terms of spending, my enough has stayed at the $1,600 mark (with slight variances) for the last three years or so. This amount of spending, which includes all bills, is obviously enough to keep me fulfilled. But I live in rural Ohio – a low cost of living type of place. If I were to move to say, New York City, the same amount of money it would take to keep me happy might very well double, if not triple.
If you see someone else living well on $1,500 a month that could very well have to do with where they live. Likewise, I think it's easy to judge someone spending $5,000 a month and automatically assume they're wasting money. That person's level enough could be the same exact as yours but they live in a high cost area.
Where we live is also an enough level we need to find.
I, for one, could NEVER live in a city. I hate it. It's not my personality. I'm working on saving for a down payment so that I can find more seclusion than I already have. I want to be able to walk out my backdoor in my underwear to let the dog out without worrying about who's going to see me. (TMI?)
And then there are people who are just the opposite and thrive in the city. They would think living in the country is terribly boring.
I personally don't find enjoyment in long term travel but plenty of other people do. There's nothing wrong with either situation. It's a personal choice.
Find Your Enough and Plan Around It
When you find the level at which you're fulfilled don't exceed it! Spending beyond this level isn't going to make you any happier.
Once you find your level of enough it's so easy to make your financial goals. You'll have a completely realistic plan of how long it's going to take to reach them. You'll also know if you're going to have to earn more money! (I hope that's not the case.)
Do you find fulfillment in spending a lot of money or do you know your "enough" numbers?