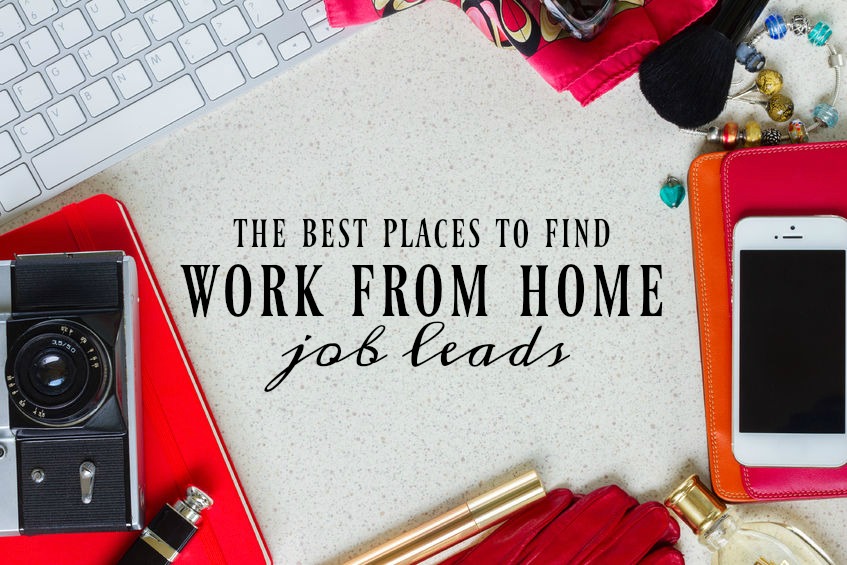 Want to work from home but feel like you don't know how to get started or where to look for opportunities? There are literally so many ideas and opportunities out there and it all comes down to knowing where to look.
With that being said, finding trusted sources can be a challenge since there are many scams out there and lots of false information that won't lead you to profitable work. At the same time, I'm sure you don't want to waste your time looking for qualifying leads and come up dry.
Here are some of the best sources to utilize when looking for legitimate work-from-home job leads.
Word-of-Mouth Referrals
One of the best ways to find work-at-home job leads that are worth your time and interest you is to ask for referrals from other people. If you take the time to network and tell people you are interested in working from home, they will keep you in mind when they see opportunities.
You may need to step outside of your comfort zone a little and reach out to successful people you come across who make a living working from home. For example, if you follow a blogger or professional online who openly talks about how they work from home and what they do, you can send an email introduction and ask them if they know how you can get started and if might be able to mentor you. Most people are very friendly and willing to help when people reach out.
If you happen to meet someone at your church or your child's school who says they work from home, you can ask them questions to learn more about their experience and what they do. I remember meeting one of my neighbors at the community pool last year who told me she worked from home and we had a great chat at remote working opportunities together.
Facebook Groups
There are quite a few Facebook groups dedicated to posting work-from-home job leads for people. Some of these groups are private or closed so you'll need to request to join and I also like that some of them are geared toward certain people depending on where they live. For example, there's a group called 'Work From Home Opportunities in Florida' for Florida residents.
Some companies who provide work-from-home opportunities can't hire people in certain states because for some reason, they're not allowed to pay them so this is important to keep in mind when you're looking for leads.
Of course with Facebook groups, it's all about finding the balance between giving and receiving. If you are accepted into a group, make sure to read through their rules if they have any. Most group admins like members to contribute as well whether it's answering someone's question in the group or sharing any information they find as well. If you don't participate and are just looking for leads for yourself without giving back to the group, you could be removed.
FlexJobs
FlexJobs is an online job board that shares leads for people looking for part-time work, telecommuting opportunities, or freelance gigs in their career niche. While the service isn't free and costs $14.95 per month or $49.95 per year, they guarantee you will find work faster and safer than with other job boards or you can request a refund at any time.
FlexJobs hand picks all their leads and screens each company that posts a lead to make sure it's not a scam. Some employers even exclusively use FlexJobs so members can enjoy some of the benefits of knowing about remote work opportunities that other people won't be able to learn about.
Real Ways to Earn Money Online
Real Ways to Earn Money Online is a trusted blog and work-at-home directory with job leads that are updated each week. The site admin removes old leads every 30 days or when they are no longer valid.
Readers can subscribe to the site to receive timely updates about legitimate job leads so they can apply for any work that sounds interesting. There are also special pages and helpful guides for non-phone remote jobs, earning money from taking surveys, and more.
Other Work From Home Sites
Two other work-from-home sites that are very helpful are The Work at Home Woman and The Work At Home Wife.
The Work at Home Woman shares content that profiles specific flexible ways to earn money from home like through blogging, direct sales, and freelancing. They have a huge list of 99 work at home career ideas for women. The site also has a 'Now Hiring' page that looks like it's updated daily with the latest work-from-home job leads.
The Work at Home Wife is another site that shares updated work-from-home job leads and free guides to help you find work. They also post FlexJobs leads too for people who aren't yet members but want to see what opportunities are available. This site is great for anyone who wants to work from home whether you want to start your own business, freelance, start a blog, or just earn some extra cash.
This Blog
Last but not least, Single Moms Income, is a great resource for people who want to start working from home. Alexa and I both work from home and have researched tons of legitimate work from home opportunities and business ideas along with determining how to weed through the scams.
The advice and resources on this site are very straightforward so you have clear expectations about certain work-from-home leads which enable you to make an educated decision as to what will work best for you.
Do you work from home or want to work from home one day? Where are your favorite places to find leads?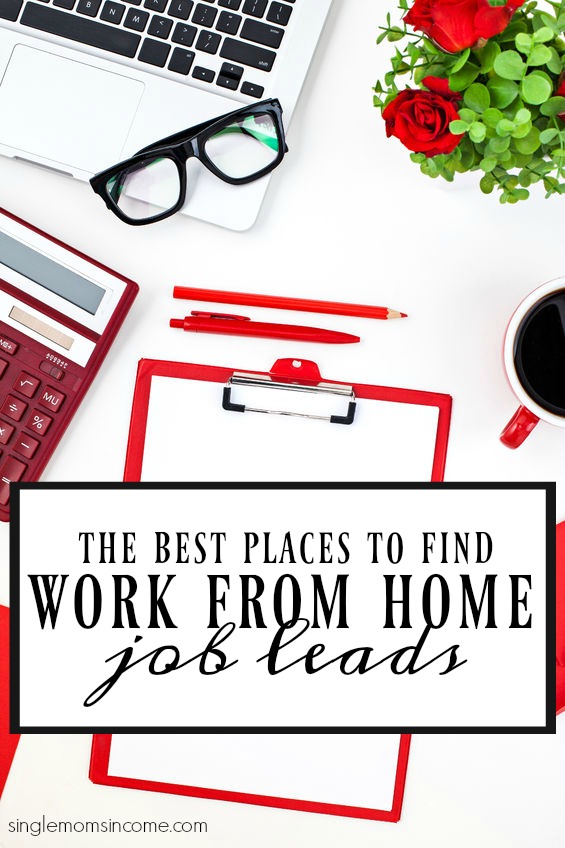 Photo Credit: neirfy