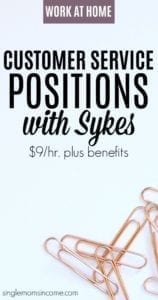 If you're looking for a work from home customer service position Sykes is a well-known company that is almost always hiring.
They've been in business since 1977 and provide customer care for several industries.
Here's what you need to know:
Job Duties for Working with Sykes
As a Sykes work at home call center employee your main role will be to assist customers via the telephone. The exact job duties will depend on the position you're hired for. Sykes currently serves several markets including finance, healthcare, insurance and technology.
The job listings are currently only available in certain cities and states. (Although there are many different ones listed right now.) You'll need to browse through the job openings to find one applicable to you.
Technical Requirements for Working with Sykes
Your home office needs to meet a few requirements including:
A Windows-based PC with anti-virus software, a monitor and speakers.
A high-speed, wired, bi-directional Internet connection (no Wi-Fi, only DSL or cable modem).
A telephone headset and a USB headset.
Analog landline which must be one of the following: traditional landline phone service using dedicated copper wiring to pair to the home, a landline provided through your Cable TV service provider, or a fiber optic line provided by a local phone service.
A quiet, distraction-free environment for taking calls.
Not required, but preferred – a customer service background and experience with financial services, technology companies, or something similar.
Some positions may have additional equipment and technical requirements so be sure to check the job listing when applying.
The Application Process
The application process does take a while. It starts with applying online, they recommend doing this from a desktop computer.
The application includes assessment tests of your skills and capabilities to find the best possible fit for you within their clients' needs. It usually takes a while for them to get back to you, so be patient. They will reach you by email when they have the right job fit for you.
Once they find a position for you, they'll schedule a virtual interview by phone and online, consisting of both group and individual discussions. After all of this is done and they feel you are a good fit, they will make you a job offer.
How Much Does Sykes Pay?
The pay varies based on the position, experience, and how many hours you work, but the average pay is $9 per hour.
They also offer benefits for their employees such as:
Paid training
Vision, dental, and health benefits
Performance incentives
Consistent schedule
Career advancement
How Do I Apply for a Job with Sykes?
To start the application process, visit the Sykes website and search current job opportunities. You can easily apply online and get the hiring process started.
Related Work from Home Jobs
If you're looking for more work at home jobs to apply to here are some that you may be interested in:
9 Virtual Call Center Jobs – If customer service is up your alley here are nine total places you can put in applications.
How to Get Paid for Your Opinion – Looking to put a little extra cash in your pocket? You can sign up with these companies to earn a little extra money. Included are survey companies, focus groups and more.
85+ Ways for Moms to Make Extra Money – A huge list of work from home jobs, business ideas, and extra cash earners.