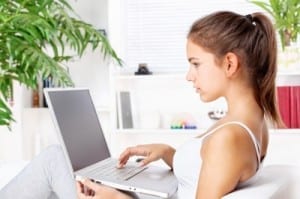 I am getting more anxious about making the work at home switch every day. Especially with all of the work that I have had come in this week. It's actually quite mind boggling for me.
I have been looking for ways to keep myself on track and create a space that helps to increase my productivity. At this point I am working thirty hours a week at my day job and another twenty to thirty a week on freelance writing and blogging. And, with the online work steadily picking up, productivity is key.
Here are the ways I am organizing my work at home space in hopes of increasing my productivity.
Creating a Separate Work Space
I love the ability of being able to work from any spot in the house I desire. That's the beauty of working from a laptop! The majority of the time I snuggle up in my comfy old chair and get to writing.
However, I have found that there are times when I just have trouble concentrating and need to work from a designated office space. This is where my desk comes into play.
I have created an office space in my bedroom. My bedroom is pretty big so it was no trouble setting up a desk and chair. The back corner of the room is what I consider to be my office.
Having the Right Tools
When my boss got frustrated with one of our work printers being a little too slow he decided to replace it. This worked to my advantage because I ended up snagging a perfectly good printer with ink in tow for free!
 I don't use the printer much but there are definitely some documents, like freelance contracts and non-disclosure agreements, that I like to print out for my records.
On top of that I have also gotten a couple of international clients, which is kind of cool. For this I have been thinking about getting a wifi calling app so that I can make cheap international calls.
In addition I also like to have pen and paper on hand at all times. I always write down blog post ideas as they come to mind.
Scheduling and Tracking Payments
I am really liking the system I use to keep track of my assignments and payments right now. I have two daily planners that I use for this.
The first planner is a really nice one and has the month laid out in blocks by day. I record when my assignments are due and how much they pay. I mark out the assignments as I complete them and write "paid" on them as I collect the money.
My second planner I got for about three dollars at Menards. It is just labeled with the days of the week and allows adequate room to record a "to-do list." I transfer over my assignments from the big planner to the small one and record all of the tasks I need to accomplish for the day. I mark them off as they're completed.
My overall goal is to increase my productivity while working at home. One thing that kind of scares me is getting lazy after making the switch. I want to have a good work at home system in place that allows me to do my best work and keeps me on track.
How do you have your work at home space set up?