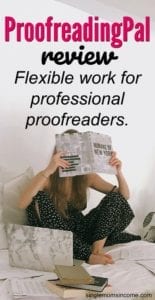 If you're a professional proofreader or have previous proofreading or editing experience and are looking for a flexible side job, Proofreading Pal might be a good opportunity for you.
Working with ProofreadingPal
ProofreadingPal has opportunities in both proofreading and editing for all kinds of documents. Their clientele submit academic and business documents, books and manuscripts, as well as personal documents and resumes.
Every document submitted is proofread and edited by two professional proofreaders to check for spelling, capitalization, grammar, verb tense and punctuation. In addition, they also edit sentence structure, clarity, and style and provide feedback, comments, and suggestions.
What are the Requirements?
There are some requirements to be qualified to contract for ProofreadingPal. First, you must be an enrolled student in an accredited University with a minimum 3.5 GPA OR have a graduate degree with a minimum of five years professional proofreading/editing experience.
You'll also need to be familiar with a variety of writing styles including such as APA, MLA, CMS, AP, and CSE.
There are also a few technical requirements which are:
Microsoft Word 2007 or higher.
Adobe Standard or Foxit Standard or higher
Windows XP, Vista, Windows 7 or higher
How Much Does ProofreadingPal Pay?
You can work as much or as little as you'd like, accepting the jobs that you prefer. Depending on the number of hours you work and the types of jobs you accept, your pay rate will vary. You will be able to see what the jobs pay before accepting them.
Most editors and proofreaders earn between $500 and $3,000 per month. All jobs are as an independent contractor so you will be responsible for your own taxes. More information about payment schedule and forms of payment are available once you begin the hiring process.
What is the Application Process Like?
Getting started does take some time. It starts with the application form on their website, which includes attaching your resume and cover letter. You will also need to answer some basic questions about your skill level. Once submitted, you should receive a response within 10 business days.
If ProofreadingPal wishes to continue in the hiring process with you, the next step will be a comprehensive and timed exam that you will need to pass before being hired.
Once hired, you will be able to see the list of available jobs that you can choose to accept and get started. If you think you're a good fit for ProofreadingPal and want to get started with the application process, click here to find the online application.
Also read: How to Work from Home as a Proofreader