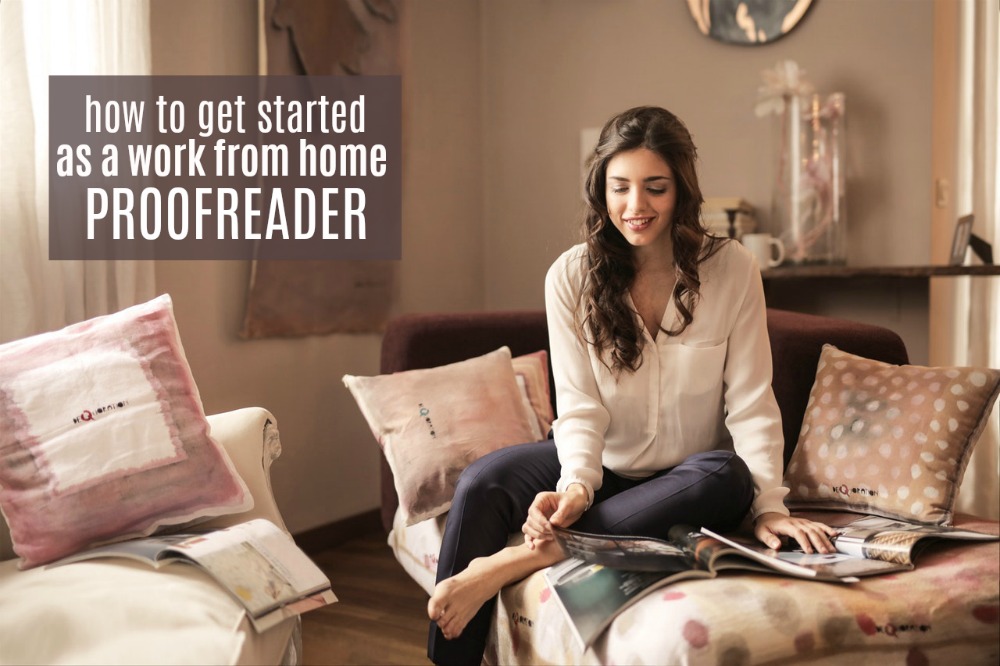 As a proofreader, you are the last pair of eyes that look at an article, magazine, book, or newspaper before it goes out to the public. You're in charge to make sure there are no mistakes. No pressure. 
Seriously though, a proofreader's job can be quite enjoyable if you like to review content and catch errors. It can also be a profitable way to make money from home.
If you like to read content, have a knack for catching grammar and syntax errors, and take pride in your work here's how to work from home as a proofreader.
What Qualifications Do You Need?
To be a proofreader you don't have to have a college degree. If you do have a college degree and it's not specific to writing and editing that can be fine too. While it may not be necessary to have a college degree, it isn't a bad thing if you have a related degree.
Experience, however, is important. Experience can land you the job and enable you to keep it. At the end of the day, it's all about getting clients positive results. That said, you'll need to have certain skills like the ability to understand English grammar and sentence structure along with being able to edit for a variety of different writing styles and meet deadlines.
If you want to brush up on your proofreading skills, you can always take an online course or enroll in a course at your local community college. You can also reach out to friends and businesses to see if you can do some trial work for them to gain more experience and build up your portfolio.
How Much Can You Make?
As a proofreader, you can make anywhere from $15-30 per hour. According to Salary.com , the average proofreader earns between $44,210 and $57,532 annually. Keep in mind your earnings depend on how often you work and what type of proofreading work you're doing.
If you proofreader a larger project like a nonfiction novel with anywhere from 15,000 – 35,000 words you can earn several hundred dollars for that project.
Consider Specializing in a Niche
Proofreaders can also scale their income if they're willing to niche down. If you want to have more control over what you earn, consider starting a proofreading business and specializing in a particular niche.
Proofread Anywhere  is a course by Caitlin Pyle that shows you how to do this. Caitlin offers a free workshop for anyone who's interested in learning more about proofreading. 
She also offers courses for general proofreading (<–free webinar link) and transcript proofreading. Both have a lot of content that you will have lifetime access to once you join the club.
As a general proofreading student, you will end up being able to edit blogs and books. The transcript proofreading course takes a little more dedication, but you can end up with many of the same clients over again and make more money than a general proofreader.
How to Find Work
Looking to land some solid work as a work from home proofreader? These companies offer a legitimate way to make money from home and are often hiring.
Scribe Media– Scribe Media gives proofreaders the option to work either full time or freelance. They typically are looking for editors to fulfill some roles for the company.
Edit 911–  This company looks to employee people who have a Ph.D. They focus on book editors, dissertation editors, and thesis editors. If you are a published scholar, have a Ph.D in English or teaching this may be the correct place for you.
ProofreadingPal- To become a ProofreadingPal employee you have to be currently employed by or enrolled as a postgraduate or graduate student in an accredited US university and have a 3.5 minimum GPA. If you already have your degree you have to have five years of editing experience to be considered. Editors normally earn around $500 to $3,000 per month.
Word Advice–  Word Advice asks that all applicants have a graduate degree or currently enrolled in a graduate program.Two years experience is also needed if you wanted to become a freelance editor with Word Advice.  
Leaf Group– Is another place to look into if you want to become an editor. The company is currently looking for content editors in New York and California.
Gramlee– Is a place for writers to submit work to be checked, edited and returned back to them. They are always looking for good editors who can help the writers have great quality work.  Gramlee guarantees that anything submitted under 3,000 words will be edited and ready within 24-hours. No experience is needed, but welcome you can apply here
Wordy– With its service headquarters located in London, Wordy is internationally known. They provide copy editing to various companies across the globe. The application process for editors hoping to make Wordy their employer is currently paused. The process should open back up in late 2018 early 2019.
Build Your Skill Set and Start Making Money ASAP
If you have an eye for punctuation, spelling, grammar and sentence structure proofreading maybe the right career for you. As you can see, there are several ways to get started as a work from home proofreader.
Whether you feel you want to take a course, gain more experience, or jump right in and start working, you can start your own business, get hired from a company to work from home, or a do a little of both.
Have you ever thought about working from home as a proofreader? If you know someone who may be interested in this career, be sure to share the good news with them along with these resources!