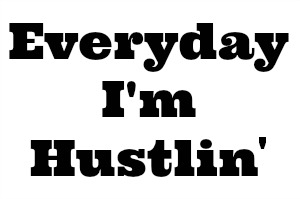 Over the past month I've been thinking about how much work it takes for me to make money. What I do isn't passive at all.
The hours I work, or the amount of posts I write, dictates how much money I earn. And while I'm happy with what I do and still very much prefer it over a traditional day job, I want to work on starting a business that is more scalable.
To me a scalable business is this: A business that doesn't require trading hours for money. It can be run with either hard work upfront or with a few hours of maintenance each week. It has potential for growth.
I really, really want your input.
I've come up with three ideas for you to choose from. Majority rules 🙂
How it Will Work
I'm going to list my three business ideas and then I want you to vote via the poll at the bottom.
Here's how it will work: You pick the idea. Then next week will be my "action week." I will get the startup phase of the business completed.
I'll post about what I'm doing several times next week via a blog post or video.
(And just in case you were wondering this idea was triggered by Daniel. Only I'm putting a slight twist on it.)
By the end of the week I'll have my idea turned into a business that's up and running, and ready to go!
Boom!
What Am I Willing to Invest?
For this particular project I want to keep the initial investment fairly low so that it is attainable for anyone.
The budget is………….$100
Idea #1: Selling Physical Products on Amazon
The first idea that I've been dabbling with for a while is selling physical products through Amazon's FBA program. With the FBA program you simply send your merchandise to Amazon and then they will ship it to the paying customers and handle customer service for you.
Here's how it will work: My Dad owns two retail stores so I'll start off by sending all his merchandise that isn't selling to Amazon. I'll also do further research into what I think I can successfully sell on Amazon and pick through his store or order from his suppliers using my $100.
He and I will split the profits 50/50.
(FYI: He's already told me I can do this if I want to.)
Idea #2: Creating a Video/Text Course on Freelance Blogging
Idea number two is creating a complete course on landing freelancing blogging jobs and selling it either on Udemy or through a separate website.
Here's how it will work: I'll create a course comprised of both video and text walking people through finding a freelance blogging job step by step.
I'll also include bonuses. (Maybe a short e-book or a resume template.)
Once the course is complete I'll try to sell it.
Idea #3: Creating a Money Management Course for Singles
I've actually thought about this one a lot!
Here's how it will work: I'll create a website with a targeted down niche about money topics exclusively for single people. I'll create a seven or ten day course walking people through straightening out their money and include the course in an email sequence.
This course would be 100% free to people because the money maker would be in affiliate links located in the course material.
Getting Started is the Hardest Part
Getting started on a business idea is the hardest part. While my idea may not be turned into perfection next week it will be ready to make money and I can go back and tweak it from there.
I'm so excited and ready to go!
P.S. If anyone wants to join me and try to get a business up in running in seven days let me know. We can email back and forth for support or create a private Facebook group where we can all share ideas, success, etc. The more support you have the more likely you'll be to succeed.
I'm going to turn off the poll at 5pm on 8/8. My 7 Days will run tomorrow (Saturday) through next Friday. Excited!
The results are in. It was a close call. Stay tuned!