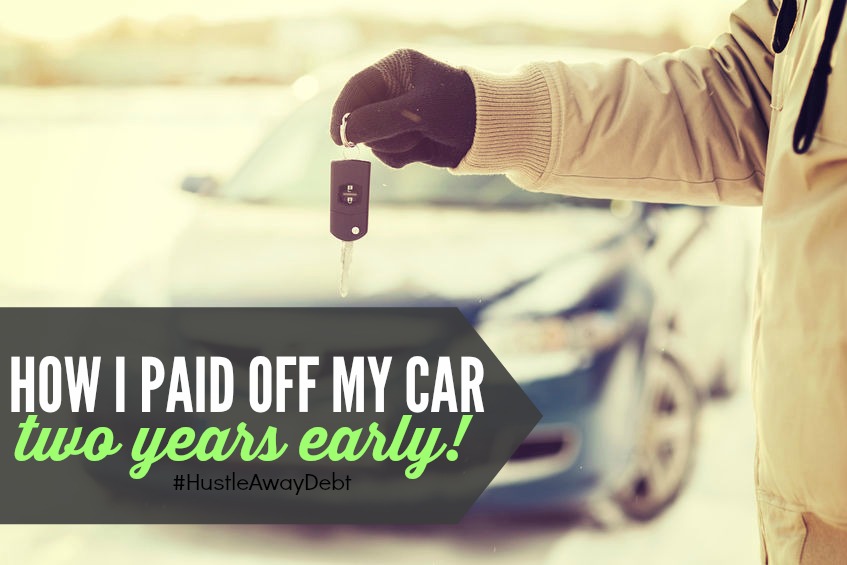 Did you know that for those who have auto loans the average amount owed is $27,141?  That means there's currently over one trillion dollars owed on vehicles in the U.S. (Source) Pretty mind blowing, right?
But it gets worse.
According to the Social Security Administrations Wage Statistics for 2014 67% of Americans earn less than $44,000 per year!
That means there's a good chance that those with $27,000 car loans aren't even making double the amount of their debt load. That's soul crushing and if you're in this type of situation my hope is that you want to get out of consumer debt and stay out.
In honor of my friend, David Carlson, releasing his new book How to Hustle Away Debt I wanted to share one of the (unique) ways I've paid off debt.
How I Paid My Off My Car Two Years Early
About eight years ago I decided to buy a car. I was in my early twenties, pregnant with my first child and didn't want my Dad to pull strings or cosign on a loan for me.
I was feeling the need to express my independence and I didn't want help from family. So, I bought an $18,000 vehicle (I was making about $18,000 per year) and got an interest rate of 9.75% since at that point I had pretty much no credit.
My payment was $325 per month which was A LOT for my young family who was also paying on a mortgage plus other regular bills.
At first I felt like an adult with a new car and a big payment to go along with it. Then, after about two months, I was completely sick of it. I hated it. I majorly regretted getting a car that cost that much money. Making that monthly payment was a sickening feeling.
I wanted to pay if off ASAP. So I did two things to get me there.
I Paid Extra Every Month – It was shortly after I got my car that I became really interested in personal finance. (In hindsight maybe the debt spurred the interest?) The first personal finance book I read was Dave Ramsey's The Total Money Makeover which made me want to get rid of my debt with gazelle intensity.
I watched every single dollar that went out of my household and became obsessive with budgeting. The problem though was that my income, compared to my expenses, was small. It was hard for me to do but I scraped up whatever extra money I could to put toward my debt which was usually $5-$50 per month.
I Used My "Hustle" Money – In 2011 I decided to do something a bit radical – I flipped a house. By this time I had built up good credit and that year I received an income tax refund of around $5,000. I took that money and used it as down payment on a flip house.
My real estate agent and I found a beautiful, bank owned house for only $25,000. Since there were multiple bids on the house I offered $200 over the asking price and I got it! This was both terrifying and exhilarating.
I wanted to try and flip the house and figured at the very worst it would make a great rental home. (The monthly payment was $124!)
I painted a few rooms in the house and turned around and listed it at $46,000 a month later which was prime buying time in my area. A few weeks after listing and getting several offers I sold the house for $40,000!
I took part of my profits and completely paid off the remaining balance on my car loan, two years early.
(Important Note: Flipping a house can be very risky and I have not found such a good deal since. I definitely would not recommend this method to everyone but I felt I had a good plan since the monthly payment was so low and that I'd have been able to rent the house or sell it at my cost if I couldn't successfully flip.)
How to Hustle Away Debt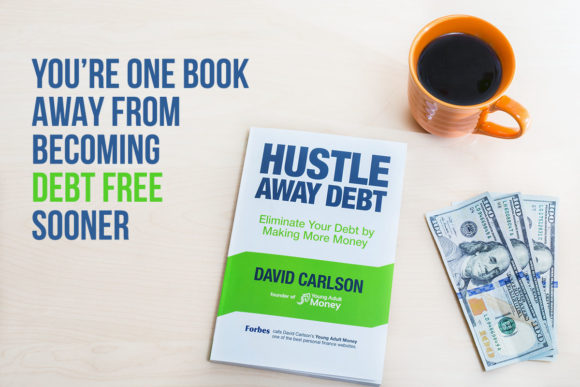 The method I used to pay off my car loan early is a little unusual but since then I've used various other ways to earn extra money to improve my personal finances:
When I got divorced I worked two jobs to stay out of debt.
I started freelance writing to build my emergency fund.
I used different streams of income to fund different financial goals.
I've been able to turn my "hustles" of writing, blogging and being a virtual assistant into a full time income far beyond what I earned working two days jobs.
And now my friend David has released a book that I just love: How to Hustle Away Debt
In the book he first lays out exactly how you can make a plan to get out of debt and then starts covering many, many ways you can earn extra money.
David, for example, works a full time job and has many side hustles like writing, blogging, and now publishing that he's made profitable.
David's first suggestions are ideas for making more money with your current job rather than taking on a side hustle. I found this view refreshing instead of the common advice that you need to work an extra forty hours per week to become debt free.
How to Hustle Away Debt is an all-around great read for anyone needing extra ideas and motivation on their debt-free journeys. You can get your copy of the book on Amazon.
Clearly, there are many ways to get out of debt if you're focused and determined. Becoming debt free can be a long and taxing process but in the end it's completely worth it!
How have you hustled away debt? Any interesting stories to share 🙂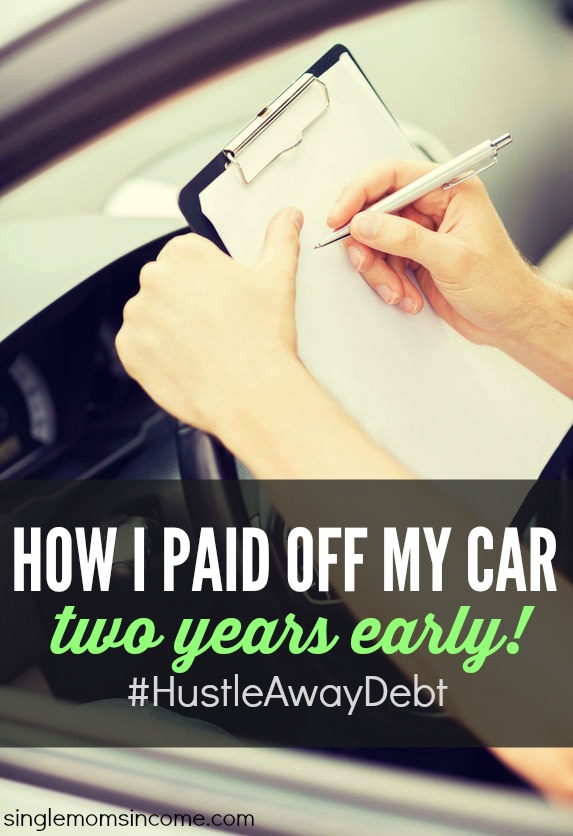 Photo Credit: dolgachov / 123RF Stock Photo