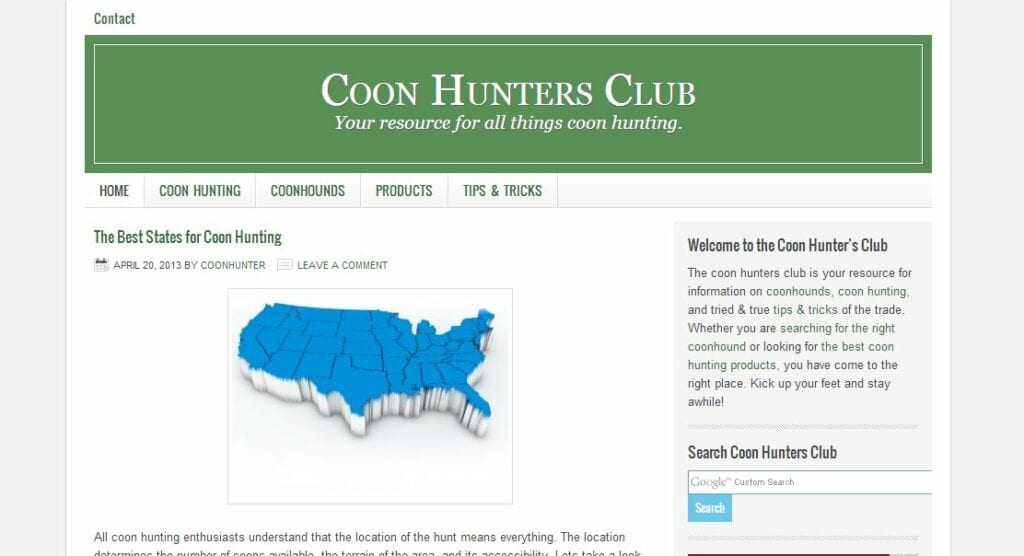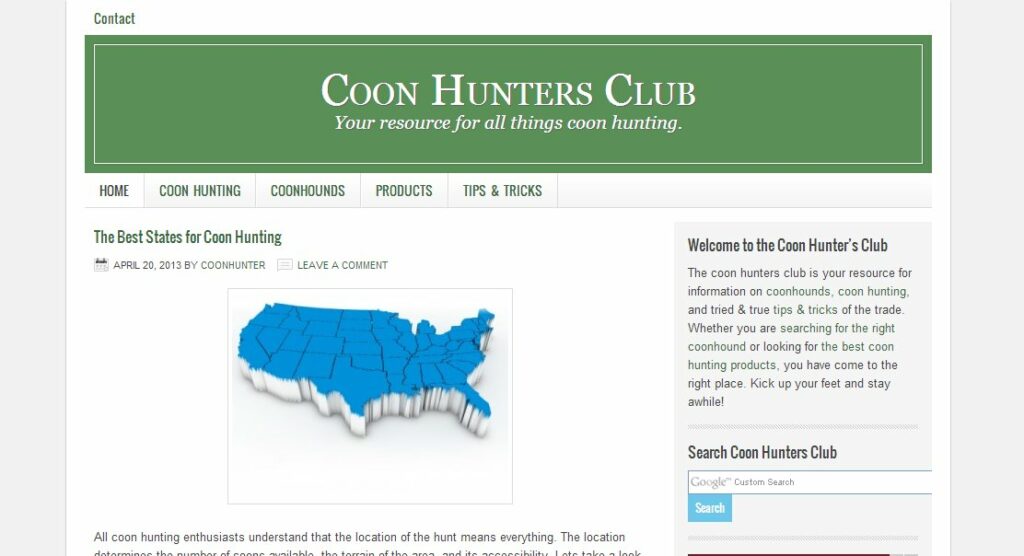 Anne from Unique Gifter (awesome blog btw, you should check it out) asked me the other day if I had any recent updates on the Coon Hunters Club and, I don't.
If you're a new reader I'll catch you up real quick. A year (or more) ago I had the bright idea to start a niche site that revolved around raccoon hunting. There was little to no competition, and based on the fact that my friends were obsessed with coon hunting and spent lots and lots of money on it, I thought it would be the perfect niche site.
A niche site is just a blog or website built around a specific topic. (In this instance, coon hunting) It's run more like a business than most blogs are and the main focus is to make money (while also providing useful information.)
I ended up ranking in Google for multiple keywords fairly quickly and had decent traffic for a niche so small. But – I made virtually no money.
So today I wanted to go over my big mistakes and give you some advice that you can apply to your own niche or money making blog.
Decide How You're Going to Monetize Before Building
I'd write on Single Moms Income whether I made money or not. I enjoy it. But writing about coon hunting? Yeah, not so much.
The whole point of the website was to make money. Instead of checking to see if it was a profitable idea I jumped the gun and just went with something I knew would be easy to rank for.
Here was the problem.
Adsense – (ads that pay you for every click) To make money with Adsense your ads have to be relevant to what you're writing about. I've done pretty well with Adsense on this site because of that fact. But there were virtually no ads in the coon hunting space. And because of that the payouts were ridicously low. I'm talking pennies per click.
Affiliate Sales – I made a few affiliate sales through the Coon Hunters Club. (Even a big one where someone purchased a $500 item!) The problem was my affiliate links went to Amazon. Amazon pays commissions of around 4 percent. That $500 sale earned me a whopping $20.
Another thing I didn't think through is that most hunters want to see items in person before dishing out their money. Especially the expensive stuff. Pair that with a super low commission rate and this was another bad idea.
Those were my two monetization strategies. Had I thought the whole thing through before diving in I would have been able to see that this site wasn't a good money maker!
Have a Traffic Generation Strategy
The more traffic a blog or website has the more money it's going to earn. (In the case of monetizing with ads, anyway.)  I knew that my traffic was pretty limited to Google. The problem was I had an unrealistic monetization strategy for that low amount of traffic.
If I ever started another niche site or blog I'd make sure to choose a niche that allowed me to use Pinterest to my advantage.
You know how I said I did some behind the scenes blog work last month? Well, that was Pinterest. I joined some group boards, redid some images, and with fairly minimal effort increased my page views by more than fifty percent.
You need decent traffic to make money off of a blog with affiliate links of Adsense. It takes a lot of time to build up that traffic with Google search but a good social media strategy (or even guest posting strategy) can get you that traffic much quicker!
I Let Her Die
I was actually offered a couple hundred dollars a few months back for the Coon Hunters Club but I chose not to take it and just let it die.
It's a pretty good domain name in my opinion and hopefully a big company will want to obtain it one day and pay me more 🙂 I can dream, anyway.
I can officially say the Coon Hunters Club was a fail. (But also a good learning experience!)
Do you have any website or money making failures?
P.S. If you're interested in trying to make money off of a niche site I'd suggest reading niche pursuits and MMDs niche site case studies. You know, learn from people who actually make money with their niche sites 😉