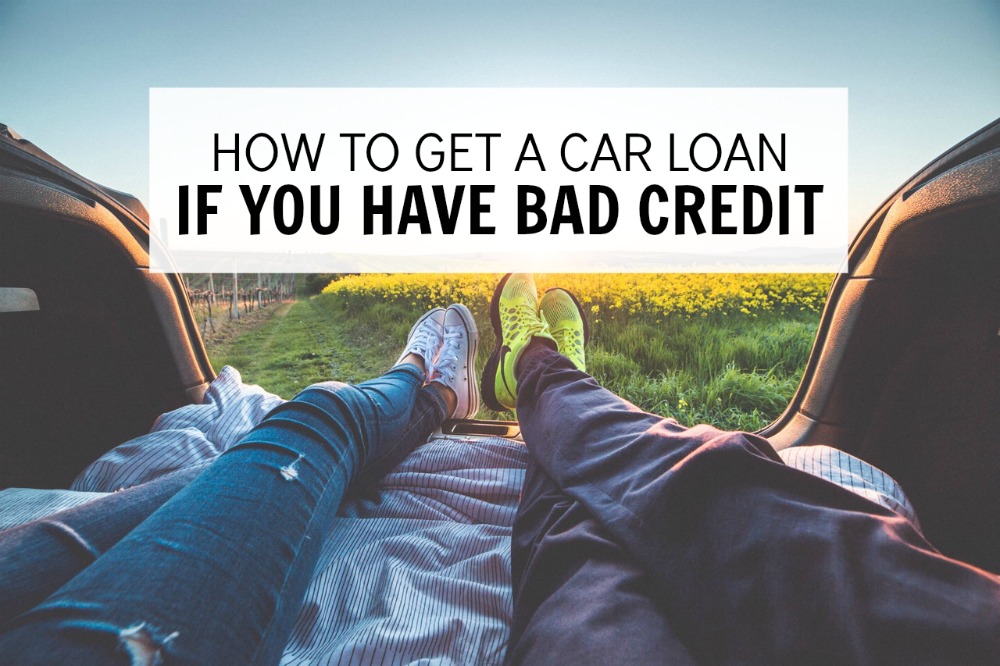 Are you in desperate need of a car but don't have the best credit? If so, you might feel like your situation is hopeless, but that's not always the case.
When I bought my first car I had zero credit. My first couple tries at getting a loan had me feeling like I'd either be carless or paying a 20% interest rate. It took a lot of looking to find a loan that made sense.
Here's how to get a car loan if you have bad credit or no credit.
Check Your Credit Score
When is the last time you checked your credit score? Is it really as bad as you think it is?
If you haven't checked your credit score for a while you can check it for free with Credit Sesame. This will give you a clear idea of what you're working with and what to expect in terms of loan approval and interest rates.
According to Bankrate the average credit score you'll need to purchase a new car is 714. The average score you'll need to purchase a used car is 655.
Here is a chart, also from Bankrate, showing the average interest rate for new and used cars based on credit score. (Even if your credit score falls below the averages there is a chance you'll still qualify for a car loan.)

Once you know your credit score you'll have an idea of what a going interest rate is for your situation. (This will help keep you from getting taken advantage of!) Also, if the interest rate for your current situation is astronomical you might need to postpone car shopping while you bring your credit up.
Check for Preapproval with Local Banks and Credit Unions
If you checked your credit score and it falls in the non-prime to deep-subprime range you're going to need to do some serious legwork.
Start with local banks and credit unions. They have more discretion over their in-house loans than the big banks and will be more willing to work with you.
I got my first car loan when I had zero credit. At that point I had gone to several dealerships where the salesman would run my financial information and come back telling me I was approved for a loan that came with 20% interest. (And one salesman who very strongly tried to push me into going with one of those loans.)
Luckily, at that time I knew better and wasn't willing to go that route. Instead, I checked with local banks and found one that gave me a loan on 9.25% interest. This, obviously, still isn't the greatest rate but at the time was the best I could get and I saved myself thousands of dollars over going with the dealer recommended banks.
You might still want to check around with the larger banks but, in all likelihood, local banks and credit unions will be able to give you more leeway if you have bad credit.
Pay Attention to the Interest Rate and Loans Terms (Ignore the Monthly Payment)
Do you have a good idea of what you want your monthly payment to be? You should. But that isn't the only thing you need to consider.
When you pay too much attention to what your monthly payment is it's easy to ignore how long you'll be making that payment and how much more you'll pay in interest.
Let's look at an example.
| | | | | |
| --- | --- | --- | --- | --- |
| Loan Amount | $10,000 | $10,000 | $10,000 | $10,000 |
| Interest Rate | 9.25% | 9.25% | 16% | 16% |
| Term Length | 60 Months | 72 Months | 60 Months | 72 Months |
| Monthly Payment | $210 | $183 | $243 | $217 |
| Total Cost | $12,601 | $13,158 | $14,591 | $15,618 |
As you can see the monthly payments don't vary all that much but the total amount you pay and the time you pay does. Take that into consideration!! The excitement of a new car wears off VERY fast but those payments will be with you for years – make good decisions from the start.
Don't Buy a Brand New Car
I'm going to be a bit presumptuous and assume that the reason you have bad credit is that you've fallen behind on some payments in the past. If this is the case I highly, highly recommend that you find a modest, used car in a price range that you'll be able to easily afford (without taking on a 6-7 year loan.)
Fight the urge to drive off the lot with a fancy new car and get something reliable, practical, and in your price range while you work on bringing your credit back up and building financial buffers.
In a few years you can reassess and then determine whether you're on the path to get the car you really want.
Try Buy Here Pay Here Lots
While going to a "buy here pay here" car lot probably wasn't the first choice on your list it's not always a bad option.
Buy here pay here car lots tend to cater to those who have bad credit scores. Here's how it works: you make a down payment on a car and then directly pay the car lot a monthly payment based upon the agreed terms. The catch is that the interest from buy here pay here lots is usually much higher than you'd find at banks since you're deemed as a credit risk.
The good news is that it is completely possible to find a buy here pay here dealer who will work fairly with you.
In fact, there's a locally owned buy here pay here in my area where the owner doesn't charge an APR – he just charges a flat 10% fee as interest.
The best way to find a decent car lot to work with is to ask for referrals from friends and family. If several people are recommending the same place then you know where to start looking.
*Also, keep in mind that you're going to need to save up for a down payment on the vehicle.
Bad Credit Car Loans: Summing It Up
It's not impossible to get a car loan with bad credit but it will take some work to find a good rate.
Here's what to do:
Check with local banks and credit unions to see if you can get approved and what interest rates are available to you
Pay attention to the interest rate you're offered and how that will affect the total amount you pay
Keep your budget practical
If you can't get approved for a traditional loan check out well-reviewed buy here pay here car lots in your area
If you have any tips for getting a car loan with bad credit leave them in comments!