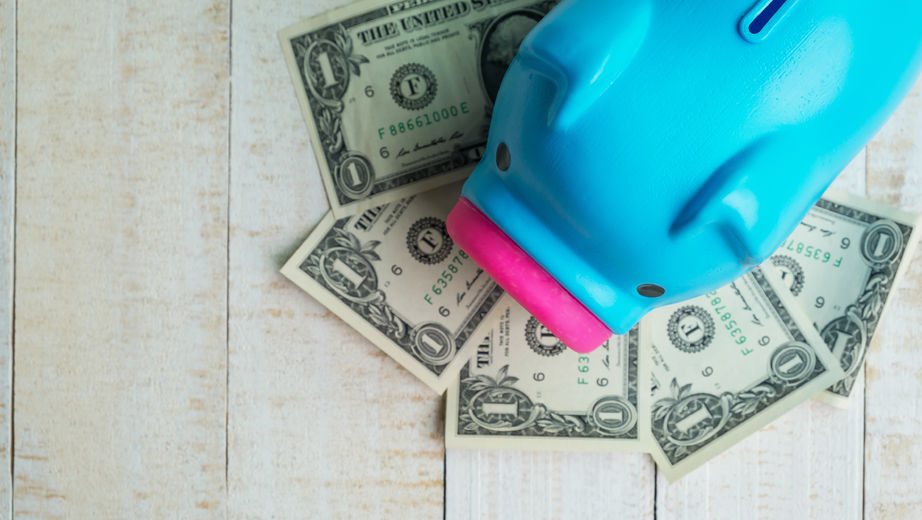 This is a common question many people have when it comes to personal finance. Bottom line, if you have financial goals, most of them require you to save money in order to reach them.
But is there a rule of thumb as to how much you should be saving on a regular basis? The answer is yes and no. If you've been wondering if you're saving enough money lately, I hope this post will help clear things up as I highlight all the different saving techniques and options you can try.
Saving at Least 10%
The unofficial rule of thumb is usually to save at least 10% of your take home income. In order to meet those numbers, you just need to open a savings account and make regular (if not automatic) contributions.
For example, if you earn $2,500 every month, you'll want to set aside at least $250 every month or $125 every paycheck. If you don't earn much but want to save money, you may need to set aside a little more than 10% so you can see better results.
This rule of thumb is great for people trying to jump start their emergency fund or have a cash buffer in the bank to fall back on when unexpected expenses arise. This strategy is very popular especially if you're dealing with debt and most of your disposable income is going toward becoming debt free. But it may not be the best solution for everyone.
If Saving 10% Isn't Enough…
Some people may not think saving 10% is enough. I sure don't. If you have kids, your own home, or other responsibilities, you may have several different needs. For example, you may want to save up for emergencies, your child's college education, a new car, and an annual family vacation.
Setting aside just 10% of your income probably won't cut it if you want to reach those goals in a reasonable amount of time which is why you should bump your contributions up to 20-30% of your income.
The key is also to tackle one savings goal at a time if you can. For example, if you know you need to reach your emergency fund target and prepare to purchase a new car, you may need to prioritize those savings categories over other ones for the time being since you'll find it harder to try to reach all those goals at once.
You may have to cut some of your expenses or earn more through a side hustle or a second job in order to boost your savings contributions and continue to live a comfortable life.
Determine What Counts as Savings
When you're determining your magic savings number, you may need to realize what you consider as savings to get a clearer picture of your situation. Many of us are saving for retirement either through an employer-sponsored 401(k) plan or through an individual retirement account. That can very well count as savings.
You may even have an HSA (health savings account) through your employer's healthcare plan. That also counts as savings. If you are putting extra money toward your debt and paying it down aggressively, I'd count those additional payments as savings because you are saving money on interest you'd owe in the long run.
Saving Half of Your Income
When I started to make all these considerations last year, I realized I'd be saving close to 50% of my modest income. I used debt payments, emergency fund contributions, retirement savings, and a new car fund as my main savings targets and committed to living only on the remaining $1,500 per month.
I understand this isn't realistic for most people especially those who live in high cost of living areas. Luckily, my rent was low along with my other main living expenses and I was committed to a frugal lifestyle.
Saving around 50% of my take home income has been life-changing for me and helped me reach so many of my goals much faster. It's not easy to get to that point however but it's not impossible as I know some people who are saving way more like 70-80% of their income.
It's important to note that a majority of people saving 50%+ of their income are higher earners. If your household income is $75,000, it will be easier for you to live off half of it which would be ($37,500) as opposed to if it were $30,000 and you had to live off $15,000 per year.
A little over a year ago, I was earning around $36,000 after taxes including my side hustle income which allowed me to live on only $18,000 for the year and put the rest towards savings and debt repayment. For me, it was possible to save half while bringing home less than $40,000 for the year.
So How Much Should You Save?
While this answer will vary depending on who you are, how much you earn, and what your needs are, I'd recommend starting out by saving at least 10% of your income, but not letting that limit you.
There is potential to save so much more. Everyone's situation is different though, so you may not save as much as the next person who may be preparing for a big ticket expense like buying a house. However, just like we should all try to earn more each year, you should try to consistently boost your savings rate each year.
How much do you think is appropriate to save? What factors could prevent you from saving as much as you want to each month?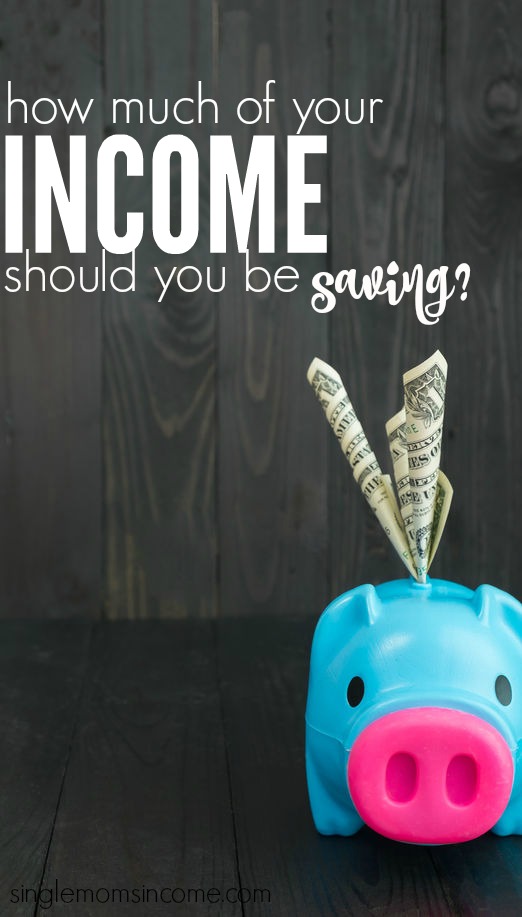 Photo Credit:truengtra / 123RF Stock Photo