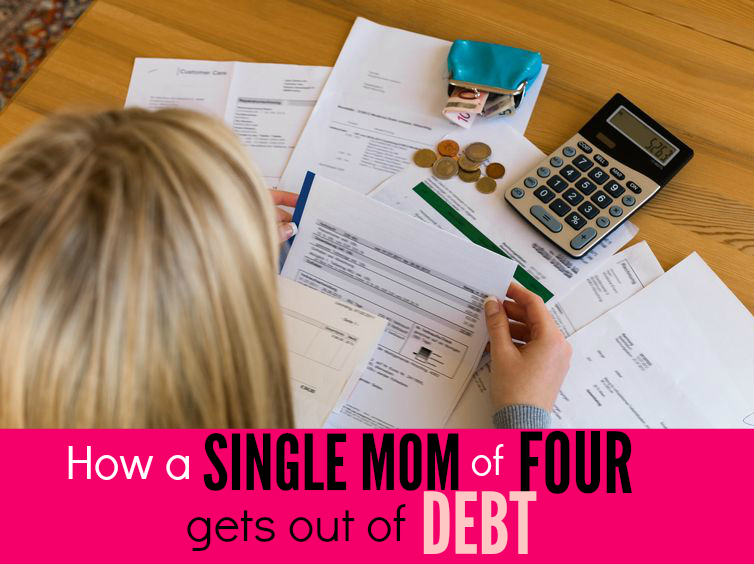 Five years ago, I paid off my credit cards. While I'm a happily married woman and mother of seven now, at the time I got out of debt, I was a divorced, single mom of four children. When I came across Alexa's blog, I felt an immediate kinship with her because my story is similar: I also had to bootstrap it and hustle to grow a business that would take care of me and my kids. I'm not special, and I'm not all that talented. So if I can do it, you can too.
Here's how a single mom can get out of debt.
Talk to Your Kids
If your children are old enough, talk to them about your goal of being debt free. (If they're little they probably won't notice or care about the lifestyle changes.) Talk up the fun things you'll do once you meet your goal. You'll be teaching them very important money smarts, and you'll get them on your side as well. Kids can be great at holding you accountable! Have your kids make a list of all the free and inexpensive things they like to do for fun. Have them help you brainstorm ways to save. Make it an exciting challenge, and not a drudgery.
Build An Emergency Fund
The first thing I did when I decided to pay off debts was to sock away emergency money in a savings account. This enabled me to not stress when the inevitable rainy day moments struck. Having money in savings made me feel wealthy. It's a huge psychological boost.
Make Debt the Enemy
Cut up your credit cards. Vow to never, ever use them again no matter what. Get angry. It will motivate you to work hard to be free! If you're religious, meditate on Proverbs that warn against debt.
Make Sacrifices
When I was paying off debts, I bought no new clothes for myself. (And only necessary items like shoes for the kids.) I sold CDs and books I liked, figuring I could buy them later when my circumstances changed. I never did, because things aren't as valuable to us as we think they are. This is called fallacy of ownership. (Google it.)  I lived with my parents for awhile so that I could build my business and not have to pay rent. Even though we got along great, it was still difficult emotionally. How bad do you want it?
Fill Your Bucket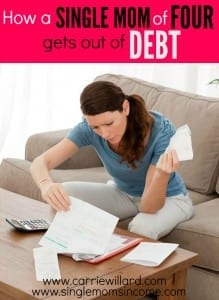 When you're doing something that's against the grain, something that will require months or years of hard work and sacrifice, you have to constantly fill your mind with positive, encouraging thoughts. I read stacks of books on personal finance (free from the library of course!). I listened to Dave Ramsey's radio show. I read stories of successful people online. I took pages of notes. I listened to audio recordings of motivational speakers. Keep your bucket full.
Use Visuals
I'm a visually motivated person and so are many of us. Seeing our goals out in front of us is exciting and keeps them in the forefront of our mind. I put a large poster board chart on my office wall with a line graph. It had lines for my debt, income and savings, each in a different color. It was so exciting to see my savings and income grow each month (funny how that happens!) while my debt got smaller.
Track Your Spending
This is a habit I kept, long after paying off debt. I made it a practice to write down every single penny that left my purse. This habit alone increases mindfulness and helps stop leaks in your budget.
Developing the self-discipline and good money habits you need to pay off debt will stick with you the rest of your life. In addition, they create "spillover" which means you'll probably notice positive changes in other areas of your life.
 Carrie Willard is the author of Slash Your Grocery Budget and Eat a Whole Foods Diet with ALDI
. After her family, her other loves are books, the intersection of money and happiness, and personal growth, which she blogs about at CarrieWillard.com