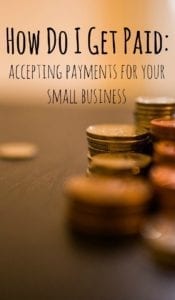 When you first get started running a small business or offering freelance services there's a lot to think about. One question I'm often asked is how exactly I get paid. And even though the question seems simple, it's not.
When I first got started I had no idea how getting paid actually worked and just figured it out as I went.
If you're thinking of offering freelance services or opening a small business, whether online or offline, here are some options you have for getting paid!
For Freelancers
Freelancing is the first way I was able to earn in an unconventional way and is also quite popular with freelancers now making up 35% of the U.S. workforce.
I've found getting paid as a freelancer to be quite easy and luckily, I've never had a client not pay. Here are the main ways I've seen freelancers get paid.
PayPal
PayPal is the number one way I've been paid for my freelance services. If you're doing any type of freelancing online, invoicing and accepting payments via PayPal is easy and safe to do.
Creating a PayPal account is free but they do take a small percentage of the payments you receive.
Payment by Check
Another common way to get paid for freelance services is by check. While I normally receive freelance payments via PayPal I used to have one client who would send bonuses via check in the mail.
FreshBooks
FreshBooks is a popular accounting program that allows freelancers and service based business owners to invoice their clients and accept payments via credit card or PayPal.
Even though I prefer GoDaddy bookkeeping I know many freelancers who love the invoicing features of FreshBooks.
For Small Businesses
When it comes to small businesses, whether online or offline, there are SO many different types that there's no one size fits all answer. Instead here's a rough idea on what to expect, depending on the type of business you're looking to go into.
Businesses that Sell Physical Products at a Physical Location
If you're selling a physical product at a physical location you're going to want to accept cash and also have some type of credit card processor. If your business is small and just starting a mobile card reader could be what you need.
You can also consider accepting checks but I'd be hesitant to do so unless you have a way to process them electronically.
E-Commerce Websites
If you're selling physical products on your own website you'll need a credit card processor such as Paysafe and the ability to accept PayPal payments.
It's extremely important that if you're taking credit card payments through your own website you do everything possible to provide maximum security for your customers.
Blogs/Other Online Businesses
What about bloggers, how do they get paid? The answer to that is many different ways.
I went through my income from last month and received a total of 15 payments. They were comprised of:
Paypal – 8 payments
Direct Deposit – 4 Payments
Paper Check in the Mail – 3 Payments
The way you get paid will depend upon how you're earning your money.
Getting Paid – There's No One Answer
As you can see, there's no one answer. The method in which you get paid will be determined by what type of work you do. And even then you might find yourself in my situation receiving more than a dozen payments per month from various sources.
The important thing is that you keep good bookkeeping records and if you're accepting payments through your own website you opt for most secure platforms you can find.