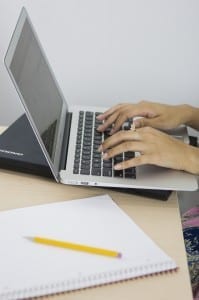 I was asked the other day if a college degree was necessary to get freelance writing jobs. The comment reminded me so much my thought process when I first started trying to work from home.
"Nobody will hire me I don't have a degree."
"Everyone else has went to college. They must know more than I do."
Those thoughts make me smile now. 😀
I probably have three semesters of community college under my belt. And the bulk of those classes were accounting.
I have no prior experience in writing. I don't have a degree or a certification. The closest thing I have is a personal lines insurance license which hardly "qualifies" me to be a freelance writer or virtual assistant.
Yet, companies actually come to me asking me to write for them – offering me what equates to be around $50 an hour. When I quit my day job I was earning $11.50 an hour and working a whole lot more.
If you're struggling to make ends meet or hate your job I want you to know that if I can do it, you can too.
And you know what?
You Don't Need a Degree to Make Money Online – Nobody Asks if You Have One and Nobody Cares if You Have One
That's the truth.
I have applied to a hundred or more freelance writing jobs (not an exaggeration) and I've never been asked whether or not I had a degree.
I know web designers who are self-taught, degreeless authors making a killing by self-publishing their books, freelance writers and virtual assistants who've learned as they went, and bloggers who are crushing it income-wise.
Don't let not having a degree hold you back. I promise you it's not important.
It's All About the Hustle
Your education has nothing to do with your ability to make money online. All you need is some basic knowledge, the ability to learn as you go, and the willingness to work hard.
It takes time but you can make as much money as you want doing what you choose.
I could make a lot more than I'm making now but I'm pretty happy with what I'm earning for the amount of hours I'm working. I'm okay with slow and steady. But that's just me.
What you earn is up to you.
If you want to make $10k per month online you can do it. You'll have to work hard and be patient but there's no doubt in my mind that you'll eventually get to where you want to be.
Don't be Discouraged
I don't want anyone to be discouraged just because they don't have a degree. In the online world real life experience is a lot more important than a college education is.
If you need to earn extra money pick something and run with it. Learn as you go. That is how you make money online.