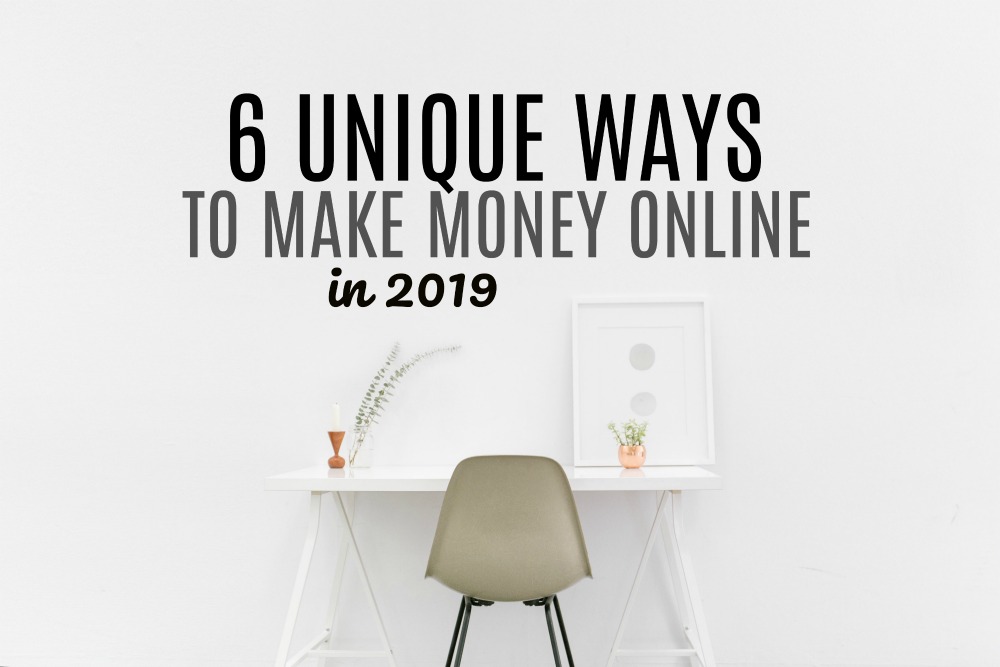 Thanks to the internet, there are several unique ways to make money online. As long as you have a computer and reliable internet connection, you have the opportunity to make a part-time or even full-time income.
If you're looking a flexible side hustle, you'll definitely want to consider online work. Most shot task sites or online contract work opportunities will allow you to set your own hours and work when it's convenient for you. This is ideal for moms, students, retirees or just anyone who has a busy schedule.
Check out this roundup of unique wants to make money online in 2019.

Focus Groups
Focus groups are a form of market research that provide a way for companies to get an audience opinion on a product or even an advertisement they are running. A consumer's opinion is very important to these businesses because that's who supports and buys their products.
The best thing about focus group jobs is that all you need to bring if your opinion. Plus, they also pay pretty well. The average focus group pays anywhere between $50 to $150 for around an hour of your time. Most opportunities will require you to discuss the topic in person but some sites post virtual focus group opportunities.
Check out sites like Mind Swarms and Respondent for focus groups that you can participate in from home.
After you answer a questionnaire you will then be contacted to find out if you're the right person to help the company find the answers they are seeking.
Test Websites
Another way to get paid for your opinion is to test websites online for extra cash. Everyday new websites and apps are being developed and it's important that people share their honest opinion about them.
Some website testing projects take as little as 10 minutes and others require more in-depth process and require up to an hour of your time before you are paid for your opinion.
Teaching
If you have any teaching or tutoring experience you can land an online teaching job. Some apps and sites will even pay you to teach English online to students in other countries.
Teaching online is flexible because you can set your own schedule depending on the program and some apps even provide lesson plans and other materials. You can make up to $22 an hour with sites like VIPKid.
Learn about more ways to teach online here.
Freelance Writer
Build your own brand and business by creating a blog or becoming a freelance writer. You don't have to have a degree in writing or even prior experience as you can grow your skills on your own.
Plus there are so many different niches out there for you to dive into like fashion, sports, personal finance, food, travel, parenting and more. Once you get your foot in the door and established people might see your work and ask you to produce content for them and in most cases will pay you.
Check out some of these best job boards to find freelance writing gigs.
Virtual Assistant
Now, a lot of work is done virtually online with a virtual assistant. As a virtual assistant, you might be in charge of emails, phone calls, social media, brainstorming new ideas, or outreach for the business owners.
Business owners can become very busy and virtual assistants often become a way to lift some of the burdens of running a business off of their shoulders. The more skills you have the better because the more you can do for them and the higher your earnings could be. Who knows maybe your name could be mentioned if they have a friend in the industry that also needs a virtual assistant.
Learn more about which services you can offer as a virtual assistant.

Chat Agent
If you're looking for a work from home customer service but don't want to be on the phone, consider becoming a chat agent. Many customers love asking questions and getting issues solved via chat feature.
You just have to be willing to provide customer satisfaction and able to learn and catch on quickly. The Chat Shop is a popular company that hires virtual chat agents along with many others.
This list just scratches the surface when it comes to narrowing down unique ways to make money online. To find the best opportunity for you, consider what your skills and interests are along your availability and how much you wish to earn.
What's your favorite unique way to make money online? Share it with us in the comments below!