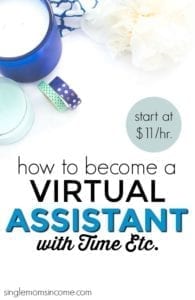 I've worked as a virtual assistant in a few different capacities over the last four years and it's been one of my favorite jobs. While I went the route of finding my own clients I know that everyone doesn't want to do that.
Time Etc. is a company established in 2017 that hires virtual assistants to perform 20,000+ tasks for their clients each month. (And one of the directors was a former personal assistant for Richard Branson!)
If you've been interested in becoming a virtual assistant and have past experience in administrative or similar work then getting a job through Time Etc. may be a good option.
Here's how to become a virtual assistant with Time Etc.
What Kind of Work Will You Be Doing?
When you work as a virtual assistant with Time Etc you'll work with a number of clients and will perform many different duties.
Some typical work you'll be doing can include general admin, making schedule and/or travel arrangements, formatting documents, sorting expenses, making phone calls, social media, and possibly blogging or writing.
With a wide variety of tasks and clients you'll likely not get bored with the work from Time Etc. The only downside is that since there is such a wide array of tasks you could get stuck with things that aren't always in the best alignment with your skillset.
Job Requirements
If you want to become a virtual assistant with Time Etc. you will have to meet a few requirements. These are:
At least two years' experience as a personal assistant, executive assistant, secretary, administrative assistant or other relevant experience
Ability to work during the week, M-F (at least five hours per week)
Can work part time from home
You must have a computer, internet and Microsoft Office
Have insurance
You will need Skype and a headset
A quiet place to work
If this is up your alley you can put in an application with Time Etc. here.
What Kind of Pay Can You Expect?
Time Etc. provides all the clients to you as a virtual assistant. The starting pay is $11 per hour. It doesn't appear that they guarantee you hours, though. They do offer flexible work so you can work for other companies too.
You'll be considered an independent contractor as a VA for Time Etc. This means that you'll be responsible for paying self-employment taxes but you'll also be able to deduct business expenses on your taxes. (Consult a CPA for exactly what you can deduct and how much you should save for taxes. You can read about how much I pay in taxes as a self-employed person here.)
Other Ways to Find Virtual Assistant Jobs
If you're looking for other ways to find virtual assistant jobs I highly recommend that you find clients yourself. While it's nice to work for a company like Time Etc. that can provide clients for you, you'll end up earning more money in the long run if you can do this for yourself.
I recommend signing up for Gina Horkey's free email course on Starting a Virtual Assistant Business if you want an insider look at it will take to get up and running.