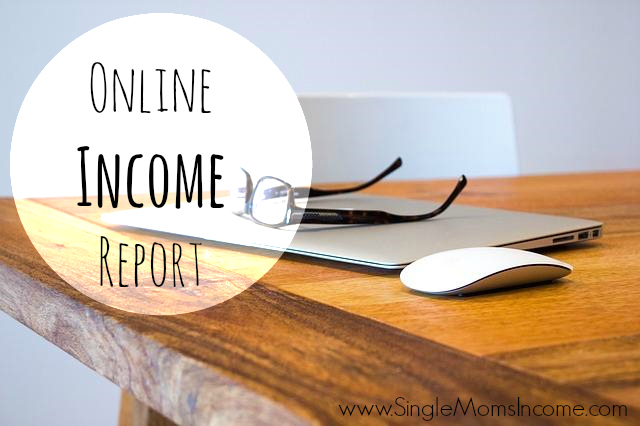 Happy May!
I've been going back and forth as to whether I should do income reports anymore. So I decided to go ahead and post this one and get all of your input. You can see some of my internal dialogue on these below 🙂
April Online Income
April was a good month for me! And it's looking like this month will be good as well. In fact, if I receive all the payments I'm expecting May might even be better than April.
In April I earned $5,466.04 (This is for payments that were actually RECEIVED in April)
It broke down like this:
Freelance – $2,709.71
Blogging – $2,756.33
I had a few of my normal expenses and of course, taxes! I think it's helpful to see that I don't get to actually keep all of this money.
Here's my spreadsheet screenshot of net income and actual after tax income: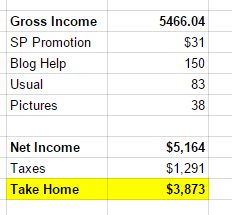 I saved a lot of this money. I didn't calculate the actual number but I know it was more than $2,000. (That's because the income streams that I always automatically save are starting to shape up rather nicely.)
P.S. If you're interested in starting a blog too, check out How to Start a Blog for Only $12 per Year. This post walks you through setting up your own WordPress blog through GoDaddy, my favorite hosting company.
The Truth About Earning More Money
The thing about money that's hard is that numbers never end. I set the goal to earn $60k this year and it's starting to feel like that's going to be a pretty easy number to hit. In fact, there are a couple of things I know that I could immediately do to earn more money, I've just been slacking!
So now that I feel I know exactly what to do to hit that $5k mark it no longer feels challenging and it makes me want to shoot for $10k per month for the rest of the year. (Because that will be a *real* challenge, but challenges are what keep me motivated.)
And earning more money is not about greed. It's about progress.
What I think I'm trying to say is that earning $4k – $5k per month doesn't feel any better than earning $2k – $3k per month AFTER you do it a couple times. It starts to feel normal and then you want to shoot for more just because you know that you can.
I'm just as happy now as I was a year ago.
But it's human nature to want to keep doing better and better. The fun is more in the journey of challenging yourself than it is in actually reaching that end goal.
I think that's why you see posts floating around the blogosphere titled "You Paid Off Your Debt – Now What?" Working toward paying off that debt challenged you in so many ways. Then you hit the destination and don't know what to do from there. It's very anti-climatic.
Do you understand what I'm trying to say here? 😉
And The Other Side of the Equation…………
And then one hand I sometimes feel guilty about earning more money. Okay, scratch that. I don't feel guilty about earning more money I feel guilty TELLING people.
I was looking up statistics in my county the other day and the median one person income is $18k per year. The median household income is $39,091.
So now when a family member asks me how much money I'm making I get kind of nervous to tell them. I almost feel bad. Especially, for those who owe tens of thousands of dollars in student loans and aren't making very much money. Or when I tell someone and they immediately get quiet.
Depending on where you live $5k a month might not be a whole lot. But in my area it definitely is.
I started these income reports when my blog was teeny tiny and I was earning $1,800 per month (sometimes less) and was completely on my own, but living my life perfectly fine. Income reports were a great way to keep me motivated and hopefully inspire other people and I just don't want them to make anyone feel bad. Especially, if they are having a hard time making ends meet.  At the same time I've worked hard to get here and I am not taking that for granted.
Oh yeah, I'm having some internal conflict.
I am being delusional? What do you think?