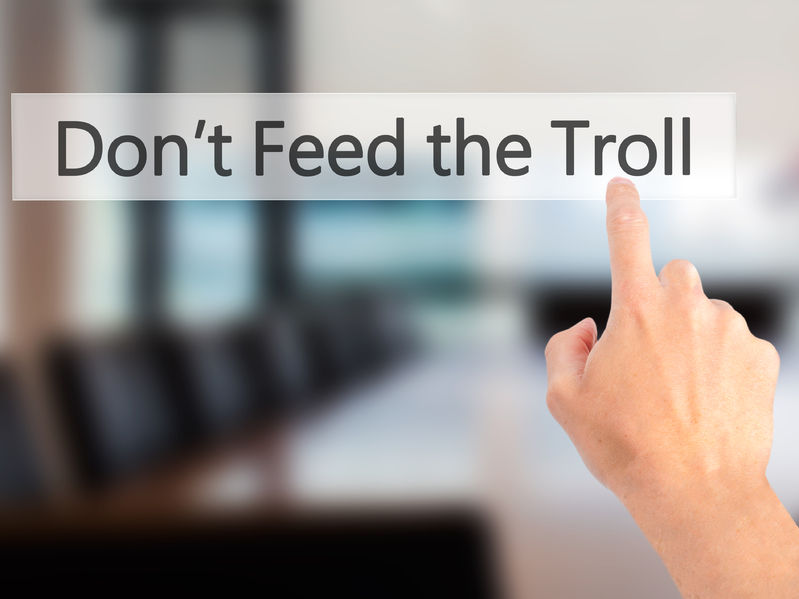 One worry I often hear from aspiring freelance writers and bloggers is that they're going to be opening themselves up to criticism. It's true. When you put something online (like your opinion) you're opening yourself up to other people's opinions, both good and bad.
But this is not true of just writers. EVERYONE is susceptible to this type of criticism. (Just go scroll through Facebook and it's obvious.)
This type of criticism is not just dished out to online businesses either. My Dad owns two small department stores which seem to attract the same type of negativity online from the same type of people who like to dish it out. (Topix in this case. #gofigure)
To be fair, nobody is immune from mean-spirited comments.
And to be honest this used to paralyze me. A truly mean comment would ruin my week. I'm to the point now where mean comments don't bother me at all (or at least not for longer than five minutes.)
If you're worried about putting yourself "out there" here are all the different strategies I've used to grow a thicker skin and shake off the negativity.
# 1 – Differentiate Between Differing Opinions and Mean Comments
When you share your ideas you're going to get plenty of people who won't agree with you. A disagreeing point of view is not a mean comment. Sharing ideas online is just like sharing them in real life – not everyone will carry your same belief system.
I don't mind at all when someone has a differing opinion. In fact, many times it helps me rethink why I believe what I believe or affirms what I believe.
Don't get offended when someone has an opinion other than yours as long as it's presented in a mature, respectful way.
# 2 – Think About Syntax/Context
Reading something someone else wrote can sound a lot different in your head than how it was intended to.
A couple weeks ago I got what I deemed to be a fairly rude comment on one of my more personal articles.
When I was reading it to myself I imagined someone saying it in a super whiny voice. It sounded very much to me like this person wanted to make a ton of excuses for themselves and needed to put me down to do that.  While the comment didn't get to me, I wonder if I was reading it wrong.
The truth is that it can be near impossible to interpret some online comments as the person intended them to sound. It's important to keeps this in mind when reading something someone else has written.
# 3 – Don't Read Them If Possible
One thing I learned the hard way is to completely ignore the comments section if you're featured on a big site.
For instance, if you go read any Yahoo Finance story where someone has paid off debt, built up a business or accomplished anything else out of the norm you're going to see a long comment section full of hate. And it has nothing to do with the writer of the article.
If you're a writer or a blogger and one of your articles gets picked up on a big news site you're probably better off not visiting the comment section.
If you post something on social media that turns into a bunch of hate that is negatively affecting you delete your post or stop looking at the comments. Do what you need to do.
# 4 – Brush it Off – It's Not About You, It's About Them
If you do get a truly mean comment brush it off. Seriously, do NOT let it affect you. I know that's way harder done than said but when someone attacks your character and tries to put you down it has nothing to do with you. That person doesn't even know you and is likely projecting their insecurities onto you.
Don't let somebody else's insecurities mess with your self-esteem.
# 5- Do Not Respond
Another thing I've learned the hard way…..:) When you respond to negativity you're not going to win. That person is going to come back with more negativity therefore making you more upset.
Delete the comment if you can, ignore it if you can't and move on.
# 6- Realize that Negative Comments are Small in the Overall Picture of Things
In the grand scheme of life most people are fantastic. It's easy to dwell on the negatives but in reality the positives FAR outweigh the negatives.
If you're worried about negative feedback I promise you it's a very small thing that only feels like a big deal at the time.
Negative comments are mostly rare but when they do occur you can get past them.