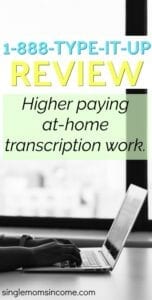 Transcriptionist work may seem easy, just type everything someone says, but it's actually quite difficult. For those who excel at transcription work, 1-888-TYPE-IT-UP is looking for you.
And they're willing to pay you what you're worth. But this job is not for everyone. It does take someone with previous transcription experience or similar work to be able to excel with 1-888-TYPE-IT-UP.
The Type of Transcription Work 1-888-TYPE-IT-UP Has
This company handles many different types of transcription work. Just a few categories of transcription 1-888-TYPE-IT-UP deals with are academic, medical, focus group, interview and much more.
Requirements for Working with 1-888-TYPE-IT-UP
Before you can get started, there are several equipment and technical requirements you'll need to meet in order to do the work:
A computer – either Mac or PC
Express Scribe – the free version is fine
Express Scribe Pro if you want to transcribe video files (a one-time fee of $29.99)
A foot pedal is optional, but will make transcription easier. If you'd prefer, you can set up hotkeys on your keyboard with Express Scribe.
A Google account for using Google Calendar to submit your availability
Headphones for distraction free working
High-speed, reliable internet service
Microsoft Office
Skype – for instant messaging only, a webcam is not required
A note on Microsoft Office – if you don't have this, you can purchase a one-year license from Microsoft or you can purchase a monthly subscription with 1-888-TYPE-IT-UP. The fee can either be deducted from your invoice or you can pay it separately.
Note: There's an Application Fee
Before we get to their pay rate, it's important to share that there is an application fee. Unlike other transcription services, 1-888-TYPE-IT-UP requires their applicants to pay a one-time $39 application fee with their transcription test. This helps to screen for serious applicants only and allows them to process your application faster so that you can start working sooner.
How Much Does 1-888-TYPE-IT-UP Pay?
Once you are hired, you can expect to make anywhere from $30-$180 per audio hour; this means the length of the audio to transcribe- not how long it takes you to do the transcription. Rates vary based on the projects available, the client needs, and the price the client is willing to pay for the work. Some files provide an additional bonus.
Payment for your work is made twice a month via PayPal on the 15th and the last day of the month. You must submit Net 10 invoices using PayPal's invoicing by the 5th and 18th of each month to receive payment on time.
How to Apply
If you'd like to work with 1-888-TYPE-IT-UP and you think you qualify for the job, you'll need to submit an application and take the online assessment test, as well as pay your $39 fee. You can begin the process by visiting the 1-888-TYPE-IT-UP application page. Expect the process to take 1-2 weeks before you are able to begin working.
More Work at Home Transcription Jobs
If you're looking for more work at home transcription jobs these companies are usually hiring (although they may not pay as much):