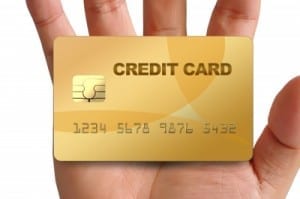 In general, I think that Dave Ramsey lays out a solid financial plan that everyone can implement. Most of the information is pretty basic. Spend less money than you make, find your frugality, and avoid credit card debt and so on.
While he does give good financial advice I have found that there are a few tidbits that I disagree with. In fact, one piece of advice he gives has cost me hundreds, possibly even thousands of dollars.
Horrible PF Advice: Spend Cash Instead of Credit Cards
Ever since I have read The Total Money Makeover 
almost four years ago, I have been trying to implement Ramsey's advice into my personal finance routine. I used to be a Debit card girl but after reading Ramsey's advice I decided trying the cash envelope system that he so strongly endorses.
I thought it would take some time to make the cash system work so I stuck with it for a couple of months, but never got the results I had hoped for. The money was gone so much quicker than it would have been using a debit or credit card. So I went back to my old ways.
When I was working two jobs I felt pretty secure. I knew that I would always be able to pay my credit card in full every month so I signed up for a rewards card. I didn't spend excessively and it was nice to be able to rack up points and use them to get free books off of Amazon.
Then when I went down to one job I felt like I needed to go the safe route. I stopped using my credit card and went the cash route once again. I thought since this method was preached by a "financial guru" it HAD to be the smart way to go. I would withdraw my cash and then a couple days later it would be gone. A small purchase here and there, lunch at work, a sucker for the girls…..gone.
I have recently gotten back on budget and I can accredit this to shopping with plastic. I know exactly where my money is going and spend more time evaluating my purchases before I make them.
Back on budget. Bye, bye cash, hello plastic!
Why Plastic Trumps Cash
OK, so using credit cards is not for everyone. Self-discipline is required so that money you don't have doesn't get spent on things you don't need. However, I think there are more responsible people in this world than Ramsey likes to acknowledge. (And why would he? A lot of his ratings and attention come from taking this extreme stance.)
Why plastic works in my favor:
I can see where my money is going.

I won't make a small purchase with a credit/debit card. (Therefore I haven't been eating out for lunch at work, that is around a $40 savings per week!)

I evaluate each purchase so I don't look at my statement and see frivolous spending.

I plan ahead so I don't have to make small purchases. (Buy enough drinks/snacks to take to work. This prevents me from stopping in the gas station each morning and spending money on junk I wasn't planning to buy in the first place.)
The rewards points are a just an added bonus to all the points listed above. Although I am thinking I would like to get a travel rewards card so I can rack up some airline miles for next year's vacation!!
What do you think cash, debit, or credit? Which is the best method for you?