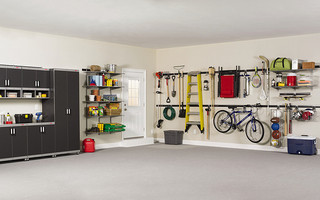 Life is a revolving wheel. Every aspect of life intertwines with another. If your house is a mess then your check book probably is too. If your laundry is piled sky then your bills are probably piled sky high too. Being organized has several benefits. It releives stress, allows you to know exactly where your things are, and makes you a more productive person.
Of course with the many responsibilities I am sure that you have, it can seem overwhelming to stay on top of organization. When things get too hectic it's hard to even know where to start. With the new year getting organized is always a goal on the top of the list. So lets get organized and stay that way!
Tackle Your Weakness First
My weak spot? My car.
It gets pretty bad. With two little ones in the back I often find juice spilled on the seat and of course the occasional sucker stuck to the floor board. I drive to work every morning and then on my way back I stop and pick the girls up a "suprise" (usually a .25 piece of candy). The candy gets thrown on the floor along with the packaging and before you know it my car looks like a garbage can. 
When I get home from work the last thing I want to do is pick up candy and trash. A vicious cycle starts and I can only blame myself. So how easy would it be for me to keep my car clean? Pretty easy, really. I could stop buying the girls candy and take two minutes a day to throw away my trash.
As simple as that and I can control my weak spot!
So what's your weak spot? I bet if you really think about it that it won't be too hard to get under control!
Get in a Routine
I am very good with keeping my home and my office at work clean. If I see a mess I have to pick it up or it drives me nuts! Having a routine will eliminate so much stress from your life.
My routine is very easy. When I get home from work I spend about five minutes picking up toys and such and putting them back in their proper place. Then right before bedtime I walk through the house and do this again.
On Wednesdays and Saturdays I dust, sweep, and mop. It takes me maybe 30 minutes. When I have a load of dirty laundry I wash it and put it up, I don't let it accumulate. This is how I have always done things and it takes very little time and effort.
Forget Perfection
I think that a lot of people give up on organizing because they feel that things need to be perfect. This is nonsense! Nothing will ever be perfect, especially if you have kids.
Instead of spending all of your time trying to perfect one area and never making it to the next, just allot a time limit to certain areas. For example it shouldn't take you longer than 30 minutes to organize your living room. Go full force for that 30 minutes and then be satisfied on what you have accomplished.
If you feel it still needs work, move on to the next room and come back when you have tackled everything else on your to do list.
Keep It Up
Once the initial organization has been done be sure to keep up with your routine. It's amazing how organized you can stay with little time and effort. And don't forget your weak spot. As much of a pain as it seems at the time eliminating that unncessary stress is completely worth it!
If your bills are a mess read Filing Systems Made Easy.
What's your weak spot?
You can go to the website calonmedical.com to get quality content on the treatment of erectile dysfunction and find out where to buy quality drugs.