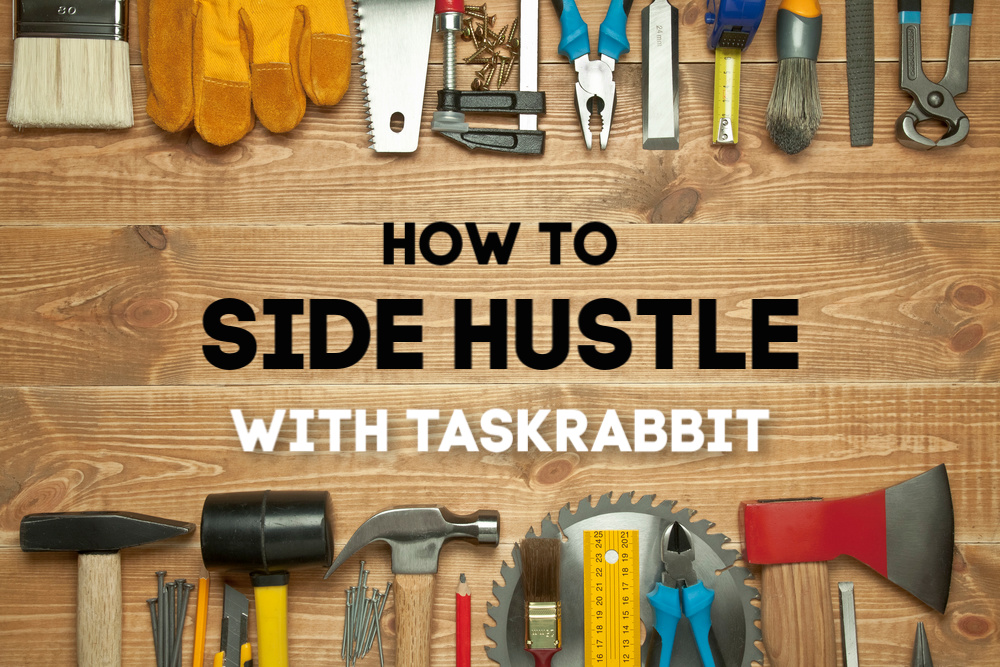 TaskRabbit is the perfect solution for someone looking to earn some extra income based on the skills and talents. TaskRabbit matches freelancers with local people who need labor done around their home. Since taskers are contractors, they are in charge of their schedule along with paying for expenses and taxes (based on earnings).
The more skills you have, the more services you can offer. Plus, being able to set your own schedule allows this to become a flexible side hustle that you can do during your spare time.
How TaskRabbit Works
TaskRabbit is a site that matches the almost 150,000 registered taskers to help homeowners or renters get tasks done. Sometimes we just don't have time to get certain tasks done around the house or just don't have the skills to DIY.
That's where TaskRabbit comes in. You can pay others in your local area to help you with tasks like cleaning, assembling furniture, moving boxes, or general handy work. Users set up an account then search for taskers depending on the job they need help with.
They can pick anyone they want and receive a quote for the work. TaskRabbit makes it easy for users and taskers to connect trade work for pay.
Related: 85+ Ways to Earn on Your Own Terms
How to Get Started
To get started there are five simple steps. After registration the next steps are confirming an email and downloading the TaskRabbit app. Next, you'll need to complete a background and ID check. Set the area you can work in and when you're available then you're good to go!
Due to a few factors including not wanting to oversaturate certain areas with specific taskers, TaskRabbit doesn't provide a specific timeline on how long until an application will be processed. Taskers must have a social security number and be at least 18-years-old to join.
Taskers must be able to work inside the metro areas list, applications for people wanting to work outside of those areas aren't currently being accepted.
Applicants shouldhave a checking account for direct deposit, savings accounts, reloadable bank cards, and prepaid debit cards are not acceptable. After the application is complete taskers have to pay a one time $25 fee to get started.
Type of Jobs Available
Taskers can do any of the available tasks as long as they have some sort of background in it. TaskRabbit wants to be sure that work can be done right, so recommends the taskers have done that type of work before.
Taskers are independent contractors that can use TaskRabbit to build their own business. They are in charge of what can of tasks they do and how often they work.
Types of Tasks
Electrician
Errands
Event Staffing
Moving Help
Office Administration
Mounting
Pet Sitting
Plumbing
Painting
This list is just a few of the many different options freelancers would have if they choose to use the TaskRabbit platform!
How Much Can You Make?
How much a tasker makes depends all on how much work they're willing to put in. Taskers set their own work area, availability, and hourly rate. So they are in charge of how much side hustle money they can bring home from TaskRabbit. Customer service doesn't offer any sort of tax advice to independent contractors.
TaskRabbit will not send a freelancer a 1099 form unless they earned more than $20,000 and complete more than 200 tasks in a given calendar year. Before clients are booked they are asked to enter in a credit or debit card for payment.
TaskRabbit uses Braintree or Stripe as their third-party payment processors. Payments aren't final until 24 hours after the task is completed giving the client time to look over the job for any issues.
Taskers are paid at least one hour for each job. A client can't bill a freelancer for less than that. After that hour has passed there is an option to add 15-minute increments to the invoice. Freelancers keep the full hourly wage they previously set in the platform, and TaskRabbit keeps a 15% service fee from the client.
Summary
TaskRabbit is one of the best platforms to help you serve clients with your skills and make extra money. You can consider becoming a tasker over getting a part-time job or picking up overtime at your main job. Taskers don't have to be super talented to start doing work. Sometimes, someone may need something like an errand ran or help with shopping which is easy enough for anyone to do.
Don't be discouraged if you don't have a ton of skills this side hustle might be perfect for you. Make your own schedule and decide when you work.
Compare rates of other taskers doing the same tasks as you and set your rate. Put your all into each task to ensure you get good ratings because good ratings mean more work. Overall TaskRabbit is a fun and easy way to meet new people and make great money!
You can sign up here.