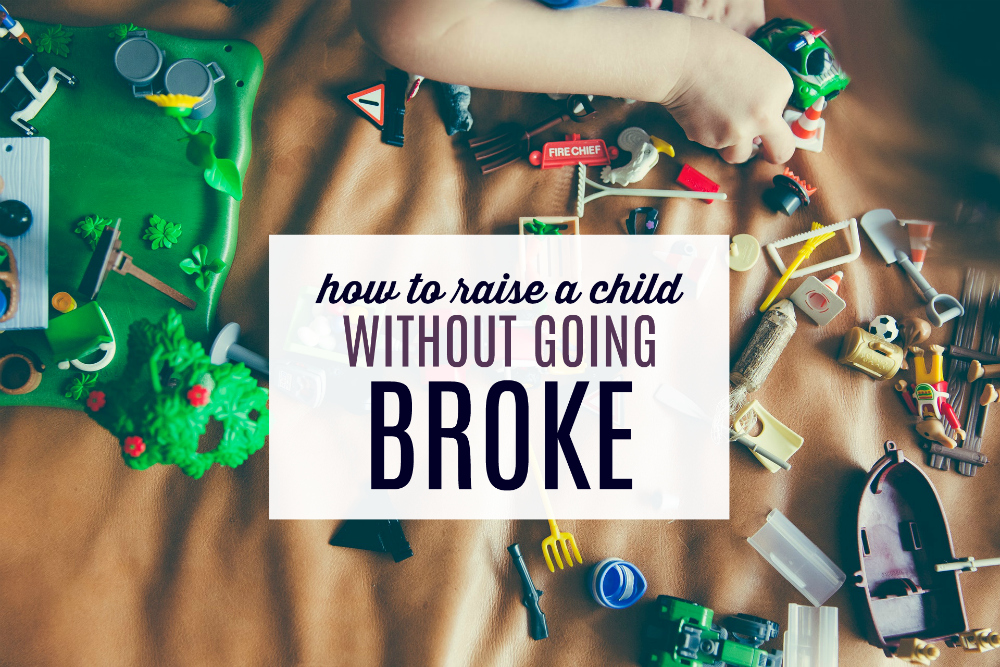 It's no secret that raising kids can be expensive. The stats are always all over the place ranging from $250,000 to $1 million estimated to raise a child to the age of 18.
Those numbers can scare anyone away from feeling confident enough to afford a family, but to me, it's just a lot of hype. Yes, raising kids will inflate your lifestyle and your expenses compared to what you spent when you were single and childless, but it doesn't mean you have to be broke and struggling the rest of your life.
I've been a parent for as long as I've been an adult and I was still able to pay off $30,000 of debt rapidly and live a comfortable life. I'm even considering financial independence in my 40s and still want 1 or 2 more kids. How is this reasoning logical?
Here are some of the best ways to minimize the costs of raising kids so you don't spend anywhere near $1 million.
Modest Housing
It's important to provide safe and spacious housing for your family, but I feel some people go overboard. My son has a friend who's an only child. We went to visit them over Christmas break and I was shocked to see them living in such a huge and expensive home.
If they can afford it, that's good for them and really none of my business, but I use this as an example to say you don't need a 4-5 bedroom, 3-car garage if your family size is small. You can cut back by owning a modest home in a safe working-class neighborhood.
A home that you can actually manage means less space to clean and maintain. Plus, you can probably even pay off your mortgage early if you desire. My husband and I plan to buy an average-sized starter home this year that it well below our budget. Our hope is that by keeping our mortgage reasonable and our expenses low, we can afford to buy another property as a rental in a few years.
Buy Most Things Used and Be Resourceful
Forget the expensive baby gadgets and name brand clothes and shoes. I mean it. It's a waste of money and kids forget about the 'stuff' they have and get bored with it fast.
Consider buying used clothes, toys, and other gadgets to save money. I shop at thrift stores and accept a ton of hand-me-downs for my son. If he wears name brand clothes, it's because we got it free or used.
I used to be able to find good deals on used shoes but now that he's older, not so much so I do typically buy him 1-2 pairs of shoes at a time but that's it since his feet are still growing.
When it comes to electronics and other items, I use coupons and gift cards when possible and buy things on sale. We don't buy new backpacks each year and other unnecessary items that we already have and are in good condition. The best part? He doesn't notice the difference!
Skip Private School
Private education can be another costly expense you'll have when raising a child. We actually started paying for private school this year but that's because we could afford it comfortably since we paid off most of our debt.
Some private schools have grants and scholarships to lower the costs, and others are just cheaper than the standard. By no means are we paying $20,000/yr for our son to go to school, but I know some families who are and it's a huge burden.
If you have a few kids, private school might be out of the question and that's okay. Your kids can still get a good education. Focus on residing in an area with a good public school system. The school system is a huge factor for families with kids when they consider housing options.
Homeschool is another option if you are able to stay home with your kids. It's actually something I would consider in the future if private school gets too expensive.
Homeschool is cheap and the best part is that it doesn't take 6-7 hours per day to get through all the material like normal schools. There are online programs and helpful tools you can go over the lessons with your kids in just a few hours each day and work from home during the rest of your time.
Free and Frugal Entertainment Options
Becoming a mom has helped me better sniff out free and frugal ways to keep my family entertained. I'm always looking out for free family-friendly events and festivals to attend.
Check with your local library or park district to see what they offer. Also, if your town has a list of resources or an annual resource fair consider attending so you can get information on upcoming programs.
I was able to find a free summer camp (no income restrictions required) and a free baseball team to keep my son busy last summer.
We love experiences over stuff, but can still keep it frugal by being resourceful.
Eat at Home
Dining out often can ruin anyone's budget. When you have kids, you really don't want to be eating your money when it could be going to other more important areas.
Eating more meals at home will help you save tons, and when you do dine out, do it wisely. There are so many kids-eat-free and kids discount days at restaurants, plus if all else fails, you can use coupons.
We don't dine out often as atakingily, and my husband and son even pack their lunches most days. By saving money on food, we can do others things we love like take a family vacation each year. Cooking at home also gives us the opportunity to improve our diets and feed our son the quality food he needs to be healthy and grow strong. This helps reduce costly medical bills.
Stay Insured
I know the insurance system sucks right now, but it's still better to be insured vs. uninsured especially if you have kids. Kids need to go to doctor's appointments and dental check-ups. It can get costly after a while.
This is why you might want to consider enrolling in a high-deductible health insurance plan where you can stash money away in a Health Savings Account (HSA). If premiums are too high for your family, consider a health sharing ministry to cut costs if everyone is pretty healthy.
Do you have kids? Do you find raising kids to be expensive or relatively cheap if you use any of these strategies?