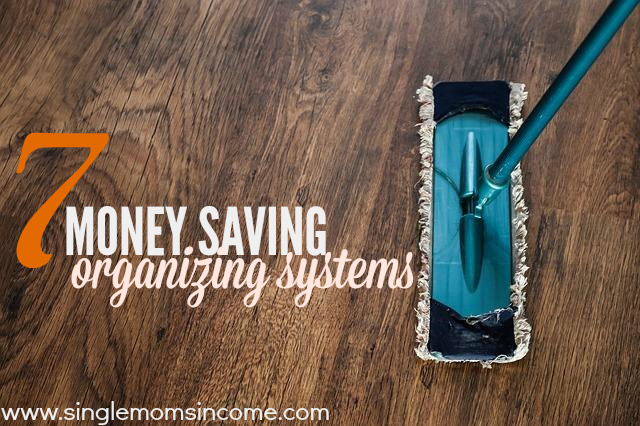 I always find that when I take the time to stay organized I'm in a better mood, can think clearer, stress less, and save money.
The other thing I've noticed is that organization begets organization.
For instance last week the girls and I went through all of their clothes, throwing away some and bagging up the others for a yard sale. The rest were organized and neatly put away based on the type. Then on Friday I cleaned out my car.
By Saturday I was ready to tackle our big problem: toys. It took me about four hours and (embarrassingly) six trash bags full of junk and two bags full of "sell" stuff. It was so awesome to be rid of all the junk that gets handed to my daughters.
It feels so good to have everything organized. It saves me time, money, and even helps me earn more! So, today I wanted to share with you the organizing systems that I use.
A Simple Budget Spreadsheet
Normally I don't track my spending. That's because I choose to live a low cost lifestyle and my bills don't really fluctuate. I have the same expenses month in and month out.
However, when I'm in a season of life like I'm in now, where my income and expenses are starting to fluctuate (more income, more taxes, less babysitting, more school related costs, etc.) I start to get overwhelmed. That's when I turn to my super simple budget spreadsheet to track my spending.
After I track my spending I can get a feel for what a realistic budget looks like for me at this time in my life. (And of course, I adjust as needed.)
My favorite budget spreadsheet is the "Family Budget Planner" template from Microsoft Excel. (And I have tried A LOT of budget spreadsheets.) It's nothing fancy which makes it perfect. You simply input you're incoming and out goings and the spreadsheet will calculate everything for you.
A No Nonsense Menu Plan
When I went from eating out all the time to going completely cold turkey a simple menu plan is what did the trick!
I used to be completely intimidated by meal planning. I'd see other women posting these elaborate meal plans or fancy meal planning sheets and I automatically though "that's not going to work for me!"
But when I decided I wasn't going to succumb to drive thru madness anymore I knew I had to make a plan.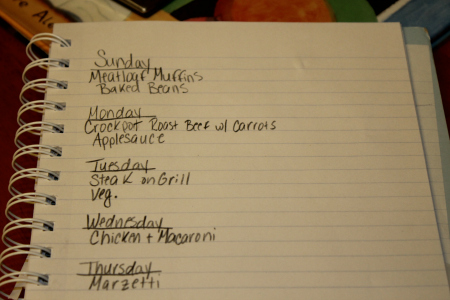 Every week I just rip out a sheet of notebook paper and come up with seven dinners based on the food I already have. I try to plan things for specific days (like crockpot meals for busy days) but I am totally flexible. I can look at my meal plan and just choose something off of the list.
Pinterest – For Organizing Meal Ideas, and DIY Repairs
Once again I ruled out Pinterest a long time ago on the premise that I'm not a girly girl. I thought Pinterest was the place where women shared hairstyles, clothing, and nail designs. Then about a month ago I started playing around with Pinterest and was hooked! (And totally wrong in my assumptions.)
I love pinning easy recipes and crockpot meals so that I can put some variety into our meal plan. I've also been pinning DIY solutions to common household problems, cleaning solutions I want to remember, and so much more.
Pinterest is actually a great site for pinning all those resources you want to remember and can greatly help you with your menu planning.
A Coupon Holder
I got my coupon holder way back when extreme couponing was the thing. I hated the thought of carrying a big, bulky binder around and my coupon envelope was the perfect solution.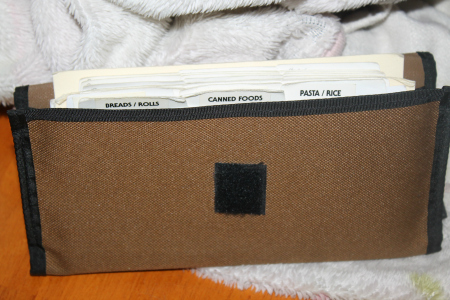 I'm not an avid couponer but you better believe if I have a coupon for something I plan on buying I'll use it. (I've actually been trying to use more coupons lately.) My coupon holder fits nicely in my purse and is very convenient.
I couldn't find a link to the exact coupon holder I have but I found one on Amazon that I like even better. This coupon holder is currently around $10 and looks a lot more sturdy than what I have.
A Designated Spot for Receipts, Unpaid Bills, and the Checkbook
To keep all my receipts and bills organized I have designated drawer in my coffee table. I just toss everything in there and then about once a week I'll go through and record all of my expenses and file my paid bills.
A Filing System for Your Bills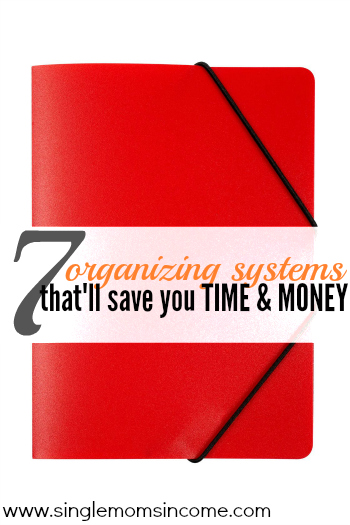 As far as bills go I have a filing system I've been using for a couple of years that I love.
I have an expandable twelve pocket briefcase folder and each folder is labeled with a month. I put all my bills for the month in their designated spot. When I come back to that folder (12 months later) I shred all of the contents and start over.
Important documents go into file folders in my desk.
And lastly What I'm Working on – A Regular Decluttering System
You know how I said I took out six trash bags full of junk? I waited far too long to declutter the toys. I used to do this routinely every month and would take out a trash bag full. So my guess is that it's probably been close to six months since I've given the junk toys a purging. (Boy, do they pile up fast!)
Regularly decluttering and keeping your house organized can save you a lot of money. Especially when you're buying doubles of things you already have.
For instance, I thought we were getting low on pony tail holders. Then we went through the whole house and our hair thing drawer now looks like this…………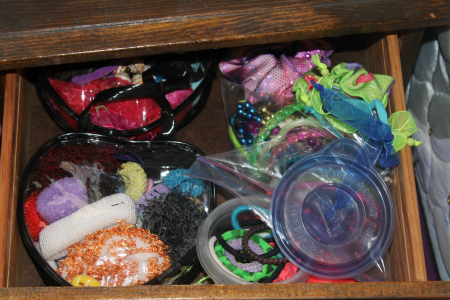 I've done the same thing with thermometers too.
Keeping Up with It All
Keeping up with it all can seem overwhelming – but it's really not. If you spend twenty to thirty minutes a day going through your stuff and remember to put stuff back where it came from, then it's not hard.
What's overwhelming is waiting too long and having eight trash bags full of junk to get rid of. Am I right?
Do you have any special systems for keeping your home and finances organized?
Linked Up at Thrifty Thursday