After five weeks I finally finished redoing Kailyn's bedroom. It seems when it comes to room makeovers I'm always over confident in the amount of time it will take me. Especially since I thought I could have Kailyn's room done in one week of evening work.
Yeah, it didn't happen.
But every time I finish a room, I look around and realize that over 95% of the furniture I own is hand-me-downs.
I've come a long way in the past decade.
You see, one of my worst financial mistakes was financing furniture when I was first on my own. I was so wrapped up in having the "perfect" living room set that I ran to Rent-2-Own and got a couch, love seat, coffee table, and lamps on weekly payments. I paid on that set FOREVER. In the end I probably spent thousands of dollars on something I could've purchased for $900 at an outlet furniture store.
That experience completely turned me off from buying furniture. In fact, I went through my house and have only found two pieces of furniture I bought new. (And one I bought secondhand.)
I've gotten almost all of the furniture I have now for free. Here's how:
Accept Hand-Me-Downs
Being the cheap one in the family can really pay-off. I'd say a good 90% of my furniture consists of hand me downs. The other ten percent would consist of one chair and one TV stand I bought and a second hand hutch I refinished.
And guess what? It's all nice.
Some of the stuff probably isn't what I would have picked out had I went shopping for brand new furniture myself, but it works. And what I've found to hold true is that you get used to your furniture and don't even notice it after a while. (That goes for both brand new and hand-me-down items.)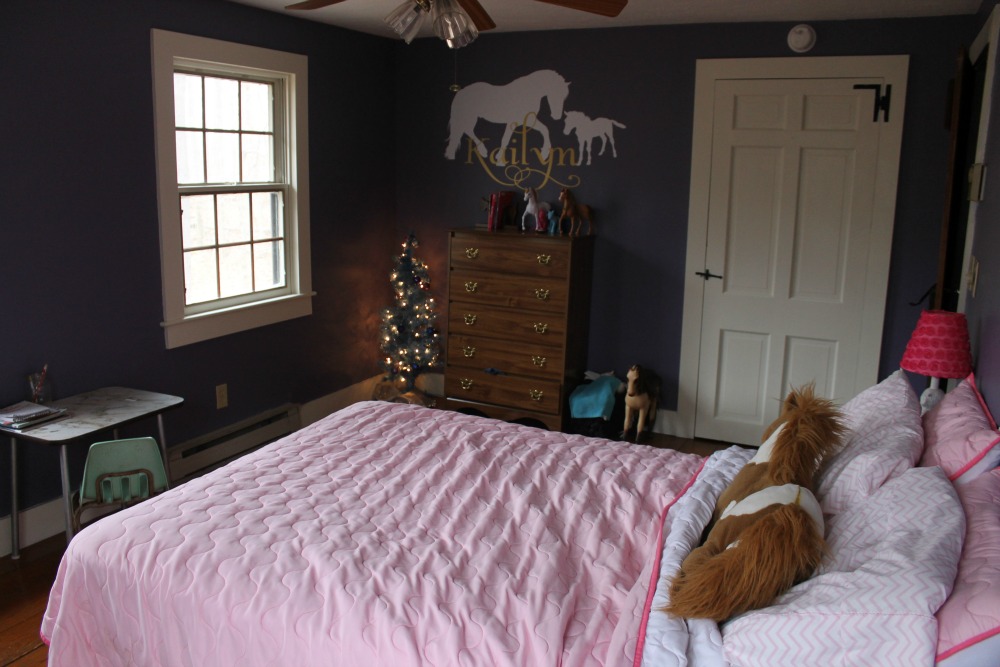 Unfortunately I couldn't get her entire room in the pic but every single piece of furniture in here is from someone else. The dresser pictured was given to me by my Grandpa. The bed was left by an old roommate of Jamie's. And not pictured are a dresser and toy box that were Jamie's as a child. Even the big horse on the bed and the Christmas tree in the corner were second-hand from family members!
My rules for taking hand me downs:
If someone wants to give me hand me downs I generally abide by these rules before taking their offer. (Otherwise I'd be stuck with furniture I'd need to dispose of.)
In working order
Relatively clean (doesn't have to be perfect. I do have kids who will mess furniture up after all. However, I don't want anything that is stained up or smells.)
I have a designated spot for it/am in need of it. (I don't take furniture that I don't have a spot for. I like to be clutter free.)
Neutral/Goes with the room or can be refinished if it doesn't
Refinish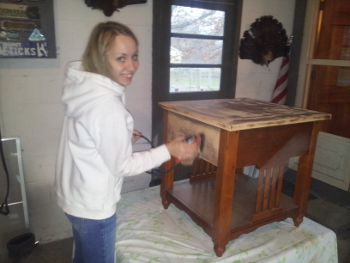 I like to refinish furniture. It's just fun taking something you kind of like (or don't like at all) and putting your own spin on it. Plus refinishing is pretty darn easy. I used to be intimidated by it but trust me – if I can refinish furniture pretty much anyone can do it.
A few things I've refinished:
A $30 hutch from an auction that was once absolutely hideous but now one of my favorite things that I own.
Coffee tables and end tables in the living room given to me by my old boss.
A railroad bench I found in the garage when we moved here.
Book shelves.
Wall shelves.
I also have a couple other projects I need to work on which includes a dining room table my Dad gave me that was once my great grandmothers and a dresser/bar thing-y (I don't know what to call it) that was also left here when we moved in.
Shop Second-Hand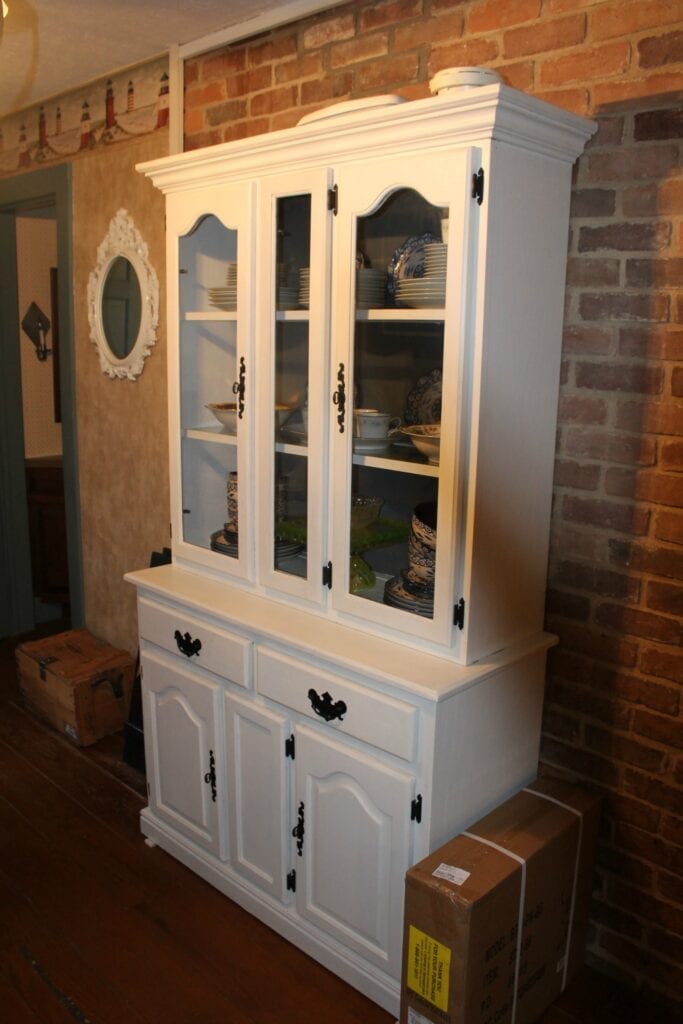 A $30 hutch that was refinished. Even all the dishes inside were given to me by family members!
If you don't have friends or family members trying to unload their old stuff on you then shop second-hand. You can find unique items that are high quality but lower in price than the brand new stuff.
While I didn't have to purchase most furniture second-hand I did score great deals on all of my animal stuff by buying used.
No matter what style of décor you like you can find ways to make second-hand work for you. You might have to use a little creativity, but that's the fun part 🙂 Also, your wallet with thank you. I promise.