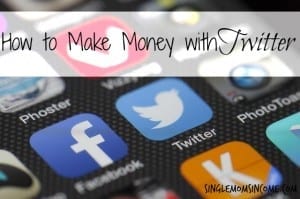 Twitter is one of the most popular mediums for online conversations. Twitter is a great social network for you to interact with friends, families, and even celebrities. It can also be a place for you to earn a little extra cash, as long as you have a large following.
Here's how to make money from Twitter.
Create a Large Group of Twitter Followers
If you're interested in using Twitter to earn a little extra cash you first need to work on building a loyal following. In the beginning this can be a little tough, but after it's done you get to reap all of the rewards. If you're clueless as to how to do this it's time to brush up on your Twitter skills.
Step#1 Create Your Brand
To effectively make money from Twitter you need to be communicating to a specific audience. That's why it's important to develop your brand from the get go.
Here are a couple questions to ask yourself in regards to your Twitter brand:
Are you promoting a business?

Are you selling a product or service?

What are your interests?
If you are selling a product, service, or promoting a business then the topic of your business will be your brand. You're going to want to find a group of followers who are most likely to do business with you or partner with you.
If you don't have a business, service, or product to promote then your brand should be something that interests you.
Step # 2 – Create a Strong Profile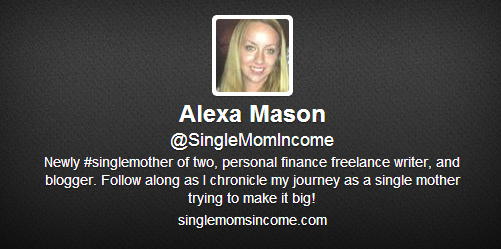 When you are setting up your profile it's important to use keywords in your bio. This way people who are interested in what you have to offer will easily be able to find you when they search for certain keywords. Example: You're a personal freelance writer, you should have the term "personal finance freelance writer" in your profile description so that you're  found in a search.
You should also use a Twitter name that is relevant to your brand. Don't forget to add links back to your blog or website if applicable.
Step # 3 – Follow a Bunch of Other People
Now that you have your profile set up it's time to find you some followers. One of the quickest ways to do this is by following others. You'd be surprised at how many people will follow you back just because you followed them.
To do this find a person with a similar brand as yours with a large following. Start following their followers. You can do this with a few different profiles until you've reached the number of followers you like.
Do keep in mind that you can't follow more than 1,000 people per day.
Step # 4 – Unfollow Some People
Now that you've built your followers up it's time to unfollow some people. You can use a service like Tweepi that makes this a bit easier.
Tweepi will display a list of people who don't follow you back, users that have been inactive for several days or weeks, and mutual followers. Go through your list and unfollow anyone who didn't follow you back or anyone who hasn't been active on Twitter for weeks. You may even want to unfollow some of the people who followed you back. This way your following to followers ratio is low.
People  naturally begin to follow you when you have large number of followers but a low number of people you are following. They will automatically assume that you have something important to say. 
From here your followers will begin to grow naturally.
Step # 5 – Be Interesting
Congratulations you have now built a large following on Twitter. Now you need to keep that following engaged. You can do this by sharing relevant information pertinent to your brand and actively engaging in conversations with others.
Make Money from Twitter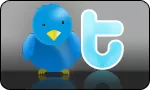 If you've made it this far you have a pretty good chance at using Twitter to earn some extra cash. Here are three ways you can make extra money from the large following you just created.
Tweet Sponsored Posts
Many companies will pay Twitter power users to tweet advertisements. There's just one catch – you must have a very large following.
If this is something that interests you you'll have to build up your Twitter followers and create some engagement. After you've built a solid following you can sign up with companies like ad.ly or twitpub.com to find interested advertisers.
Advertisers generally want to advertise to specific audiences. If you're a mom you could build a strong following of other moms, if you're a football fan you should build a strong following of other football fans, etc.
Promote Your Products
If you have your own business or sell items on eBay or Etsy, Twitter is the perfect tool for promoting those items. It's best to concentrate on building a strong following of people who would be interested in your item first. After that you could tweet a product that is on sale, an auction that is ending soon, or a new item you've added to your collection.
Sell Your Services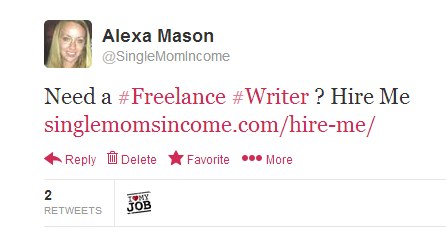 As a freelance writer I often hit up Twitter in search of new clients. I simply tweet my "hire me" page and add a sentence such as "Looking for a #freelancewriter? Hire me!"
You can do this for practically any business or service. It's important to make sure that you have the followers that'll take notice beforehand.
If you are interested in earning extra money from Twitter or just increasing your following, these steps will take you there.
Have you made money by using Twitter? Tips for building a large following? Let me know in the comments!