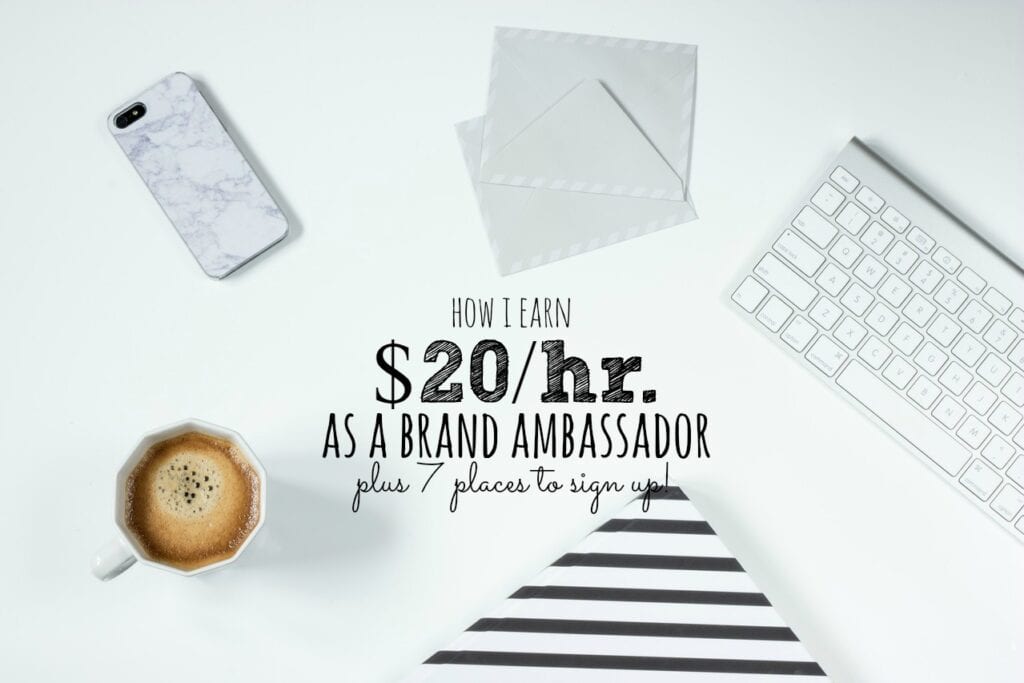 Even though I'm now self-employed, I'm always trying to earn extra money on the side.
I've been working on and off as a brand ambassador for the past few years and it's one of the easiest and most flexible jobs I've ever done.
A brand ambassador is generally someone who represents the brand in a positive light by interacting with consumers to tell them about products and service. Most of the time, brand ambassadors provide samples of products or host live giveaways to spark interest in the brand they are representing.
The fact that almost all brand ambassadors earn more than minimum wage and there is no degree or certification required to land jobs is just the icing on the cake.
How I Got Started
Back in college, I did in-store food demonstrations at local grocery stores for about $11/hr. I liked the job and it provided security since I worked in the same store each weekend and had a manager on-site.
However, I noticed other people hired by third-party companies were in the store as well promoting different products and doing alcohol tastings. Once I found the people who were working independently were earning anywhere from $16-$25 per hour, I decided to sign up and chose to start doing alcohol tastings.
I worked 4-hour shifts and earned $20/hour so it was definitely easy money. The job was also low sales pressure so while I was encouraged to be friendly and ask people who liked the product if they wanted to take it home, I wasn't penalized in any way it I didn't sell anything.
Most times, brand ambassadors are supposed to promote brand awareness which should convert to sales but sometimes it doesn't.
I was expected to take a few photos during my event and submit a short report a few days later.
When it comes to compensation, some companies don't take taxes out of the checks they send out because they hire independent contractors so this is something to think about since you will have to report your earnings and pay taxes if you earned more than $600 for the year.
Income may not always be consistent with this type of job, but it's a great side hustle opportunity whether you need to earn extra income for the holidays, throw extra money toward your debt, or contribute to your children's college funds.
If you're interested in working as a brand ambassador, here are a few companies you should consider working with.
Top 7 Companies That Hire Brand Ambassadors
1. Big Orange Productions
Big Orange Productions is an event staffing firm that provides brand ambassadors with opportunities to perform in-store demonstrations for a variety of products including food items. Ambassadors must log into a talent portal to sign up for gigs and work as contractors and not employees of the company.
Payment is sent via check 30 days after an event has been completed.
2. Across the Nation
Across the Nation is a national event staffing and promotional marketing company providing flexible jobs for people wishing to work street events, festivals, trade shows, PR stunts and more. Compensation is paid out two weeks after the event.
3. Victory Marketing Agency
Victory Marketing Agency is another event staffing agency headquartered in Florida that allows brand ambassadors to participate in promotional marketing campaigns, demos and road shows, trade shows, corporate events and more.
4. Fusion Event Staffing
Fusion Event Staffing provides a variety of event opportunities from conducting surveys and handing out samples, to outdoor promotional events. Work is available throughout the U.S.
5. One The Rocks Models
On the Rocks Models strictly provides wine and alcohol tasting gigs for popular grocery stores, beverage outlets like Binny's, and local liquor stores. Don't let the name of the company fool you. Men are more than welcome to apply and land gigs and jobs are not limited to a specific age bracket.
6. Advantage Solutions
Advantage Solutions (formerly known as Advantage Sales and Marketing) hires brand ambassadors to encourage sales through live in-store demonstrations. Ambassadors cover a territory of stores in their area and become experts at promoting the products they represent.
7. First Step Beverage
First Step Beverage is another alcohol tasting company that also provides training to brand ambassadors so they can properly convey brand attributes, and key selling points to promote sales.
A Final Word
Not all brand ambassador jobs are the same. Some may appeal to you more than others based on your interests. Some companies prefer you have experience, but it's not hard to land jobs even if you don't. You just need a positive attitude, a warm personality, and the ability to follow directions and engage people in conversation in order to do well on the job.
Training is almost always provided and you should never be expected to pay out of pocket for it and the company should provide funds to purchase products and some supplies as well. Don't forget to write off any extra expenses you have to cover on your taxes either.
For example, some companies expect you to have your own fold-up table since you'll be setting up and tearing down your own station.
Brand ambassadors may travel quite a bit as well if they are expected to work at different stores in the area. On the bright side, you're in control of which jobs you decide to take and have the potential to earn as little or as much as you want.
Have you ever worked as a brand ambassador or would you consider it? What's your favorite way to earn extra money?
P.S. If you want to learn from some of the best in the business I highly recommend you check out the Work at home Summit. This summit is a collection of entrepreneurs talking about a myriad of different work at home businesses and jobs they've started and grown. This is 100% the best work at home event I've ever seen. (Totally scam free.) And it's free. You can find out more here.