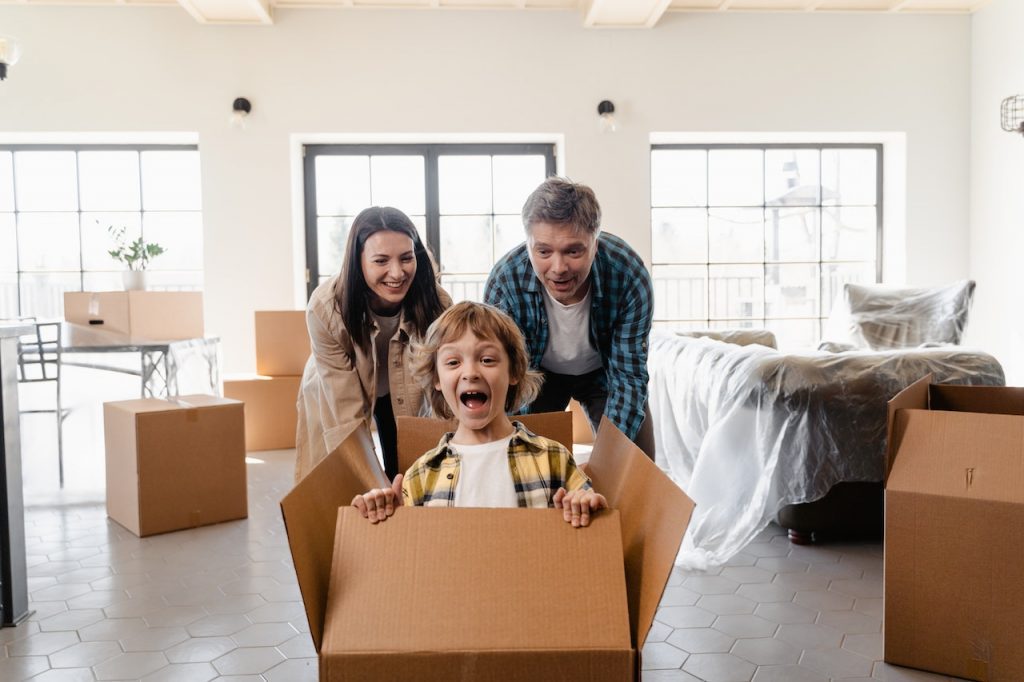 If you want to save some money as a parent on your next relocation, look no further. An affordable, budget-friendly family relocation is possible. You will need to plan by budgeting and organizing the moving process in several easy steps.
Organize the family relocation ahead of time
A family relocation will require a little bit more planning. Firstly, figure out the timeline for the relocation process. Most importantly, see by what date you have to move out of your current home and when you can move into your new one. If there is a gap between the move-out and move-in dates, arrange for temporary accommodation and find storage for your things. That isn't an ideal situation, but by organizing on time, it doesn't have to be a hassle. If you are moving during a work day, make sure to request a day off so you can focus on the moving process and be done as soon as possible. If you have small children, you may want to ask a friend or family member or hire a nanny to help take care of your kids during the moving day.
Moving as a parent can be difficult and stressful, so it's good to have as much help as possible. Remember to take care of the paperwork for transferring your kids to their new school. As for your pets, finding them a place to stay is best so they don't get stressed during the move. Another essential thing to take care of ahead of time is to hire a reputable moving company for your family relocation. Hire movers ahead of time so you can relax until the moving day. Moving last minute always comes with a cost, such as purchasing packing supplies for a higher price. When you organize and plan ahead of time, you can save a lot of money. If you must purchase certain packing supplies or find temporary accommodation, you can research until you find the best price.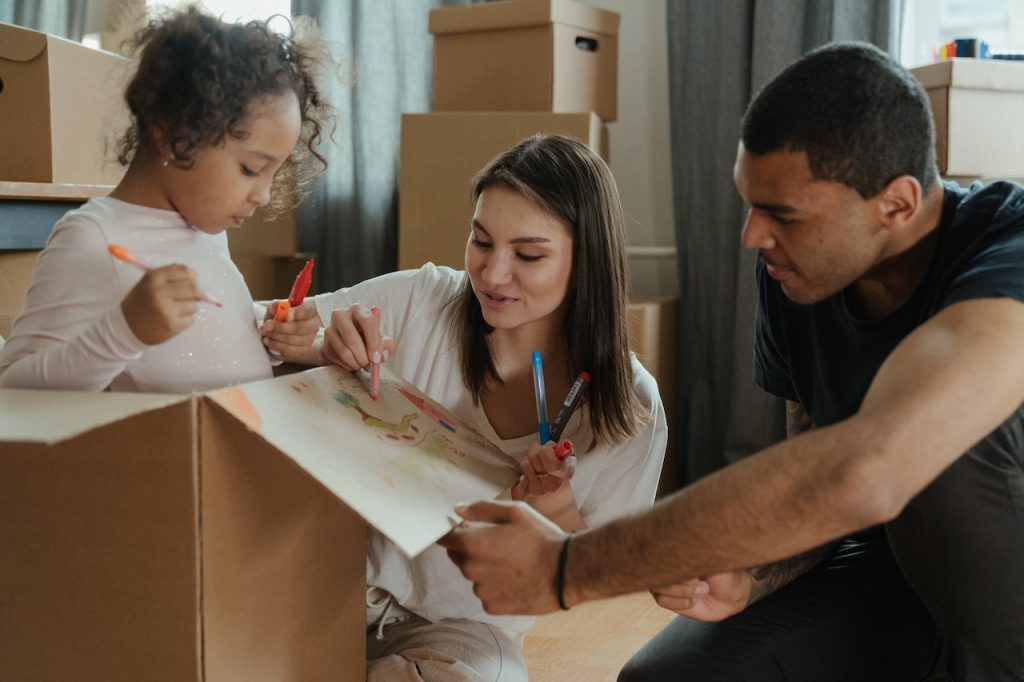 Create a moving budget
Part of the organization process is creating a budget. With this, you'll know how much your family relocation will cost. Having a clear moving budget is the best way to save money on your family relocation. You can cut costs more quickly once you put everything on paper. Start making the moving budget by listing everything you need to pay for, from additional packing supplies to hiring professional movers. Next, write down a rough estimate of how much each item on the list will cost. However, don't forget some other essential costs during a move. For example, leave some room in the budget to buy takeout, as you probably won't have the time or energy to cook a meal during the moving day. And remember to leave some money aside in case of emergencies.
Sell what you don't need anymore
As your kids grow up, there will be many things you won't need. Toys your kids don't play with anymore and outgrown clothes are some things you can sell to save money when relocating. You won't have to bring anything you don't need into your new home. Your new home will stay clutter-free once you move. Therefore, you'll also save money on packing supplies. In addition to this, you will spend less money on relocating your items. Also, you can donate or recycle things you can't sell but want to get rid of.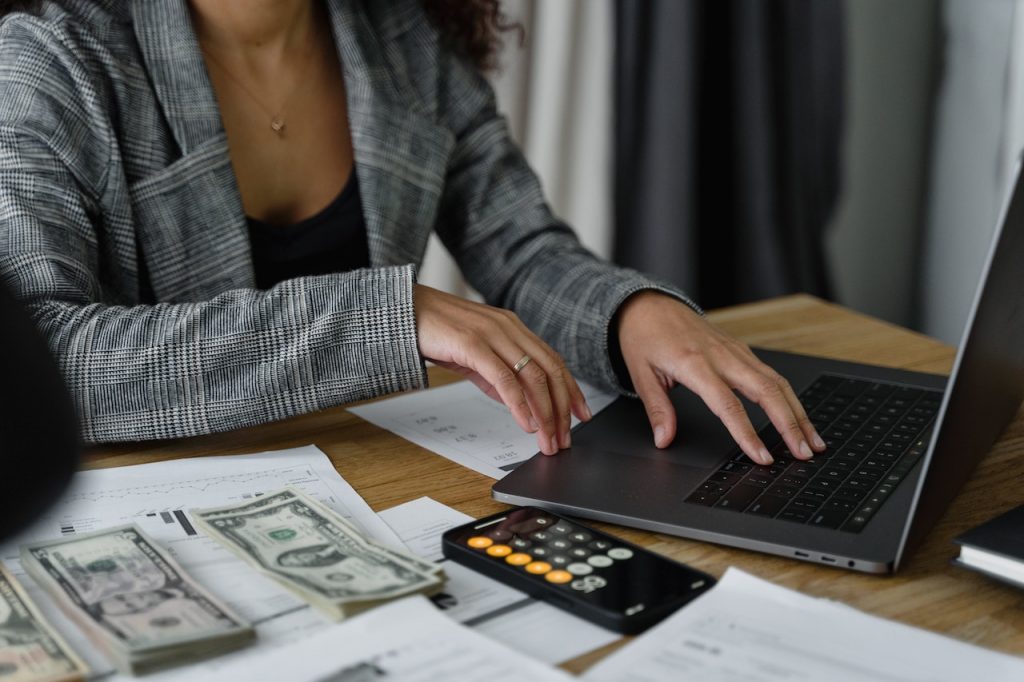 Packing on a budget
To save money as a parent on your budget-friendly family relocation, reuse what you already have as packing supplies. Old boxes can be acceptable for packing items such as clothes and linens. To save money and space on the moving truck, invest in vacuum bags for packing clothes more efficiently. This easy hack will help you save money on your next relocation. You can visit your local supermarket and ask whether they have any old boxes they don't need anymore. Now, you'll get free packing supplies and make your relocation more eco-friendly at the same time.
Make sure to secure each item with enough padding and packing paper. You can reuse old newspapers or blankets to safely pack fragile items. Once you arrive at your new home and unpack, you can save these boxes. Reuse them as storage solutions or save them for your next relocation. To make unpacking easy, label every box as you pack it. Put the name of each room the box goes into so that movers can put them in the right place. You can quickly unpack each box without carrying it around the house first.
Unpacking and organizing your new home
Arriving at your new home and moving your things is just one-half of the moving process. You'll have to spend some time unpacking and organizing your things. To make this quick and easy, plan ahead. See just how much stuff you have and whether you have enough storage room for everything. If you need more storage, now's the time to shop. Figure out where you will store things you don't use very often, such as seasonal sporting equipment or party supplies. Set up your storage solutions as soon as possible so that boxes don't pile up too long. When you start unpacking, tackle the things you use every day. All of this will save you a lot of time once you arrive at your new home.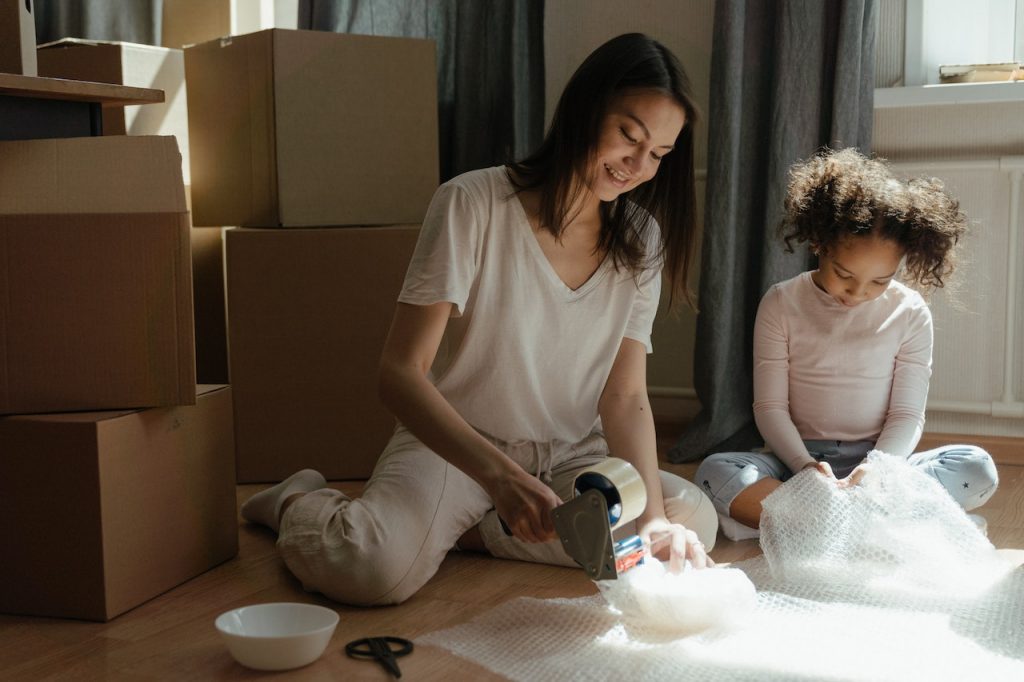 Help your kids settle in
One of the most significant parts of moving into a new home is settling in. That can be a strange period for anyone, but especially young kids. You can take several steps to help your kids settle into the new home. You can guide them through the process by informing them ahead of time. By keeping them involved in the moving process, they will find it easier to cope. Try to help them envision their lives in the new home and talk about all the happy memories you will create together as a family.
Final thoughts on a budget-friendly family relocation
Moving on a budget isn't always easy, but it is possible. And relocating as a family doesn't have to be difficult when you plan ahead of time. A budget-friendly family relocation can be easily achieved when you follow our guide and do your best to make this process as easy as possible.