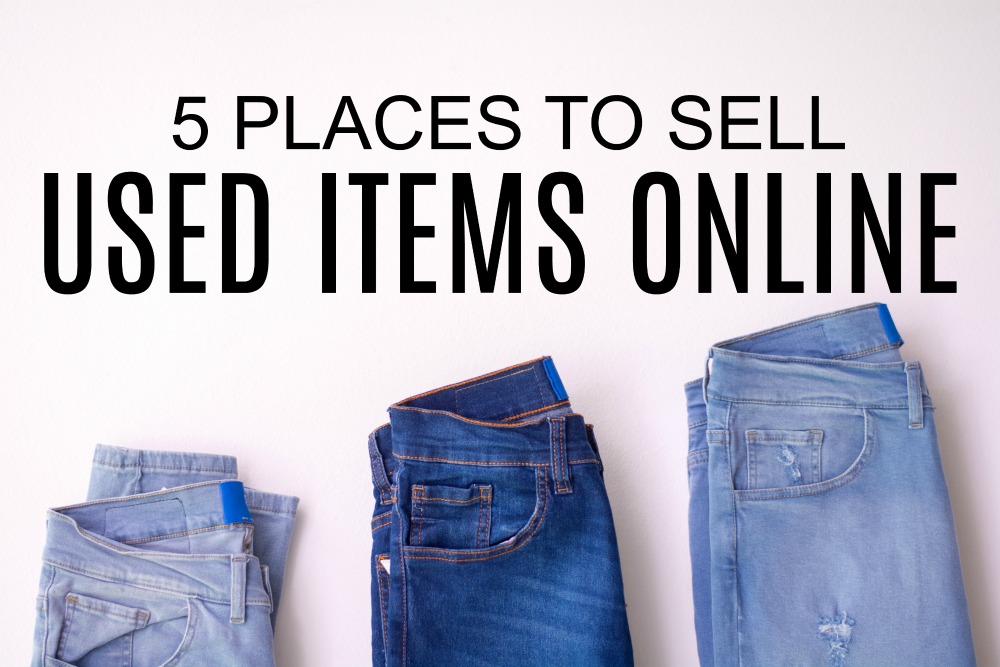 Last weekend I did some major cleaning and decluttering around the house. I've been obsessed with the Netflix Show Tidying Up and I love the book the show is based on, The Life-changing Magic of Tidying Up by Marie Kondo.
I decided to be aggressive with my goal of tidying up and go through my entire home in a single weekend. We ended up wanting to get rid of bags and bags of items including clothing and just things that were laying around the house unused.
One thing I always recommend people do if they're looking to make extra money quickly is sell some of their unused items. Whether you are tidying up or not, I'll bet you have quite a few things that are just taking up space at your home.
Consider selling them instead. While it's too cold in some areas for a garage sale, you can advertise your items for a bigger audience by selling them online.
While we all know about Amazon and eBay, here are 5 unique places to sell items online for extra money.ThredUp
1. Thred Up
Thred Up is one of my favorite sites to buy gently used clothing online. Instead of having to venture out to the thrift store, I can shop online and get great deals on new-to-me clothing as well.
This is a major perk since you never know what you'll find when you go to thrift stores or garage sales. Thred Up is the largest online consignment shop and sells women's and children's clothing along with some accessories.
The great thing about the site is that you can also sell your clothes to them and earn cash. Simply go to the site and click on the button that says 'Clean Out' at the top of the page.
ThredUp actually lists the items they are currently looking for to help give you a feel for what you can send in. When you're ready to sell, order a free bag that will be shipped to your address. When you receive it, fill it with the clothing you'd like to sell and ship it back for free.
From there, ThredUp will decide if they want to buy your items and send you cash or credit for the items they accept.
2. Poshmark
Poshmark is a popular app that allows you to sell your gently used clothing online.
You can list clothing items for men, women, and children along with accessories like handbags, jewelry, and shoes. This site is similar to eBay in that you need to photograph your own items and create a listing with a detailed description.
You'll want to include specific details about the item that might help it sell like the name of the brand, size, condition, etc. Of course, you want to be honest when describing the item but really position it from a sales perspective.
What would you want to see if you're a shopper browsing on the app? You may even want to browse on the app first to see what other people are selling and how well their listings look. You can also compare pricing for items similar to yours so you can choose a fair price point.
When you make a sale on Poshmark, you'll get a pre-paid, pre-addressed label ready to be put on the box. You can drop your package off at a USPS mailbox or even have it picked up for free from your home. Poshmark does takes a flat commission of $2.95 for all sales under $15. For sales of $15 or more, Poshmark charges 20% commission.
3. Offer Up
Offer Up is a site that allows you to sell practically any item from appliances, books, antiques, and electronics to clothes, pet supplies, and even furniture.
Offer Up is a local site, so you'd be listing your items and selling them to people in your area. However, so many people use this site so your reach can be huge.
We are planning to take on a new home project where we move the location of our washer and dryer. This requires us to get a new stackable washer ansd dryer set.
To offset the costs, we are thinking about selling our current washer and dryer on Offer Up. The only potential downside of using this site is the fact that you may have to negotiate with potential buyers, since they are supposed to make you an offer based on your listing price.
To avoid super low offers, you may want to price your listing higher or add a note to the description stating what the lower offer you'll accept will be.
4. Green Buyback
Have old electronics lying around the house? What about devices that no longer work? Green Buyback allows you to sell your items with ease for extra cash.
Green Buyback buys used phones, tablets, laptops, gaming consoles, headphones, Apple accessories and more.
Simply, go to the site and request a quote by sharing details about the item(s) you wish to sell. Green Buyback will quote you a payment and if you're pleased with it, you can ship them your item for free and get paid. If you don't see your device when trying to get a quote, don't get discouraged.
The site may still be willing to buy it from you. Just fill out a request for a custom quote.
Green Buyback also buys items in bulk so you can increase your earnings if you're looking to sell multiples of the same item.
5. Varage Sale
Varage Sale is another local community selling site that you can use to sell your items locally.
First, you sign up and enter a your location and join a community in the same places you live, work and play. Then, you get verified by connecting to Facebook to confirm your identity.
Next, you can start listing items and stat selling to verified buyers in your area.
When it comes to selling your old items, you have a lot of options. One of the easiest ways to sell is online. You can post your listing in seconds or even cross post on multiple platforms.

If you have a lot of old clothes, I'd recommend trying out Thred Up and Poshmark to get the best opportunities to sell. Good luck!