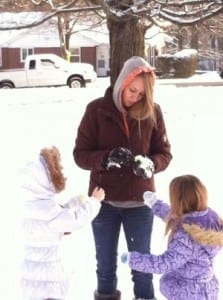 I've had a few blog posts sitting in my queue for a while now but for someone reason I don't feel like publishing them. But I guess the good thing is that this is my blog so I can publish what I want 😉
So, instead of doing a "how-to" today I just thought I'd give you a little glimpse into what life's been like over the past few weeks.
Working from Home
This is still going good. Not as good as what I had originally hoped but I might have had some high expectations.
I actually turned my focus to a few unfinished projects I had going on, which is where I've spent the majority of my time this week. I've been working on some projects that I really enjoy and that will benefit me in the long term rather than the short term.
I am still doing quite a bit of writing for others as well. (And determining which magazines I want to pitch.)
Birthday Party Success
Kailyn did end up getting to have her birthday party last weekend despite the bad weather. She ended up having a ton of fun.
And, I made peace with my brother so that his kids could come to the party. I've been missing my nephew pretty bad so it was so good to finally spend some time with him again. Going into this I'm definitely going to be more cautious about things but holding a grudge against my brother isn't worth missing out on my nephew's life.
It feels good to bury the hatchet.
Spending
Spending is technically up since Christmas is approaching but the increase in spending is all gift related.
I've actually saved on normal expenses since working from home. I'm only spending about $50 a month (maybe less) on gas now and my food budget has went down too.
One of my bad habits used to be stopping at the gas station in the morning before work and buying energy shots at three bucks a pop. Since I don't leave the house now this has come to a stop. However, I do still stock up on the cheap energy shots when I visit Kroger or the Dollar Store.
Exercising/Getting Out of the House
One word: awful.
Seriously, I am lucky that I have a high metabolism or I probably would have packed on some serious weight over this past month. I really don't eat much (in fact sometimes I have to force myself to eat.) But I haven't been active at all.
About once a week I force myself to take a walk and I feel great and energized after I do. I tell myself that I will exercise everyday but then – I don't.
I gotta get myself up and moving. 
On top of all that I'm hardly getting out of the house. I wish my Dad's store wasn't so far away or I'd take my laptop and work from there a few days a week.
It's way too cold to spend too much time outdoors right now so I'm going to have to start visiting my mom or something once a week so that I can get out of the house.
Ok my rambling is over. That's what life is looking like around here.
How's everything been going for you?