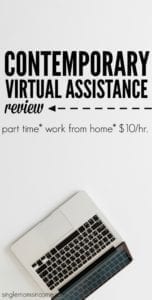 If you're looking for virtual assistant work my number one recommendation is to find your own clients. Finding your own clients normally means more control over your schedule and more money.
However, I know that in the beginning many virtual assistants are hesitant to do so and prefer to work through a company. If this sounds like you, today we're covering Contemporary Virtual Assistance. This company hires virtual assistants on a part time, contract basis.
What Kind of Work Will I Do?
Contemporary Virtual Assistance is looking for qualified virtual assistants to fill their client's needs. Their clients include entrepreneurs and small business owners in a variety of businesses all over the country.
As a virtual assistant, you will help your clients with their administrative, marketing, and online business needs. This can be anything from answering emails and scheduling appointments to posting on social media and updating websites.
The longer you work with your clients, the more responsibility you'll be given and the more money you'll be able to earn through additional hours and advancement.
As a contractor with Contemporary Virtual Assistance, you will also need to attend team trainings and meetings, virtually of course, and occasionally help your teammates with their overflow or backup workload.
What are the Requirements for Working with Contemporary Virtual Assistance?
You will need a reliable computer, high-speed internet, and a telephone line.
Qualified candidates for this position should be available at least 4 hours per day during business hours. You'll also need experience with Google Apps , Microsoft Office and multiple social media platforms.
Of course, as a virtual assistant you'll need strong admin skills.
Ideally, you should also have knowledge and experience with at least one of these applications:
WordPress
Graphic Design
Photoshop
Infusionsoft
HTML
Similar applications
How Much Do They Pay?
Pay starts at $10 per hour and all virtual assistants are hired as part-time, independent contractors which means you'll be responsible for your own taxes.
Once hired, you'll receive extensive training as you work. If you do well, you could be available for advancement opportunities within 90 days of starting work. That means the opportunity to work more hours with more responsibility, and ultimately, more pay.
If you're interested in working with Contemporary Virtual Assistance, just fill in their online job application to get started. Once your application is submitted, it will be reviewed and, if you meet their requirements, you will be contacted for an interview.
How to Build Your Own Virtual Assistant Business
If you're looking to build your own virtual assistant business here are some of our most helpful articles: