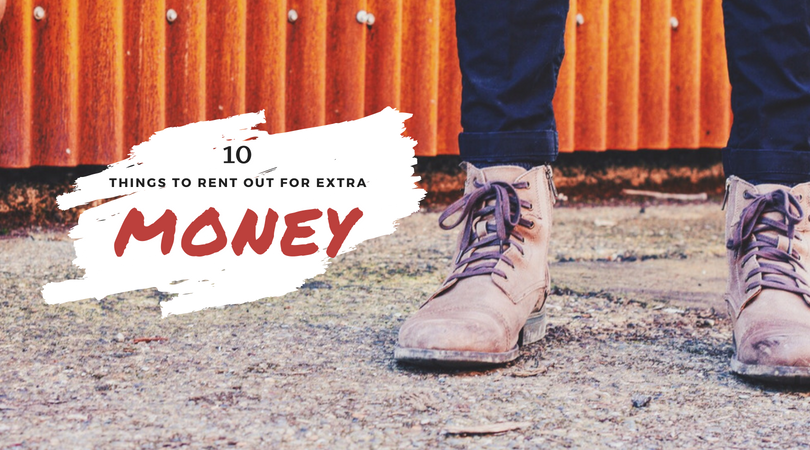 We're getting ready for a housewarming party and I did a lot of searching for a rental company in our budget to get party supplies from. We needed an outdoor tent, tables, chairs, and I wanted to rent a bouncy house for the kids.
Those items are much cheaper to rent than they are to buy and keep. However, I started thinking about how much money people probably make when they do buy those items and rent them out.
They probably make the initial investment back 10 ten times over. If you find a target market to rent to regularly, you can even start a profitable side business.
Whether you're looking to rent out items professionally or not, you can still make decent money renting out what you already own with little effort.
Here are some ideas to help you get started.
Rent Your House or Apartment
Airbnb
With Airbnb, you can rent out your spare bedrooms, vacation home, garage apartment or even camper to travelers from around the world via Airbnb to make money from your unused space.
Even if you don't live in a heavy tourist area, you can still make a decent income renting your home or spare bedroom out. Airbnb takes 3% fee when your space is rented. You choose how you pass off keys and whether you request a security deposit. Airbnb offers up to $1 million to cover damages.
VBRO
VBRO stands for vacation rental by owner. If you live in a city or town that attracts a lot of tourists, you can expect big bucks by renting your house, apartment, vacation rental, or a spare room in your house or apartment.
Wimdu
Wimdu is a rental site that lets you rent out your apartment, villa, holiday home, cabin, private rooms, farmhouse, car, boat, and more via and more to make money from your unused space. It is available worldwide. If you want to rent several private rooms, you must create a separate listing for each room on Wimdu. You set the price, rental period, the cancellation policy and other conditions when listing your property on the site.
HomeAway
If you have a condo, cabin, beach house, or more, then you can list your property on HomeAway to earn rental income. HomeAway is a reputable vacation rental marketplace that lets you rent your property to travelers from around the world to earn a rental income. You set the prices, length of time your property is available to rent, and who you rent your property to. Each time your listing is booked, HomeAway takes a commission.
Rent Out Your Car
Turo
If you have a car you are not using often or have another one that is collecting dust in your garage, then you can list your car on Turo to rent it to others around you. You can earn 65% to 85% of the rental price depending on the market value of your car and availability. You choose the mileage limit. The car is returned fully fueled.
Getaround
Getaround is a peer-to-peer car sharing and local car rental service that allows car owners to rent their cars out to people in their vicinity. You can rent your car out when you are not using it to make money. You can set the hours your car is available for others to rent. Car owners give drivers a code via the Getaround app to unlock the door and pick up the car. You will get paid monthly.
HyreCar
Do you have a car that you do not use often? Then you can list your car on HyreCar to rent it out to rideshare drivers in your area. Average car owners earn $14,000 a year through HyreCar. By renting out your car, you can earn passive income. Simply sign up for HyreCar and download the app that will notify you when someone requests to rent your car. You are covered by HyreCar under rideshare insurance.
Rent Your RV
RVshare is an on-demand platform that lets you rent out your class A, B, or C motorhome via RVshare to make cash when you are not using it. If you have a pop-up, travel trailer, or a fifth wheel, you can rent them too. You can earn $120 – $365 a day, according to RVshare.
Rent Your Bike
You don't need to have a car to make money by renting out your property. You can rent your bike when you are not using it to make some extra cash via Spinlister. Users who rent out their items make a few hundred per month.
Rent Out Your Parking Spot
If you choose to park on the street or have a spare space that you barely use, then you can rent out your parking spot via sites like ParkingSpotter and JustPark to make some extra money. You can list your parking spot on ParkingSpotter for a day, week or a month. You can also rent your spot just during a popular event.
If your spot is near a public transportation hub, urban center, stadium or hospital, people are willing to pay you to park their cars in your parking spot.
Rent Out Your Spare Storage Space
If you have unused space in a garage or spare room, there are sites like StoreAtMyHouse that connect you with people who need space. It is free to register and list your spare storage space, but these sites charge a commission when you rent it out to someone.
Register on the site and list a storage space. Notify any special features your storage space may have so your listing can stand out. If someone is interested, they will contact you via the site and arrange to check out your space. You can also advertise your storage space on Craigslist.
Rent Your Land to Campers
You can rent out your land to campers to earn money via a site called Gamping. You can either let campers bring their own tents, trailers, and motorhomes, or you can provide a fully accommodated Gamping or "Garden Camping" experience.
Rent Out Your Tools
Many people are willing to pay others for tools they do not need often like drones, camera equipment, musical instruments, and electronics. Toolsity is a marketplace that lets you list your power tools online others to rent them. You can use Zilok and PeerRenters to list your tools and rent out them to earn extra cash. You set the price, rental period, and security deposit required for your tools, and decide who you rent your tools to.
Rent Out Everyday Items
You can rent out almost anything like your camera, guitar, apparel, books, electronics, appliances, cars and more when you are not using them to make some extra money via sites like Fat Lama. Simply snap a photo of your item, write a description, set the price and availability of your thing. Everything you rent out is fully insured so you can breathe easy.
Rent Out Yourself
You can rent out yourself as a friend to make extra money via RentAFriend.com site. This site lets people from around the world hire local friends in their places or rent friends in another place or country when they travel to that place or country.
You can rent yourself out to local people or other people who travel to your place from another place or country to go to a movie or restaurant with for dinner, go to a social event or party with, watch or play a sports game with. They may hire you to give them personal advice, teach them a new skill or hobby. or show them around your town.
You set an hourly rate for a planned activity. You can earn $10-$50 per hour, depending on your location and the activity planned. You can also rent out yourself as a bridesmaid via a site called Bridemaids for Hire to make extra cash on the side.
Summary
Renting out your own stuff can be a great way to make extra income in the on-demand sharing economy. If you have things that you do not use often or when you are not using them, rent them to others via these sites and apps to make money.
Have you ever rented anything out for extra cash?